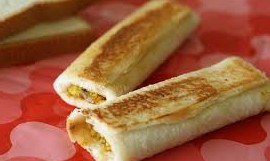 Bread Paneer rolls are a great snack and a tasty appetizer for high tea also called afternoon tea. A quick and easy recipe. The ingredients are all available at home. It is a matter of preparing the snack. Paneer is Indian cottage cheese or Chena, you can easily make it at home.
Involve your kids for the preparation and they will definitely nourish the snack.  A nice way to learn new skills and preparing in emergencies.
Most of the dishes that is prepared at home was learnt by merely watching my mom and aunt doing the home tasks. Actually about two decades back there was less opportunity to watch cooking shows on Television. Now with the zoom of technology and several channels emerging on television you get to see several chefs and in case you missed the schedule, you can watch the same recipe thru' a video or blog.
This opportunity was not there then. However we made use of our memory or at the most write down the recipe for future reference. I still continue that practice of jotting down in the Recipes diary.
Let's move on to the recipe and understand the requirements.
Ingredients for Bread Paneer Rolls
Bread slices : 6 nos
Shredded paneer / Cottage cheese: 1 cup
Green chilly: 1 tsp (finely chopped)
Jeera / Cumin seeds: ¼ tsp
Garam masala powder: ¼ tsp
Coriander leaves: 2 tsp (finely chopped)
Ginger : 1 tsp ( finely chopped)
Pepper powder: a pinch
Milk: 2-3 tsp
Salt: to taste
Ghee: 2 tbspn
Water: ½ cup
Butter-2 tbsp ( to apply on roll during heating)
This recipe will make 6 bread paneer rolls.

Procedure for preparing Bread Paneer Rolls
Method:
In a small bowl add shredded paneer, chopped green chillies, jeera, garam masala, coriander leaves, chopped ginger, salt and mix well. Filling is ready.
Trim the edges of the bread slices. Preferably use sandwich bread.
Flatten each bread slice using a rolling pin.
Spread a thin layer of the filling mix onto the flat bread slice. Sprinkle water to make bread moist and also roll it into a cylinder, making sure the edges are sealed.
When the heating pan or skillet is ready butter all around the roll and grill on medium heat. You should keep turning to ensure even browning all around the bread paneer roll.
Serve them with tomato ketchup. You can cut them into halves and make it even more tempting for the kids.
Hey get going…try making some bread paneer rolls.
You can try variations in this recipe by adding mashed boiled potato in place of paneer. Try this recipe and enjoy easy and healthy cooking. For more healthy and tasty recipes visit our Facebook page and Google+ page.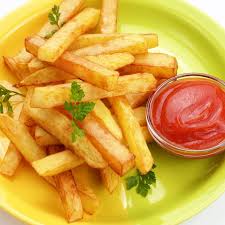 Potato French fries is a special snack for the kids at home. They insist on buying Potato French fries when they go to any Food outlet. It was then I decided to prepare this snack at home. I was looking at the right crispiness when fried and it was a big surprise when we achieved the taste for the homemade Potato French fries which had the look and taste of popular food outlet.
When the table was set with Potato French fries and tomato ketchup, I could see the elders also staring at the plate. Therefore we had two sets fried, first for the kids and later for the elders.  Now I can avoid purchasing the frozen ones and save money by preparing at home.
Ingredients for Potato French Fries
Potato: 2 large ones
Salt: to taste
Chilli powder: to taste
Cooking oil: 1 cup
Water: 5 cups
Procedure for preparing Potato French Fries at home
Method:
Peel potato and wash them, chop them in ½ inch thick and long slices.
Place the pieces in 2 cups of water for 5 minutes.
Drain water and add the potato pieces in boiling water for 3 minutes.
Put off flame. Drain water and spread the potato pieces on a tissue paper.
Store these pieces in refrigerator for 4 to 5hrs. This will ensure crispiness on the exterior when fried.
Heat oil in a flat bottomed pan. When sufficiently hot add few potato pieces in batches and fry them till they are crisp on the exterior.
Maintain low flame to avoid color change of the Potato French fries.
Drain onto tissue paper and afterwards transfer on a serving plate. Sprinkle with salt and chilli powder
Serve Hot and crispy Potato French fries with tomato ketchup or sauce.
Ideal for kids and with a little pre-work you can bring a smile on your little one's face.
Go ahead and give this recipe a try. Follow precautions while handling hot oil.
Also read: My experiences in the kitchen-Part 1 &  Part 2
You can store in air tight containers to ensure crispiness.
Potato French fries is easy to prepare, requires less time and effort and therefore ideal for evening snacks, birthday parties and  kids gathering.
Try this recipe and enjoy healthy cooking. For more healthy and tasty recipes visit our Facebook page and Google+ page.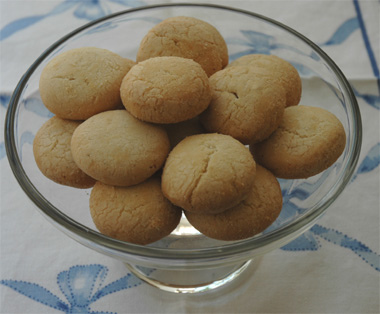 Nan katai is a buttery Indian cookie that is popular among kids and elders alike. Nan katai is made from simple ingredients that are available in every kitchen. Nan katai can be easily made at home. These delicate crumbling delicacy is popularly made during festivals like Diwali and as a snack during birthday parties.
14 Nov is celebrated as Children's day in India to commemorate the birthday of our Former Prime Minister Pandit Jawaharlal Nehru who is fondly called Chacha Nehru by children. Several programs are organized in schools and in residential societies to have fun and spread the joy in children. There is no teaching in schools on this day and children attend cultural programs conducted by teachers.
Kids come home early from school with a huge appetite. They do not want the regular stuff prepared at home. They want royal treatment as it is their day, so moms get ready and surprise your kid with this sweet that will bring a big smile on your kid's innocent face.
All sweets are prepared in the name of kids and in fact the boxes are emptied by older kids and elders. For a change let them too enjoy this special day with a treat. Let us go thru' the ingredients required to prepare Nan Katai.
Ingredients for Non Katai – Indian Butter cookie
Maida / All Purpose Flour: 1.5 cups
B.Rawa / Sooji: 3 tspn
Chana powder / Chick pea flour: ¼ cup
Ghee / Butter: ¾ cup
Sugar: ¾ cup (powdered)
Elaichi / Cardamom: 5 nos (powdered)
Vanilla Essence: ½ tsp
Baking powder: ½ tsp
Optional - For decorating the nan katai: Cashew- 6 nos, Badam/ Almonds – 6 nos or Pistachio-6 nos ( chop into fine pieces)
Procedure for preparing Non Katai – Indian Butter cookie
Method:
In a vessel mix ghee / butter, powdered sugar, vanilla essence .
In another vessel mix all the powders: Maida, Sooji, Chana Powder, Elaichi powder, baking powder. You can sift the ingredients through a sieve to ensure uniformity of baking powder in the flour.
Now add the mixed powders into the first vessel containing ghee / butter mixed with powdered sugar. Mix till it becomes a soft dough.
Grease the baking tray with ghee/ butter.
Make small balls of the dough and flatten it a bit. Place the flattened dough rolls on the plate.
Maintain distance between the katai rolls.
Decorate with the chopped cashew nut / badam / pistachio and place the tray for convection baking at 150 deg c for 35 mins.
Non katai- Indian Butter cookies are ready. Serve it when it has cooled down.
You can store in air tight containers for a month's time.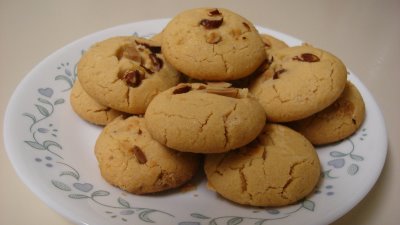 Nan katai is easy to prepare, requires less time and effort and therefore ideal for travel, birthday parties, kids gathering.
Try this recipe and enjoy healthy cooking. For more healthy and tasty recipes visit our Facebook page and Google+ page.
You can also read recipes for kids:
Kerala Vettayappam–Steamed Rice Cake
Sukhiyan Popular 4pm snack with High protein
Aval nanachatha is an instant recipe ideal for breakfast and evening snacks. Sweet Poha with coconut is served during travel too as it is convenient to serve and eat too. Small banana is a good combination to have along with aval nanachatha, you can have it otherwise too.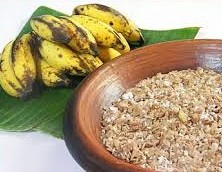 Aval is also called Poha in North India, Flattened rice, Atukulu in Telugu. Poha is made with a spicy taste in North India. Aval nanachatha itself means wetting or dampen the flakes. Therefore you need to lightly sprinkle water/ coconut water to make it absorb the taste of jaggery and fresh coconut.
In some parts of kerala, milk is used to prepare aval nanachatha, I love the taste of black coffee in aval nanachatha.
Ingredients for Aval Nanachatha- Sweet Poha with coconut
Flattened rice/ Aval/ Poha: 3 cups
Fresh coconut : 1 cup ( grated)
Jaggery: 1 cup ( grated)
Black coffee / Coconut water: 1 cup ( at room temp)
Elaichi / Cardamom: 2 nos ( powdered)
Procedure for preparing Aval Nanachatha- Sweet Poha with coconut:
Method:
Sift the flattened rice to remove any small powdered particles.
In a wide vessel add flattened rice, grated coconut, grated jaggery, powdered cardamom and mix well.
Sprinkle water / coconut  water or black coffee (kattan kapi) and mix the ingredients. The mix should not become soggy, it should remain as sweetened flakes.
Mix and serve. People do serve this with small banana.Prepare this instantly and serve .The longer you retain it will become soggy and the crispness of atuluku will go away.
If you are using the kerala poha i.e thick and red variety you will have to sprinkle lukewarm water / black coffee / milk.
My mom used to chop banana as slices and serve aval nanachatha when we were kids. Now I follow that practice for my kids.
The combination of fresh coconut and grated jaggery is loved by kids and elders and usually my kids will grab from the plate immediately after they get to know something new is being prepared in the kitchen. They will make multiple rounds to see the progress. Their senses for smell is perfect (as Madhuri Dixit says in Jhalak Dikla jaa-TV prog) and they will come sniffing from their respective study rooms more so, if they are studying.  I repeat this because you will not get them during play time or TV time.
You can try this recipe with sugar too if jaggery is not available. This is an easily digestible, healthy snack and can be made in no time. Give a try for evening snacks today.
I'm planning to prepare aval vilayichatha some time shortly. There are plenty of recipes with aval : Atukulu laddoo, Fried Atukulu and so on.
In winters you can have it with hot chukka kapi and brighten your mood.
Try this recipe and enjoy healthy cooking. For more healthy and tasty recipes visit our Facebook page and Google+ page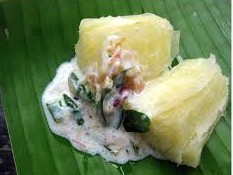 Today I'm sharing a recipe of Kappa Puzhungiyathu along with Kanthari  Mulaku Chammanthi. It is a great combination especially when you are having a great appetite. It boosts energy levels. I'm sure any keralite staying away from home will long to have a bite of this delicious feast. The images are so tempting that I would like to grab a piece or two from the banana leaf spread.
The back ground was that I reached home tired after work and was in no mood to cook dinner. I was relaxing after a cup of tea and my hubby comes in with a big bag of kerala store items. As we are away from Kerala, he longs for Friday -basic reason to collect the fresh stock of ethakka (kerala banana) ,kappa (tapioca), Chena (elephant foot), Kaachil (Purple Yam), Kochu ulli (Shallots), Kanthari Mulakka (bird's eye chilies),Coconuts, masala powders , etc..
The visual image of Kappa Puzhungiyathu with green chilli chutney combination was so tempting that I finalized on the menu for dinner. This is a quick dish and relished too bringing in nostalgic memories back home. Though my younger son was fussy over the change in menu (pulka regularly), he was willing to adjust with fish curry.
Therefore started to prepare the menu finalized for dinner: Kappa Puzhungiyathu along with Kanthari  Mulaku Chammanthi.
Ingredients for Kappa Puzhungiyathu – Boiled Tapioca- Yuca- Cassava
Kappa-Tapioca- Yuca- Cassava : 2 large roots
Water: as required to cook
Salt: as per taste
Procedure for preparing Kappa Puzhungiyathu – Boiled Tapioca:
Method:
Cut the kappa-tapioca into 4 cm length slices.Peel the skin , it will come off as a thick layer.
Slice these round pieces lengthwise into 2 or 4 pieces to allow easy cooking.
Transfer the cut pieces into a large shallow pan containing water. Wash the immersed kappa thoroughly to remove any impurities and sand particles.
Pour water till the level of chopped kappa-tapioca and cover the vessel with a lid. Allow this to boil. After 4 to 5 minutes of boiling, drain the water completely. This step is essential to remove the katta or starch.
Now pour the same amount of fresh water and allow the kappa-tapioca to boil. Add salt as required and cook for 10 to 12 minutes until it turns soft and tender.
Put off the flame. Drain the water completely and keep aside.
Serve it steaming hot with kanthari Mulaku Chammanthi/ Chicken curry with lots of gravy, Fish curry-Kerala style.
Ingredients for Kanthari Mulaku Chammanthi-Bird's Eye Chiili Chutney
Kanthari Mulaku / Bird's eye chilli: 20 nos (optional green chilli-4 nos)
Shallots/Pearl Onion/Kochulli: 12 nos
Tamarind extract: soak lime sized tamarind and extract thick pulp
Salt: as per taste
Coconut oil: 3 tspn
Curry leaves-shred 4 to 5 leaves
Procedure for preparing Kanthari Mulaku Chammanthi- Green chilli dip:
Method:
In a mixer ,pulse kanthari Mulaka/ green chilli, shallots, curry leaves 2 or 3 times. You can also use the arakalla- motor and pestle – ideal for taste.
Green chilli is an option for kanthari Mulaka, like wise use onion for shallots.
Transfer the mixture into a serving bowl. Add salt ,tamarind extract and coconut oil and mix well.
Ready to serve with steaming kappa puzhingiyatha.
This is a quick fix menu and can be prepared with ease. You can prepare the green chilli dip when the kappa is boiling. Maximum time will be 25 to 30 minutes for preparing this menu.
Chicken curry with gravy, Fish curry are great combinations. An ideal recipe for breakfast, evening snacks and dinner too.
We enjoyed this sumptuous dinner. Go ahead and give it a try…
Try this recipe and enjoy healthy cooking. For more healthy and tasty recipes visit our Facebook page and Google+ page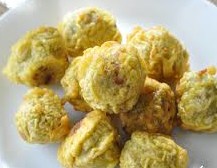 Sukhiyan is a favorite snack at our home along with evening tea. Sukhiyan is prepared mostly during Onam, Christian festivals and it is available at tea stalls across India. Because of its popularity and demand you will notice Sukhiyan being sold by Malayali vendors outside Kerala. Wherever there is a kerala fest / cultural programs being conducted by keralites, you can see Sukhiyan being sold in the outlets.
Sukhiyan is a sweet and tasty snack containing high protein. You can relish it when served hot or can be eaten at room temp. Sukhiyan balls have to be kept in the refrigerator if you want to serve the next day.
As the base is fresh coconut and cooked moong gram it has to be consumed the same day, accordingly plan for the batch of suvians. This is not a typo error, we used to call this sweet Suvian until recently when an elderly aunt of mine corrected me.
Whole green Moong gram : ¼ kg
Jaggery: ¼ kg
Coconut: 2 cups grated
Cardamom/ Elaichi: 8 nos (seeds to be powdered)
Rice flour/ Maida/Wheat flour: 2 cups
Salt: as per taste
Cooking oil: for frying the sukhiyan balls
Haldi powder/ Turmeric powder: 2 pinches
Jeera: 1 pinch
Procedure for preparing Sukhiyan-Popular 4pm snack of South India:
Method:
Soak the whole green moong gram for an hour. Wash and drain the water. Ensure no stones.
Pressure cook the moong gram adding water as the measurement of moong gram prior to soaking.i.e 1 glass of moong gram:1 glass of water.Add ¼ tsp of salt and a pinch of haldi powder.
After the cooker cools you will observe that the water is totally absorbed by the moong gram and they are nicely swollen, cooked with a crack here and there. When the whistle blows you will also get the aroma of typical cooked moong gram.
Crush / grate the jaggery and boil in a vessel with ¼ glass of water. When all the jaggery melts filter to remove any dust particles that are embedded in the jaggery blocks.
In a flat bottomed wide pan add the jaggery solution. Keep stirring the liquid to avoid catching at the base. After 4 to 5 mins add grated fresh coconut. You will observe that after 3 to 4 mins the coconut has absorbed the jaggery and it is turning dry.
This is the time to add powdered elaichi. Mix well, reduce flame and add the cooked whole green moong gram.
Mix well to avoid catching at the base. Put off the flame. Allow this base to cool down. Make small balls –the size of rava laddoo.
The covering for sukhiyan balls can be made with rice flour/ maida flour/wheat flour or a combination of rice flour and maida i.e 1:1 ratio.
Add a pinch of jeera, pinch of haldi powder, salt to the dry flour. Add water and make a thick batter. When you dip the balls it should get covered and the coating should remain as in mirchi bajji.
Heat oil and start frying the sukhiyan balls immersed in the batter. Deep fry until texture is crisp and has turned color. Drain onto paper towels. Serve hot or at normal temperature.
Try this recipe and surprise your family and friends with an authentic recipe. Sukhiyan is considered to be a part of kerala cuisine and the smell and look are bringing fond memories making my eyes damp with tears.
Variations in the batter for covering can be by immersing in dosa batter. You can make sukhiyan on the day you have left over dosa batter.
Try this recipe and enjoy healthy cooking. For more healthy and tasty recipes visit our Facebook page and Google+ page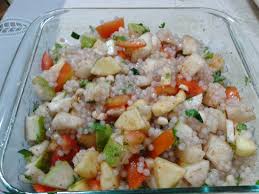 Chatpati Sago Chaat is a special recipe prepared during fasting days. In India fasting is followed for many festivals and during this duration women break the fast with light meals and healthy diet too.
Falahari dishes are made mostly on days fast is observed. Falahari is derived from phal  or fal which means fruits and ahaar which means food or diet. Basically phalahari means a diet which consists of fresh fruits. along with fruits even vegetables, herbs, dry fruits, some cereals and yogurt is a part of phalahari diet.
Sago chaat is an oil free dish. You will require boiled sabudhana / sago to prepare this dish. People of all ages love chaat and you can prepare chatpati sago chaat that is simple to prepare yet delicious and mouthwatering too.
Chatpati sago chaat is a combination of cooked sabudhana ,fruits and vegetables. Let's go through the ingredients required and the procedure to prepare.
Ingredients for Chatpati Sago Chaat:
Sago or Sabudhana: ¾ cup
Tomato: 1
Guava: ½
Apple: ½
Green Chilli (used for mirchi bajji) -2 tsp (finely chopped)
Groundnuts / Peanuts: handful (roasted and remove peel)
Pomegranate: a handful
Grapes: a handful
Coriander leaves: 3 tbsp ( chopped)
Mint leaves: 1 tbsp ( chopped)
Lemon juice: 1 tbsp
Sugar: 2 tsp
Red chilli powder: ¼ tsp ( optional)
Chaat masala: ½ tsp
Salt: 2 pinches
Crushed Pepper:1/4 tsp
Procedure for preparing Chatpati Sago Chaat:
Method:
Wash and soak the sago in water for 2 hrs.
Boil the soaked sago and strain through a colander. Add fresh water on this and you will get clear sabudhana. Transfer into a large serving bowl.
Peel Apple, cut all the fruits and add to the serving bowl. Add roasted peanuts, coriander and mint leaves, Sugar, red chilli powder, chaat masala, crushed pepper, salt. Mix well with the help of two forks.
Sprinkle with lime juice. Mix again and serve.
Chatpati sago chaat is nutritious and filling too after a long fast. A good way to break the fast.
Pineapple, pear are also a good combination for this falahari chaat. You can add sweet and sour tamarind chutney in place of sugar.
Try this recipe and enjoy healthy cooking. For more healthy and tasty recipes visit our Facebook page and Google+ page
Also read:
Dalia Salad- Healthy Recipe for Weight loss
My experiences in the kitchen-Part 1, Part-2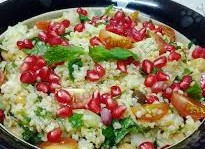 Dalia salad is a healthy recipe ideal for weight loss. Dalia is basically broken wheat and is called bulgar. Dalia is popular in India and is introduced for a child in the form of porridge. Dalia is high in fibre, low in fat, diabetic friendly and ideal to lose weight. You can make interesting recipes to make the cooked dalia tastier and healthier.
Today I'm sharing a delicious salad made from dalia and raw veggies. This salad will provide good amount of vitamins and minerals to the body.
Ingredients for Dalia Salad:
Dalia or Bulgar: ½ cup
Onion: 1 small (finely chopped)
Tomato: 1 small (chopped)
Carrot: 3 tbsp (grated)
Lemon juice: 2 spoons
Olive oil: 1 tsp
Crushed pepper: ¼ tsp
Fresh coriander leaves: 1 tbsp(finely chopped)
Fresh mint leaves: 1 tbsp(finely chopped)
Pomegranate (Anar): a handful- optional
Salt: as per taste
Cooking oil / Ghee: 4 tbsp
Procedure for preparing Dalia Salad:
Method:
Pressure cook dalia in 2 cups of water.
In a large wide bowl add chopped onions, chopped tomatoes, grated carrot, chopped coriander and mint leaves, pomegranate, lemon juice, olive oil, crushed pepper, salt and mix well.
After dalia has cooled down, add cooked dalia to the above mixture . Mix well.
Dalia Salad is ready and can be served immediately. Yo will love the flavors of olive oil, lime and crushed peppers .

Broken wheat has high fiber content and the dish is filling. You can have Dalia Salad for breakfast or prepare when you plan for a light dinner too. Popular dishes made with dalia are payasam, upma, puttu, etc.
Try this recipe and enjoy healthy cooking. For more healthy and tasty recipes visit our Facebook page and Google+ page.
Please add a comment and, if you like the post, feel free to share it with your friends.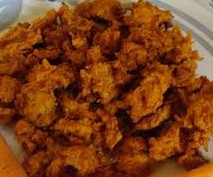 I'm sharing a recipe which has great medicinal value and is a remedy to treat cough, cold and minor ailments. Panikoorka is an Ayurvedic herb, the leaves are used for treating common cold, cough and fever in babies and adults. There are references in Ayurveda of the usage of this herb.
Panikoorka can be consumed in different ways to minimize the bitter taste and strong odor.
The botanical name of Panikoorka is Plectranthus amboinicus. In India it is known as Indian borage, in Hindi known as Patta ajavayin, in Tamil – karpooravalli and referred as navaryila in Malayalam.
What with the rainy days ahead this is a good way to eat remain healthy by including Ayurvedic herbs in your diet.
Ingredients :
Panikoorka leaves: 8 nos
Onion: 1 big ( chopped finely)
Chana powder (Bengal gram flour): 1.5 cups
Chilli powder: ½ tsp
Salt: to taste
Water: to make batter
Oil: 1 cup( for frying)
Procedure for preparing Panikoorka Pakora: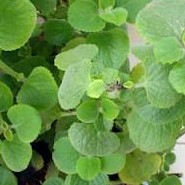 Method:
Wash and finely chop the leaves.
Mix Bengal gram flour, chopped leaves, chopped onions, chilli powder, salt and required water to make a thick batter.
Heat oil in a pan. When hot, drop one table spoon of batter mix and fry on medium flame.
Drain onto a kitchen paper towel.
Serve hot panikoorka pakoda with tomato sauce, tomato ketchup or tangy dates chutney.
A simple and quick recipe indeed with few ingredients and high medicinal value.
Read this article: Panikoorka, The Natural Remedy for Cough, Cold and Fever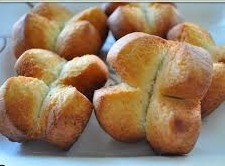 Vettu cake is a popular snack having great demand for Malayalis who are staying in Kerala or have migrated to different parts of the world for livelihood / business. Vettu cake is exported to various countries due to the demand. In various states of India, the local Kerala stores cater to the demand with awesome Vettu cake.
This name has derived from the cuts / vettu that are made to the base after mould has been made i.e prior to frying process.
Vettu cake is served as a snack item. Vettu cake has a larger shelf life can be retained for 3 weeks. Served during Christmas carol service, as a nercha (offering) for people during pilgrimage trips. At home kids and hubby love this snack and will empty the box within a day or two.
Ingredients:
Maida (All Purpose four): 250 gms
Baking soda: ½ tsp
Egg: 1 big ( usually duck eggs are used in Kerala)
Sugar: 125 gm ( powdered)
Cardamom powder (Elaichi): 6 nos(powdered)
Salt: ¼ tsp
Water : 1/3 cup ( as per requirement)
Cooking oil:1 cup – for deep frying
Procedure for making Vettu cake- Kerala special snack at your home:
Method:
Sift Maida and Baking powder in a sieve for uniform spread.
Beat eggs in a vessel until it is foamy and then add the powdered sugar and mix it thoroughly.
Add the sifted maida, baking powder,cardamom powder and salt. Add water very carefully such that it doesn't exceed the requirement.
Make a tight dough. Cover and keep it aside for an hour's time.
Divide the dough into equal small balls. Spread this on a polythene cover or aluminium foil for ease.
Gently press the rolled out dough,so that it forms a rectangular shape strips. Cut them into 1.5 inch square pieces.
Make a deep cut in the centre using a sharp knife and again one opposite to the first cut like a cross.
Heat cooking oil in a pan and deep fry till golden brown on medium heat. Make sure not to over fry the vettu cake as it will become very hard to eat.
Drain the fried vettu cake on paper towels. Cool completely and store in air tight containers.
Note: You can add variety to the taste by adding rava also in the ratio 1:4 . 50 gms of rava and 200 gms of Maida.
Vettu cake is a great snack to carry while you are traveling. The shape will not get distorted. Try this recipe and enjoy the taste of Kerala's nallamani palaharam. You need not depend on your store for the stock to come in. The taste of Kerala vettu cake is unique mainly for the ingredients i.e duck egg. Nevertheless go ahead and give a try.
Related reading: Homemade biscuits