LIME RICE
Lime Rice is a sour South Indian dish. Ideal for meal packs during travel too.
Ingredients:
2 cups Rice
2 lemon (extract juice)
6 tbsp Oil
½  tsp Black Mustard seeds
Few curry leaves
3-4 green chilies
1/4 tsp. turmeric powder
1/4 cup peanuts
Salt (to taste)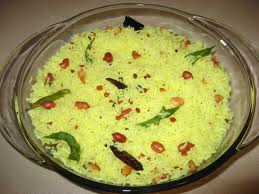 Procedure of Lime rice:
Pressure Cook the rice and spread on a plate, keep aside. Mix lime juice  and salt to the rice and keep aside.
Heat oil in a pan and add mustard seeds, allow to splutter.
Add peanuts, fry till brown.
Now add green chilies, curry leaves, turmeric powder and fry for 2 minutes.
Switch off the stove and add this to the boiled rice mixed with lemon juice. Mix well.
Lemon rice is ready to be served.
Can be taken with tomato chutney or pickle.