Orange peels are the thick finely-textured and orange colored skin of oranges. Since ancient times, orange peels have been valued for their curative properties.
Now there is oranges in abundance. You can make dry orange rind candies and use in cakes and other desserts, decorating sweet dishes too. Orange peel candies are made from orange zest, the top layer of the orange peel. This is a simple recipe and can be stored for a full long year.
The unique smell and flavor of orange is felt when you have a cake bite comprising orange rinds. Preferably use organic variety to avoid pesticides. Try this recipe to flavor orange all round the year.
Ingredients for Dry Orange rind Candies
Orange peel of 3 large oranges
Sugar: 1 cup
Water: 6 cups
Procedure for preparing Dry Orange rinds
Method:
Peel oranges and place in a flat bottomed pan. Add water till the level of peels.
Boil the orange peels for 10 minutes. Strain the water and add fresh water in the pan.
Repeat the boiling of orange peels for 2 more times. This will ensure all bitterness is removed. Drain off all water and cool on paper towels.
Scoop the white pith on the inner side of the orange peel with a spoon till you see only the orange color of peel.
Use a chopping board to cut the orange peel into ¼" long strips
Now add 1 cup of water and sugar into a heavy and flat bottomed pan. When the water starts boiling, add the orange strips and reduce the flame.
Keep the stove in sim for about an hour letting the orange peels boil in sugar syrup. Watch the process at regular intervals, give it a stir to check water level.
After an hour's time, put off the flame, take out the orange rinds and place on a flat surface. Store each orange strip without touching each other.
You can transfer the remaining sugar syrup into a glass bowl and store in the refrigerator, ideal as orange flavoring in sweet dishes.
It will take approx. 5 to 6 hrs for drying. Once the orange rinds have completely dried store them in an airtight container. Dry orange rind candies can be retained for a year by following this preparation.
Orange rind candies are loved by kids for its sweet and orange flavor. You can use in cakes, decorating ice cream or other fruit desserts. Dry orange rinds can be dipped in hot chocolate and can be consumed as orange chocolate candies.
Health benefits of orange peels are:
You can prepare a relaxing tea with orange peel extract to soothe your digestive system. Dietary fiber is useful for preventing irritable bowel syndrome including constipation and bloating.
Orange peels were used as medicine to cure various digestive disorders including indigestion.
Orange peels can lower the total cholesterol levels in the body.
An active chemical in orange peels helps relieve heartburn,
The chemical compounds in orange peels also help inhibit the growth and division of cancerous cells.
The anti-oxidants in oranges especially vitamin C may help avert numerous respiratory problems
Other uses and benefits of orange peels
Orange peel powder is popularly used as a face mask to help people who have oily skin, blackhead problems, reduce discoloration, reduce pimple scars and blemishes, to lighten their skin tone and smoothen skin. Orange peel paste can be used to whiten yellow-stained teeth.
Wishing you all Merry Christmas!!
Try this recipe and enjoy easy and healthy cooking. For more healthy and tasty recipes visit our Facebook page and Google+ page.
Try other recipes that is ideal for Christmas: Ginger wine , Home made biscuits, caramelized sponge cake, alcohol free cake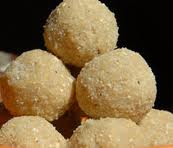 Krishna Janmashtami is the annual celebration of the birth of Lord Krishna, the eight avatar of Lord Vishnu. Krishna Janmashtami is also called Gokulashtami , Krishna Jayanthi and is celebrated in various ways in different parts of India. Plenty of games are associated with Janmashtami- Dahi handi is a popular game in which the pot filled with butter, milk and water is hung at a height of 20 to 30 metres. The young children will form a pyramid and break the pot. Water will be sprayed constantly on the climbers to prevent them reach the height.
During Janmashtami children dress like Baal Krishna, they hold a flute and a peacock in the head band, wear a dhoti only as a lookalike of Bal Krishna. Special puja is performed in the evening when the childs legs are dipped in color and the colored impression is made on the floor when the child visits your home. This is believed to be symbolic of Nand Gopal i.e Bal Krishna coming to your home.
In some parts of India the image or statue of Lord Krishna is placed in swings and cradles and are kept swinging by devotees. All the Krishna temples are decorated and this also happens to attract pilgrims to places associated with Krishna's childhood like Mathura, Gokul and Vrindavan. The Guruvayoor temple at kerala is also popular on Krishna Janmashtami.
Fasting is followed by most devotees and they break the fast with vegetarian dishes. Sweets are also distributed on this special occasion. Today I'm sharing a sweet recipe that is new and will certainly be liked.

Ingredients for Atukulu laddoo:
Atukulu / Poha /Pressed rice : 1 cup
Vermicelli: 1/3 cup
Moong gram: ½ cup
Sugar: ½ cup ( powdered)
Cardamom/ Elaichi: 8 nos ( powdered)
Kaaju / Cashewnut: 6 nos ( chop into small pieces)
Kismis / Raisins: 6 nos ( slice into halves)
Ghee: 1/3 cup
Procedure for preparing Atukulu laddoo/ Poha laddoo- Janmashtami special sweet:
Method:
In a kadai fry Atukulu/ Poha, Vermicelli and Moong gram separately. Ensure they do not change color or burn.
Transfer into separate plates. Allow it to cool.
In a mixer powder Atukulu/ Poha, Vermicelli,Moong gram and Sugar separately.
Heat 2 tsp of ghee in the same kadai, add chopped Kaaju and Kismis.Remove Kadai from flame.
Mix all the powders together. Add elaichi powder and fried Kaaju, Kismis.
Heat the remaining ghee and add spoon by spoon to the mixed powders. Mix all the ingredients and try to make small balls .
Atukulu laddoo / Poha laddoo is ready to serve.
Variations in this laddoo will include addition of Dessicated coconut:1/3 cup. You can alternate vermicelli with oats as it is commonly available in most homes.
It is important that you fry and powder the ingredients separately as each ingredient has its own time to get heated and powdery too.
The flavors of cardamom and ghee will be so good that you will look forward to have more sweets.This delicious and grainy texture of laddoos will be a big surprise and a huge hit among your family and friends.
Go ahead and try this variety of laddoo or rava laddoo, til laddoo this Janmashtami. Enjoy the celebrations!!
Try this recipe and enjoy healthy cooking. For more healthy and tasty recipes visit our Facebook page and Google+ page.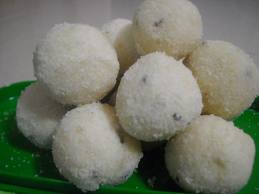 Rava Laddoo is a popular sweet during Diwali and other festive occasions . Due to the texture being soft this is made for elders and kids in the family .Today I'm sharing a soft rava laddoo recipe that includes desiccated coconut. This rava laddoo preparation is very easy and can be made within 15 to 20 minutes. Rava laddoo is also called Suji Ka laddoo.
In some parts of South India , the rava laddoo is made hard such that it remains for a fortnight. This recipe is an instant variety and can be retained for maximum 3 days. Preferably consume them fresh. For convenience, the base can be prepared and stored in an airtight container, you can roll the laddoos on need basis.
The rava laddoos are very soft and has to be handled with care. I have received positive feedback on many occasions. Thanks to my friend Mariam from whom I learnt this recipe. She was unmarried then but was good at cooking and was keen on experimenting new recipes. This recipe is dedicated to my friend who is abroad now.
Try this recipe and you are sure to repeat this process again.
Ingredients :
Bombay rava / Suji:1 cup
Desiccated coconut: ¾ cup+ ¼ cup
Sugar: ½ cup
Raisins: 5 nos ( cut into fine like pieces)
Cashew nut: 5 nos ( chop into fine pieces)
Cardamom / Elaichi: 4 nos ( remove pod and powder)
Ghee: 2 tbsn
Milk: ½ cup ( room temp)

Procedure for preparing Soft Rava laddoo with Coconut:
Method:
In a kadai add ghee , when it becomes hot add Raisins and Cashew nut. Reduce flame and fry them. Drain and transfer onto a plate.
Next fry Bombay rava / Suji in the same kadai. Mix it continuously to avoid burn or catching at the base of the kadai.
Fry the rava until it turns white and smell of roasted rava is felt strongly. Add ¾ cup of desiccated coconut and stir continuously. When it becomes warm, put off the flame.
Then add sugar, powdered cardamom and fried raising and cashewnut. Mix well.This base can be retained for at least 10 days in an air tight container. Sugar should be added coarse. Do not powder sugar for the instant soft laddoo variety.
To make soft rava laddoo with coconut sprinkle milk over the base mixture of rava laddoo. Now mix the base thoroughly and roll the mix into small balls with your hand.
Spread ¼ cup of desiccated coconut on a flat plate. Roll the laddoo on the desiccated coconut. The laddoo is covered with a coating of the coconut and it gives a royal look.
You will get approximately 12 laddoos. Looking yummy and pearly white. You can opt for sugar free variety to prepare soft rava laddoos if there are diabetic persons.
Other popular recipes with rava are Rava kesri, Rava upma, Rava dosa and the base for making puri in Pani puri. Drop in your comment after you try this instant rava laddoo variety.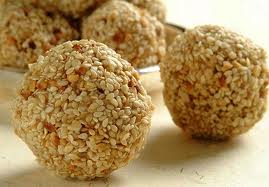 Til ka ladoo is a favorite delicacy for Makara Sankranthi. Til laddoo is a simple recipe made with til/ sesame and jaggery. Til is sesame seed and jaggery is unrefined cane sugar. You can also enjoy them as sesame candy. Til ka ladoos are also made on various festivals especially for Makar Sankranti. Makara Sankaranthi is the harvest festival celebrated in many states of South India – Maharashtra, Andhra Pradesh, Karnataka and Punjab in North India.
Dishes made of til are consumed more in winter days as sesame provides heat and energy which is essential in cold climate.Til ka laddoo is a mandatory item for this festival. It is a soft sweet therefore elders too can relish til ka laddoo.
There is a famous saying Til-gul ghya, gode gode bola' – a catchy phrase to sweeten one's mouth and one's speech, with these sesame and jaggery laddoo at Makar Sankranti, the harvest festival in Maharashtra.
Til laddoos are ideal for iron content. Recommended for girls and women suffering with low hemoglobin.
Recipe will make 30 to 35 ladoos
Ingredients :
Til / Sesame: 1.5 glass
Jaggery or gur : 1.5 glass
Ghee : 6 table spoons
Cardamom / Elaichi: 1 table spoon (powdered)
¾ cup water
 

Procedure for Til ka Laddoo:
Method:
In a frying pan or kadai roast til seeds on medium heat stirring continuously. After 5 minutes sesame seeds will turn light brown in color and start splitting. Transfer the til seeds on a plate.
In the same pan add water and crushed jaggery. When all jaggery is melted filter to remove all impurities. Boil the jaggery solution again till it starts thickening.
While the jaggery is boiling apply ghee on a flat plate. Check point for addition of other ingredients : Add 1 drop of the thick jaggery solution in a cup of water. If the drops remains as a ball it is the correct mixing point. Lower the flame.
At this stage add crushed elaichi, ghee and roasted til seeds. Mix all ingredients well and transfer onto a greased plate.
When the mixture is cold enough to touch apply ghee on your palms take a small ball of the mixture and roll in between your palms. You can make approximately 30 to 35 balls.
Store it in air tight containers. Will remain for 2 to 3 months.
You can try preparing til laddoos using roasted groundnut and til in a 1:1 ratio.You can add a handful of roasted desiccated coconut too to bring variations.
You can make puran poli or  pineapple parippu payasam as a new variety in your sweet list.
Go ahead and try this sweet delicacy for your family. You can mention your observations in the comments and improve the recipe.

HAPPY SANKRANTHI !!
Have a great time with family , friends. SAFE kite flying too…….