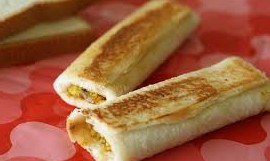 Bread Paneer rolls are a great snack and a tasty appetizer for high tea also called afternoon tea. A quick and easy recipe. The ingredients are all available at home. It is a matter of preparing the snack. Paneer is Indian cottage cheese or Chena, you can easily make it at home.
Involve your kids for the preparation and they will definitely nourish the snack.  A nice way to learn new skills and preparing in emergencies.
Most of the dishes that is prepared at home was learnt by merely watching my mom and aunt doing the home tasks. Actually about two decades back there was less opportunity to watch cooking shows on Television. Now with the zoom of technology and several channels emerging on television you get to see several chefs and in case you missed the schedule, you can watch the same recipe thru' a video or blog.
This opportunity was not there then. However we made use of our memory or at the most write down the recipe for future reference. I still continue that practice of jotting down in the Recipes diary.
Let's move on to the recipe and understand the requirements.
Ingredients for Bread Paneer Rolls
Bread slices : 6 nos
Shredded paneer / Cottage cheese: 1 cup
Green chilly: 1 tsp (finely chopped)
Jeera / Cumin seeds: ¼ tsp
Garam masala powder: ¼ tsp
Coriander leaves: 2 tsp (finely chopped)
Ginger : 1 tsp ( finely chopped)
Pepper powder: a pinch
Milk: 2-3 tsp
Salt: to taste
Ghee: 2 tbspn
Water: ½ cup
Butter-2 tbsp ( to apply on roll during heating)
This recipe will make 6 bread paneer rolls.

Procedure for preparing Bread Paneer Rolls
Method:
In a small bowl add shredded paneer, chopped green chillies, jeera, garam masala, coriander leaves, chopped ginger, salt and mix well. Filling is ready.
Trim the edges of the bread slices. Preferably use sandwich bread.
Flatten each bread slice using a rolling pin.
Spread a thin layer of the filling mix onto the flat bread slice. Sprinkle water to make bread moist and also roll it into a cylinder, making sure the edges are sealed.
When the heating pan or skillet is ready butter all around the roll and grill on medium heat. You should keep turning to ensure even browning all around the bread paneer roll.
Serve them with tomato ketchup. You can cut them into halves and make it even more tempting for the kids.
Hey get going…try making some bread paneer rolls.
You can try variations in this recipe by adding mashed boiled potato in place of paneer. Try this recipe and enjoy easy and healthy cooking. For more healthy and tasty recipes visit our Facebook page and Google+ page.