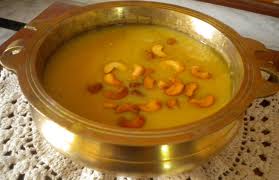 Pineappale parippu payasam is a popular dessert served after a sadhya on occasions like Onam and festival gatherings. Usually Parippu payasam, Ada pradhaman, Semiya kheer is served. We have brought in a variation to this dessert. Fruits are liked by all. Pineappale when eaten fresh, leaves a itchy feeling for the throat. You can include your favorite fruit in payasam. Enjoy it hot or after cooling in the refrigerator as per individuals choice.
Payasam is a mandatory sweet dish after a heavy meal or sadya. You can give a twist to the regular payasam and let this sadya have a delightful surprise.
Serves – 8
Ingredients:
Pineapple:  1 small ( chopped)
Splitted green gram / Moong dhal (cherupayar parippu)
Jaggery: 2 cups grated
Condensed milk: 100g
Coconut milk: 2 cups
Cardamom powder: 1/2 tsp
Raisins and Cashewnuts-1/2 cup
Salt: a pinch
Water: 2 cups

Procedure for Pineappale Parippu Payasam:
Method:
Dry roast moong dhal a shallow kadai. Keep the flame low to avoid burnt smell or deep browning of dhal.
When moong dhal cools ,wash, add salt and pressure cook (2 whistles) .
In a small vessel add grated jaggery and 1 cup water. Filter the jaggery syrup to remove any particles. Keep aside.
In a shallow thick base kadai / urali add pineapple and jaggery syrup. Maintain medium flame.
When pineapple is cooked and soft , add cooked moong dhal. Mix well to avoid lumps.
Add condensed milk and cardamom powder. When it comes to a boil, add coconut milk.
Fry raisins and cashew in ghee. Mix half of the quantity in the payasam. The remaining half can be spread to decorate.
Pineapple parippu payasam is ready to serve.
Try this recipe for Onam and make your festive days tasteful too.
Serve Pineapple Parippu payasam hot or after cooling.
You can try Mixed fruit payasam as a treat for your family. We will be updating shortly.