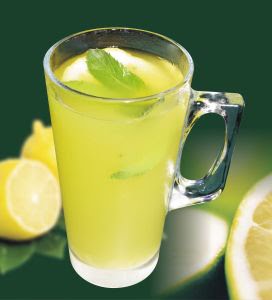 Ginger mint Lemonade is a popular summer cooler in much demand during hot sultry days. This homemade summer beverage is sure to please family and friends at a party or a get-together.
Ginger mint Lemonade can be made at home, the recipe is simple and can be made in advance to avoid last minute rush. You need to instantly mix all the ingredients.
Ingredients :
Lime / Lemon : 12 nos (approx. 1 cup extract)
Mint leaves: 1cup (chopped)
Fresh Ginger: 1 tbsp (crushed)
Sugar: ¾ cup
Water: 3 cups plain and 9 cups chilled water
Salt: ¼ tsp
Procedure for preparing Ginger Mint Lemonade recipe:
Method:
Extract juice of 12 lemons. Strain and keep aside.
Boil a cup of water add sugar and stir to allow sugar to dissolve completely. After 2 mins of boiling allow the sugar solution to cool.
In another vessel boil 2 cups of water. Put off the flame and add crushed ginger and ½ cup of fresh mint leaves. Close the lid and allow to steep. After about 15 mins, strain the liquid and cool. Discard the crushed ginger and mint leaves.
Take a large bowl. Add 9 cups of cold water. Add the lime juice extract, sugar syrup, ginger-mint solution, salt.
Mix thoroughly. Adjust sweetness by adding more sugar syrup, adjust tart by adding more of lime juice.
Dispense into tall glasses. Decorate with ice cubes, lime slice and mint leaves.
Honey is a good substitute for sugar. Only caution is not to boil honey. Just add the required quantity into the lemonade and stir.
Few people also enjoy this cooler with a pinch of roasted cumin powder / a pinch of chaat masala to enhance the taste.
Great summer cooler and as it is homemade it is healthy too. Beat the heat with this summer cooler. It will be a hit in the summer for elders and children alike.

Benefits of each ingredient:
Lemon: Lemon water makes for a powerful detox drink; lemon juice helps to cleanse and alkalize the body.
Mint: Mint adds a touch of sweetness without the sugar to your water, and it also helps settle your  stomach and aids in digestion as well.
Ginger: The spicy root helps cleanse out your system, aids in digestion, and settles your stomach.
Hey go ahead and make this Ginger mint Lemonade 1 day in advance and mix with chilled water upon requirement.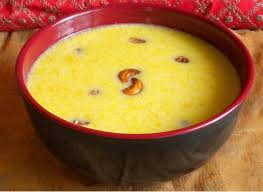 Mango Kheer is a delicious dessert usually prepared in summer time. Ideally served after refrigerating or at room temperature.Mango fruit is available in abundance during summer time. Try this authentic recipe with sweet ripe mangoes and surprise your family with your cuisine.
Mango is known to be the king of fruits. Mango Kheer is popularly called as Aam Ki Kheer, regionally termed as Mamadikaya payasam, Mambazha payasam . Whatever the name it is a hit when served. Children are the main lovers of this dessert. Do give a try.
Ingredients :
Mango puree: 1.5 cup
Basmathi rice: 1 cup
Milk:750 ml
Sugar: 7 to 8 tablespoons
Salt: a pinch
Cardamom/ Elaichi: 12 nos (peel and powder)
Cashewnuts: 10 nos
Raisins / Kismis: 15 nos
Ghee: 2 tbspn
Few mango slices for garnishing ( cut the slice very thin)
Saffron strands: a pinch
Pistachio (unsalted) : 8 nos crushed, Almonds-5 nos * optional
Procedure for preparing delicious Mango Kheer for dessert:
Method:
Wash and soak Basmathi rice in water for 30 minutes. Drain water and blend in mixer for a minute. The rice will get broken and smaller in size.
Add saffron strands in ¼ cup warm milk and keep aside for later use.
In a flat bottomed non-stick pan add milk and allow it to boil. Add the blended rice to the boiling milk. Reduce the flame and continue stirring the mix at regular intervals.
Cook until the rice is soft. Only then add the sugar and continue stirring to avoid catching at the base of the pan.
Once the mixture has thickened, remove the pan from the flame.
Now heat another pan, add ghee and fry cashewnuts, raisins till light brown in color and add this to the cooked rice mixture. Keep 2 or 3 nos for garnishing.
At this stage add the mango puree, salt ,powdered cardamom and stir well.
Add saffron mix solution and swirl the mango kheer gently such that the color spread is not uniform.
When the kheer attains room temperature place it in the refrigerator for 30 minutes. Serve chilled.
Garnish the mango kheer with mango slices , kaaju and kismis.
This recipe of Mango Kheer is a great melt-in-the-mouth summer treat with mango flavor, along with the rich texture as an outcome of sweetened cardamom flavored rice , makes this fruity dessert pure comfort food.
So why don't you give a try.If you like this recipe or know of any variations do let us know in the comments.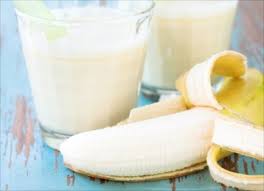 Banana Milk shake is a quick to make and ideal summer coolant during hot and sweating days. You can prepare this recipe with basic ingredients that are available on your kitchen counter.
Start the day with this recipe as it has weight losing properties too. Banana Milkshake is popular among kids. You can add other fruits like Mango, Strawberry and decorate the shake with a combination of colors and flavors
The milkshake is a good source of heart-healthy fiber and protein. Milk is a good source of calcium, potassium, phosphorous and magnesium. Bananas offer 10 percent of your recommended daily needs for vitamin C, which is important to maintain a healthy immune system and may play a role in helping to lower blood pressure.
Read thru' to understand how to make delicious recipe for all seasons at home-Banana Milk Shake.
 Ingredients :
Banana: 2 ripe ones (Robusta variety)
Curd: 1 cup
Milk-1/2 cup
Sugar- 1 tsp
Vanilla essence: ½ tsp
Lemon juice: 1 tsp
For Garnishing:
Mint leaf / Cherry / Lemon rind / Sliced banana
Procedure for preparing Banana Milk Shake recipe: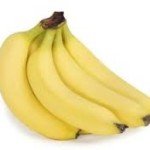 Method:
Chop the banana into slices.
In a mixer add all ingredients and blend till it forms a smooth paste.
Pour into serving glasses. Garnish with mint leaf and cherry. You can explore and try your experiments.
Add chilled milk,if you like it cold.
Go ahead and try this banana milk shake today itself. Beat the heat with this summer cooler. If you like this recipe or know of any variations do let us know in the comments.
You can try the other summer coolants: Ragi java, Pudina pani, Green Mango drink, Buttermilk ,Ice cream soda and milk shake recipe .Be healthy and cool this summer.
Courtesy: Vanita Magazine.Adapted the banana milk shake recipe from the recipes section printed in Malayalam.
If you want a similar Recipe website for FREE Visit Special offer for May2014