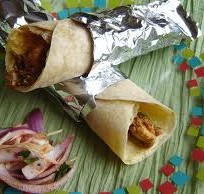 Chicken rolls are popularly known as Chicken Kathi rolls in India. This is a famous street snack sold at food outlets. Chicken rolls are in huge demand at busy commercial places where the vendors can make a whole lot of money with the sales. Chicken roll are also referred to as Chicken Frankies. This is a quick and filling snack, enjoyed by all. In this recipe we have used boneless chicken filling ,you can select from a wide range of stuffings. You can complement the filling with meat, vegetables, beef, paneer, mushrooms and make the dish taste different everytime. You can create a lot of variations and make the dish tasty.
You can prepare this dish at home and make your snack time an enjoyable one.
Makes – 8 rolls
Ingredients for the filling:
Chicken ( boneless) : 500 gms
Onions: 3 tsp(finely chopped)
Ginger: 1 tsp( finely chopped)
Garlic: 1 tsp( finely chopped) Optional: 1.5 tsp ginger- garlic paste
Tomatoes: ½ cup (finely chopped)
Turmeric powder: ¼ tsp
Red Chilli powder: ½ tsp
Coriander powder: ½ tsp
Cumin powder: ¼ tsp (roast and powder)
Chaat masala: ¾ tsp
Oil: 2 tbsp
Salt: to taste
Ingredients for the dough:
Wheat powder/Atta : 1 cup
All purpose Flour /Maida:1/2 cup
Salt: ½ tsp
Egg: 1
Oil: 1 tbsp
Warm water: ¼ cup
Oil required for applying on the rotis
Egg: 4 nos ( Beat them nicely with 2 pinches of pepper and a pinch of salt).
Ingredients for garnish:
Onions: 1 no., finely sliced
Green chilly: 1 no., finely chopped
Coriander leaves / Kothmir  -1 bunch, finely chopped
Lemon -2 nos. diced
Mint chutney or Kothmir Chutney (optional)

Procedure for Chicken rolls (Chicken Frankies):
Method:
Cut boneless chicken into small pieces. Wash with ½ piece of lime and drain excess water. This will remove blood smell.
In a kadai / pan add oil. When it become hot add onions . After sauting for 2-3 mins add ginger and garlic. Adding salt at this stage will help onions to cook faster.
When the onion is cooked add tomatoes. Reduce the flame to medium. Cook till the mixture becomes a lump and starts leaving oil.
Add all the spices : Turmeric powder, Red Chilli powder , Coriander powder , Garam Masala powder , Cumin powder  and Chaat masala.
Saute the powders and the mixture to avoid catching at the base of the kadai.
Add the chicken pieces to the mixture and mix thoroughly.
After 2 to 3 mins you will observe chicken pieces changing color. Reduce the flame completely. Place a lid such that the chicken pieces cooks with steam. Mix frequently to prevent chicken pieces getting burnt.
Check if the chicken is cooked with a spoon. The pieces will get cut easily when cooked.
Remove the lid of the pan and dry any excess liquid that is present in the kadai.
When dry put off the flame. Check for the taste. Your filling is ready.
Now to the next task of preparing rotis for the Chicken Frankies.
Combine Wheat flour and Maida with salt and oil. Add 1 egg to the mixture and knead well.
Add water carefully while kneading the dough. The consistency of the dough should be a little softer than Chapati dough. Knead for 4 to 5 minutes.
Heat a flat tawa for the rotis.
Divide the dough into eight equal parts. Flatten the ball between palms.
Dip the ball into a bowl containing maida and roll the dough with the pin. The rotis should be thin and bigger than a chapathi size. Keep dusting the dough with maida to ensure it does not stick to the pin when you press .
Now lift the roti and place on the hot tawa. Lower the flame to medium. When you observe bubbles surfacing, flip the roti.
Pour about 2 to 3 spoons of beaten egg on one side of the roti. Smear the egg thoroughly on the roti.
Now the other side also roti color changes .Flip the roti. Spread few drops of oil on the exterior side of the roti such that the egg side cooks gently.
With a spatula , loosen the Egg side from the tawa. Apply oil on the top side. Flip once and allow the plain side to cook for a minute and take the roti off the tawa.
Make other rotis in the same manner.
Now it is time to assemble the chicken frankies together.
Heat the chicken such that it is warm. Add all the garnish ingredients and mix well. Divide into equal portions required for the number of rotis.
Spread the filling on the egg side of the roti. On one end of the roti place the filling and roll the roti. Place some mint chutney or kothmir chutney on the roti. Roll the roti to form a tight roll.
Wrap the chicken frankies with foil to keep warm while serving . If you are serving immediately place a toothpick to avoid unwrapping of roti.
Chicken rolls are ready to serve.
Do not get boggled with the length of the recipe. It will take not more than 45 mins to 1 hour of your time.  Go ahead and surprise your family with this special snack.
You can experiment the rolls with vegetarian ingredients or add cheese for the children to make it less spicy.
My mouth is watering….umhh…hope you enjoy this family surprise recipe.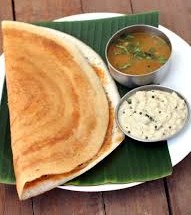 My family loves dosa and specially the masala dosa served at hotels. Many a times I go to veg restaurants only to have masala dosa. I love the crispiness and the taste of dosas. Many of you may be willing to experiment and surprise your family . The ingredients are not new but the proportion is very important to get that crispy texture.
My kids always ask why the masala dosa made at home does not get match this colour and crispiness. I was keen to adapt this preparation and went ahead to master this dosa variety.
As today is October 01, – Elders day. I've dedicated this recipe to all the elders at home and in our neighborhood. Happy Elders day…. Let us take this moment to remember all the dedication they had in our upbringing, to place us where we are.
Serves – 6
Ingredients:
Par Boiled rice / Puzhungal ari:  2 cups
Raw rice / Regular cooking rice:  ½  cup
Urad dhal (split black gram):  ½ cup
Toovar shal (split red gram: ½ tbsp
Chana dhal ( split Bengal gram) : ½ tbsp
Fenugreek (methi): 1 tsp
Sugar: 1tsp
Salt: 1 tbsp

Procedure for Hotel Masala Dosa Recipe:
Method: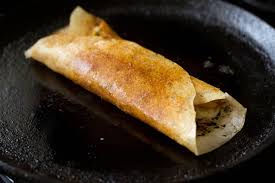 Soak rice, dhals, fenugreek in water for app. 4 hrs. Soak them together ,ensure there is enough water in the container.
Wash and drain all water. In a mixie ,grind them into a smooth batter. Add little water while grinding to ensure smoothness.
Transfer the batter into a large vessel to avoid dripping on fermentation. Add salt to the batter.
Fermentation process will take app. 6 to 8 hrs.
Prior to making dosa mix the batter well, add sugar to the batter. Mix batter thoroughly.
Heat the dosa tava / pan. When hot sprinkle few drops of water .The water will sizzle and evaporate indicating the dosa pan is sufficiently hot for the dosa process.
With the help of a sliced onion or spoon spread the oil on the dosa tava.
Pour two spoonful of batter on the tava and uniformly spread into a large circle. Pour oil on the sides of the dosa.
Slowly flip the dosa on the other side. After a few seconds reverse on the first side.
Dosa is ready. Add 1 large tbsp of masala aloo sabji in the middle of the dosa.
Fold it from 2 sides. You can opt for triangular shapes or cone shaped dosa.
Few people like to spread red chilli chutney over the dosa. It is purely personal choice.
Children may find it too hot.
Referring to the hotel masala dosa recipe it is served plain with only aloo sabji.
The dosa is served hot along with coconut chutney and sambhar.
My mouth is watering….umhh…hope you enjoy this family surprise recipe..
You can definitely be innovative and creative in the dosa preparation. Over fermentation will make the dosa batter taste sour. If you want to reserve batter for the next day, do not add salt and sugar. Add salt and sugar prior to making the dosa.
Remember this dosa is best when eaten hot. Hotel masala dosa is golden brown and crispy, you can enjoy eating hot straight from the pan.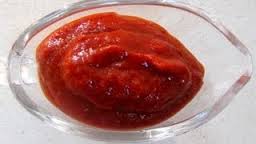 Red chilli chutney for dosa is a latest favorite at our home. Even the kids have one or two dosa with a dash of red chutney on one side of the dosa. It is a quick recipe and I'm sure taking less time for preparation.
Other varieties of chutney enjoyed with dosa or masala dosa is coconut chutney, mint leaves chutney or onion tomato chutney
Commonly made in South Indian homes.
Serves – 6
Ingredients:
Red chillies: 8 nos
Garlic : 5 medium cloves
Salt: ¼ tsp
Procedure for Red Chilli chutney for Masala Dosa:
Method:
Soak chilles in ½ cup of hot water . Close the lid of the vessel.
After 45 mins to 1 hour time, the red chillies will become soft .
Grind them with garlic and salt. Do not add water. Paste needs to be thick.
After the dosa batter is cooked on one side, apply a tsp of red chilli chutney over the dosa as a thin layer.
Steaming dosa and hot spicy chutney is a great combination.
Onion Tomato chutney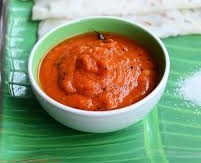 For those who cannot indulge in hot spicy chutney there is a variant for you: Onion Tomato chutney. If you do not have coconut at home you can make this chutney and win the hearts of your family members. All ingredients are available at home and can be made with ease.

Serves – 6
Ingredients:
Tomato: 1 cup chopped
Onion: 1 cup chopped
Red chilly powder : 2.5 tsp
Turmeric powder (Haldi) : ¾ tsp
Tamarind: size of a small lime
Curry leaves: 1 sprig
Salt: to taste

For Seasoning:
Mustard seeds: 1 tsp
Urad dhal(split black gram):1 tsp
Dried red chilly: 1 no
Curry leaves: 1 sprig
Asafoetida (hing): a pinch
Cooking oil: 1 tbsp+1tbsp for sautéing and seasoning
Procedure for Onion Tomato chutney served for Masala Dosa:
Method:
Heat oil in a pan , add chopped onion and sauté for 2 mins
To this add chopped tomato  and stir for a minute.
Add red chilli powder, curry leaves, salt, turmeric powder and tamarind.
Mix well till the aroma of raw smell disappears.
Put off the flame. Let the contents cool down.
Gring this in a mixie to a soft paste. Do not add water, chutney needs to be thick.
In another kadai season and add to the ground paste.
Onion tomato chutney is ready to be served. It has a wonderful colour and it is not hot and spicy therefore can be relished by kids too.
Hot dosa along with Onion tomato chutney is a great treat for dosa lovers. Ideal replacement for coconut chutney or mint chutney usually served with dosa.