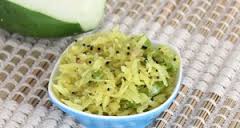 Raw papaya pickle is a quick and interesting recipe. Raw papaya pickle is a good appetizer and good enough for digestion too. You can relish the taste as a starter too. It is not spicy and can be enjoyed by children too.
The papaya crop is abundant and at times you get blessings from your neighbours kitchen garden as it their first harvest. To sum up you will have several fruits at the same time and you will be in a dilemma to consume them as it is your favourite fruit too.
Keep all your worries aside as there are many ways you can utilize papaya .For your information tutti frutti used in cakes and breads are made from raw papaya . This was news for me too. However let's come back to the recipe that will take only 10 minutes for preparation.
Ingredients for Pickled Raw Papaya
Raw papaya : 2 cups (diced)
Green chilly / Bird's eye chilly : 2 nos
Mustard seeds:2 tspn (crushed)
Salt: 1 tspn (as per taste)
Vinegar: 1/3 cup
Curry leaves:1 stem ( optional)
Water: 2 cups
Procedure for preparing Pickled Raw Papaya
Method:
Peel and wash the raw papaya. Cut the raw papaya into small cubes.
In a small bowl heat 2 cups of water. Add the diced raw papaya when the water comes to a boil.
Put off the flame. After 2 minutes drain the water completely. The papaya is semi cooked now.
Add crushed mustard, salt, chopped green chilly or bird's eye chilly, vinegar and chopped curry leaves to the bowl containing drained papaya. Mix all the ingredients.
Transfer the ingredients into a glass jar and leave it overnight. The steamed papayas will absorb the salt, chilly and vinegar.
The crushed mustard only enhances the taste of the pickle.
This raw papaya pickle is a great alternative during meal time. Try this and do not miss to reply with feedback.
Papaya has numerous health benefits. Grab the opportunity to be healthy by incorporating healthy dishes and a great  lifestyle too.
You can try variations in this recipe by adding chilli powder, other vegetables.  Try this recipe and enjoy easy and healthy cooking. For more healthy and tasty recipes visit our Facebook page and Google+ page.
Winter is getting stronger and during this time we yearn to have hot and spicy food. Pickles is an evergreen item on the table that cannot be missed at our home. Our family enjoy pickle and papad, fryums, vadiyalu etc.
In my previous posts I mentioned about the preparation of Mixed Vegetable pickle, also mentioning the various types of pickles we indulge in.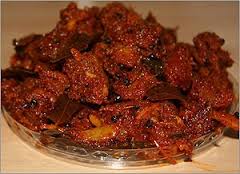 Fish pickle brings up several memories…my mama's passion in cooking, how we used to empty the bottles within a few days. The kitchen used to be filled with the aroma of frying fish and the seasoning. I didn't want my children to miss out on these special delicacies and have made it a point to master the recipe.
The first 2 to 3 times the pickle did not match the standard taste, but it has improved in the next few attempts. You can include Fish pickle in your special treat for Christmas.
Fish selection is utmost important . Fish pickle can be made with tuna(choora), sardine(mathi-chaala), butter fish(modha), seer fish(ney meen), prawns (chemeen),Anchovy (Netholi) and Pomphret(Avoli). Do not attempt fish pickle with mackerel (aiyla). Butter fish, Prawns, Tuna and Seer fish are the best options for making Fish pickle at our home.
I used lime juice in the last rinse while washing the fish to remove the strong smell and will help cook better. I prefer using Kashmiri Chilli powder for pickles-kadumanga as the pickle is not spicy, yet the appearance will be hot and spicy.
Ingredients:
Fish: ½ kg (cut into small pieces)
Lime: ½ piece(squeeze in the final rinse of fish wash)
Vegetable oil: 1 cup to fry the fish pieces
Ingredients for Marinating fish:
Red chilli powder- 1.5 tsp ( I use Kashmiri Chilli powder –Eastern Brand)
Turmeric / Haldi powder: ¼ tsp
Pepper powder: ½ tsp
Salt: ¾ tsp or as per taste
Time required for marination: 30 mins
Ingredients for fish pickle gravy:
Green chilly : 3 small( slit into halves)
Red chilli powder- 3.5 tsp ( Kashmiri Chilli powder –Eastern Brand)
Turmeric / Haldi powder: ¼ tsp
Pepper powder: ½ tsp
Ginger: 2 tsp (sliced into thin pieces)
Garlic pods: 4 tsp (sliced into thin pieces)
Salt: ¾ tsp
White Vinegar: ½ cup(boil and cool to room temp)
Vegetable oil: ¼ cup
Curry leaves: 2 stems( cut into small pieces)
Mustard : ½ tsp
Fenugreek / Methi seeds: ½ tsp
Ingredients for powdering:
Mustard : ½ tsp
Cumin seeds / Jeera: ½ tsp
Fenugreek / Methi seeds: ½ tsp
Roast on low flame and powder coarsely.

Procedure for Fish pickle / Meen Achar:
Method:
Cut fish into small pieces and wash the pieces. Drain water completely.
In a separate vessel add chilli powder, pepper powder, haldi powder and salt. Mix well and then toss the fish pieces in the vessel, mix all the fish pieces . Let it remain for 30 minutes.
Heat oil in a kadai, fry fish pieces till they are crisp. Maintain medium flame while frying the fish pieces. This will ensure moisture in the fish is taken off and the pickle can be retained for longer time.
In another kadai heat oil and add mustard seeds. When it crackle add methi seeds and curry leaves.
Immediately add chopped ginger and garlic. Keep stirring until they turn brown in color. Lower the flame.
Add chilli powder, pepper powder, haldi powder and salt. Stir this till the raw smell goes away. Mix the powders to avoid getting burnt at the base.
Add white vinegar to the powders and mix thoroughly. Add the fried fish pieces and mix the entire masala.
Add the roasted powders-mustard, jeera and methi seeds. Mix the fish pickle and transfer contents into a clean bottle.
If handled with care and refrigerated between servings you can retain fish pickle / meen achar upto 9 months.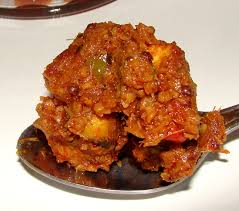 Great combination with hot rice, chutney and curd curry too. My children do enjoy with rotis, breads too.
Give a try to your culinary skills and make this Christmas feast an enjoyable one with your favorite wine, fried rice ,chicken dishes and cutlet. Share with family and friends…
Pickles are a favorite combination with meals. Our family enjoys pickle and therefore we make pickle seasonal wise all round the year. Fresh pickles are in great demand. The oily, hot reddish color and the unique flavors of masala and spices makes it a favorite one.
In winters the urge to eat pickles and spicy stuff is high. The taste buds signals for hot, spicy, at times sweet items too. To fulfill needs of all family members I decided to make mixed vegetable pickle this week.
The pickles made seasonal wise at home are: Mango pickle, Lime pickle, Tomato pickle, Amla pickle-Usirikkai, small amla-Gooseberry pickle, Drumstick pickle, Wild lime-Vellanaranga pickle,…the list will continue…. In addition to these we make non-veg pickles like Fish pickle, Mutton pickle, Beef pickle, Prawn pickle, etc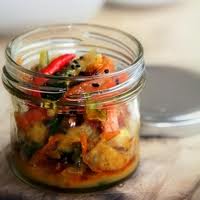 Mixed Vegetable Pickle is the spicy, tangy and crunchy pickle made with the fresh Indian vegetables. A great combination with rice- dal, curd rice and parathas. When soaked in vinegar it leaves the vegetable fresh and retains the crunchy texture.
Mixed Vegetable pickle can be made any time of the year. This is an instant variety and stays good if placed in the refrigerator between servings. It can be stored upto 3 months if handled properly.
Ingredients :
Carrots : 2 nos (equal to ½ cup when chopped)
Beans: 6 nos (equal to ¼ cup when chopped)
Cluster beans: 6 nos (equal to ¼ cup when chopped)
Bitter gourd: ½ piece (equal to ½ cup when chopped)
Beetroot: ¼ piece (equal to ¼ cup when chopped)
Cauli Flower: 3 mini florets (equal to ½ cup when chopped)
Lime : 2 nos ( cut in 1 inch size)
Ginger : 4 inch piece (chop finely)
Green chilly : 3 nos (slit length wise)
Vinegar: ½ cup
I include 5 to 6 Garlic pods (split length wise), this is optional. You can add other vegetables like radish, gherkins (kovakai) as per your choice. Increase masala as per the quantity of vegetables.

Ingredients for Masala:
Red chilli powder- 2 table spoons
Turmeric powder: ½ tspn
Salt: 1.5 tspn
Oil – 1/2 cup
White Vinegar: ¼ cup
Ingredients for Seasoning:
Mustard – 1/2 tsp
Curry leaves : 1 stem
Asafoetida (Hing) : 1/2 tsp
Procedure for Mixed Vegetable Pickle: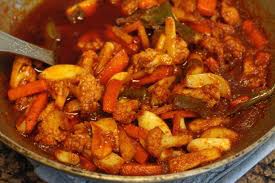 Method:
Peel external layer of carrot, beetroot, radish. Wash all the vegetables. Drain them completely. Leave it for an hour to dry.
Chop all vegetable in small pieces. Remove bitter gourd seeds and lime seeds while chopping.
In a vessel mix all the chopped vegetables- quantity approximately 4.5 cups. Add salt, turmeric powder, chilli powder. Mix well and keep aside for 3 to 4 hours.
Heat oil in a kadai/pan. When hot add mustard seeds. When the mustard seeds crackle, lower flame add curry leaves and hing. Transfer this hot oil to the vessel containing mixed vegetables.
Do not mix it immediately. Let the vegetables remain in contact with hot oil till you add the next ingredient- vinegar.
In the same kadai add vinegar immediately and allow it to boil. Put off flame after 3 minutes of boiling. When cool add this to the mixed vegetable vessel.
Mix all the contents thoroughly and bottle it.
The multi color combination looks great. Try this pickle and let us know your feedback. I'm sure your family will enjoy this pickle made at home.
This pickle can be consumed after a day's time. The bottle should be dry and free of moisture. Place the bottle in the refrigerator always. Use a fresh, dry spoon to dispense the pickle. Remember handling is important for the pickles shelf life.
This crunchy mixed vegetable pickle is an instant variety, typically south Indian preparation and can be stored upto 3 months if handled with care.