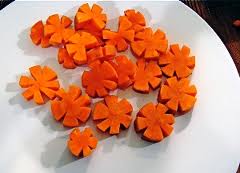 Vegetable carving is an artistic display of techniques that involves sculpting vegetables to form pretty centerpieces for table settings and other uses. Your dinner arrangements are complete when you have laid down the entire menu including salads. Now you can bring a twist in the arrangements by placing cute shapes of vegetables along with the chopped cucumber, carrot, tomato and other salads.
No matter how good food you prepare but if you do not present it in an effective manner all your effort is gone in vain. Let's make a start in understanding simple techniques to improve the art.
The beginnings:
Japan has also been referred to as the root of the art of fruit and vegetable carving, called Mukimono in Japanese. Now this has developed into a major and critical part of chefs training. Vegetable carving and designing has become a career in many countries. Exhibitions and photo galleries have been initiated based on the subject of carving on vegetables and fruits.
Display of vegetable carving:
The products of vegetable carving are generally flowers or birds, but there is no limit to human imagination and therefore they have made sculpting of famous personalities. Design beautiful images and colorful combination to create shapes. Usually vegetable carving is used for garnish, you can also have a flower arrangement to beautify your table .
Go ahead , spare some time and learn the basic skills of vegetable carving. You can make your family proud with no extra costs. Your guests too will be amazed at your presentation skills in addition to the expert culinary skills.
This is a series in vegetable carving skills which involve simple tools and techniques. Therefore go thru' these video clips to understand.
Learn to make Tomato rose:
Watch this video for simple understanding:
Learn to make Carrot rose.
Watch this video for simple understanding:
Learn to make Cucumber rose:
Watch this video for simple understanding:
Learn to make Carrot butterfly.
Watch this video for simple understanding:
Various books and instructional videos teach the art of fruit and vegetable carving. Additionally, tool sets are sold for those who participate, either professionally or as a hobby. Such tools include knife and garnishing sets. Cutters come in various sizes for sculpting different fruits and vegetables. These tools are typically constructed of stainless steel.
Hope you have enjoyed this article. Learn to beautify your dining table with the creative designs mentioned in this article.
Leave in your comments or ideas for making salads with simple vegetable or fruit carving.
Read: Simple way Prepare Fresh Moong gram sprouts at Home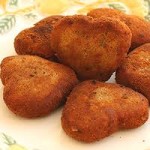 Vegetable cutlet is a mouth watering delicacy. Vegetable cutlet is popular as a snack or starter too. This article is being posted on Valentine's day as a gift of love. There is a popular saying that, "you can make a man happy thru' his tummy only". In India the situation is no different. No matter how modern or career oriented you may be a cup of tea or a small snack will make your man happy and cheer his mood.
Go ahead and surprise your soul mate…loved ones on Valentine's day with these heart shaped cutlets. Serve them hot with chutney or sauce. These are homemade snacks that can be eaten without any worry of the quality. You can design the cutlets in various shapes: circle, oval, square, star, flower, heart shaped as per the mold you have and the occasion. For kids you can cut into mickey outline. You can make use of the empty snack boxes in various cartoon characters available in the market.
Ingredients :
Potato: 1 large
Carrot: 1 large
Onion: 1 small ( optional -finely chopped)
Beans: ½ cup chopped
fresh corn: ¼ cup
Green peas: ¼ cup
Green chilly: 2 tbsn (finely chopped)
Ginger-garlic paste : ½  tspn
Garam masala: ¼ tspn
Coriander leaves: 3 tbsns (finely chopped)
Cumin powder: ¼ tspn
Salt: as per taste
Lime juice: 1 tbsn
Corn flour: 3 tspn
Bread crumbs: 1.5 cup
Oil: for frying
.
Procedure for preparing Heart shaped –Vegetable Cutlet:
Method:
Peel potato and carrot and pressure cook for 2 whistles. When cool mash it without any lumps.
Potato is the basic ingredient that binds the cutlet and ensure good shape formation.
Steam fresh corn and green peas. Add a little salt to avoid band taste when it becomes tender.
Mix corn flour with 5 to 6 tbsn of water such that the liquid is thick and can be used as a coating for the cutlet.
Mix all the ingredients together. Apply oil on the palms and then divide the mixture into equal sizes.
If you are cutting shapes then spread the mixture on a flat plate. Press the mold and cut into desired shapes.
Immerse the shapes into the corn starch batter and then into the flat plate containing bread crumbs.
Ensure a the sides of the cutlet is covered with bread crumbs.
Heat oil in a pan and when hot add the cutlets one by one. Fry them golden brown on both sides. The vegetable cutlet should be half immersed in the oil to fry sufficiently.
You can bake the vegetable cutlet to avoid oil consumption.
Fry the complete batch in oil. Serve hot with sauce or chutney.
Delight your family with these hot delicious Heart shaped Vegetable cutlet.
Happy Valentine Day!!
There are various options to the cutlet i.e addition of other vegetables and you can opt for rava / Sooji in place of bread crumbs. You will have to do shallow frying to avoid rava getting separated.
Note: Non – vegetarians can opt for egg white as a coating to immerse cutlet prior to application of bread crumbs.
If you like this recipe or know of any variations do let us know in the comments.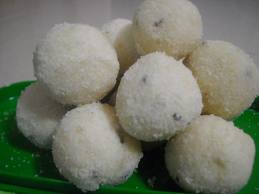 Rava Laddoo is a popular sweet during Diwali and other festive occasions . Due to the texture being soft this is made for elders and kids in the family .Today I'm sharing a soft rava laddoo recipe that includes desiccated coconut. This rava laddoo preparation is very easy and can be made within 15 to 20 minutes. Rava laddoo is also called Suji Ka laddoo.
In some parts of South India , the rava laddoo is made hard such that it remains for a fortnight. This recipe is an instant variety and can be retained for maximum 3 days. Preferably consume them fresh. For convenience, the base can be prepared and stored in an airtight container, you can roll the laddoos on need basis.
The rava laddoos are very soft and has to be handled with care. I have received positive feedback on many occasions. Thanks to my friend Mariam from whom I learnt this recipe. She was unmarried then but was good at cooking and was keen on experimenting new recipes. This recipe is dedicated to my friend who is abroad now.
Try this recipe and you are sure to repeat this process again.
Ingredients :
Bombay rava / Suji:1 cup
Desiccated coconut: ¾ cup+ ¼ cup
Sugar: ½ cup
Raisins: 5 nos ( cut into fine like pieces)
Cashew nut: 5 nos ( chop into fine pieces)
Cardamom / Elaichi: 4 nos ( remove pod and powder)
Ghee: 2 tbsn
Milk: ½ cup ( room temp)

Procedure for preparing Soft Rava laddoo with Coconut:
Method:
In a kadai add ghee , when it becomes hot add Raisins and Cashew nut. Reduce flame and fry them. Drain and transfer onto a plate.
Next fry Bombay rava / Suji in the same kadai. Mix it continuously to avoid burn or catching at the base of the kadai.
Fry the rava until it turns white and smell of roasted rava is felt strongly. Add ¾ cup of desiccated coconut and stir continuously. When it becomes warm, put off the flame.
Then add sugar, powdered cardamom and fried raising and cashewnut. Mix well.This base can be retained for at least 10 days in an air tight container. Sugar should be added coarse. Do not powder sugar for the instant soft laddoo variety.
To make soft rava laddoo with coconut sprinkle milk over the base mixture of rava laddoo. Now mix the base thoroughly and roll the mix into small balls with your hand.
Spread ¼ cup of desiccated coconut on a flat plate. Roll the laddoo on the desiccated coconut. The laddoo is covered with a coating of the coconut and it gives a royal look.
You will get approximately 12 laddoos. Looking yummy and pearly white. You can opt for sugar free variety to prepare soft rava laddoos if there are diabetic persons.
Other popular recipes with rava are Rava kesri, Rava upma, Rava dosa and the base for making puri in Pani puri. Drop in your comment after you try this instant rava laddoo variety.