Ada Pradhaman is a Malabar sweet dish famous for its unique aroma and mouth watering taste. This payasam is a must have dish during Onam festival in Kerala and important occasions.
Ingredients:
1/2 Cup Ada(available in ready to cook packs)
4 Green cardamoms
1/2 tbsp dry ginger ( Sonti / Chuk)
1/4 Cup pure ghee
1/2 cup Cashewnuts/Kaju
2 tbsp Raisins ( Kishmish)
¼ cup Sabudhana( white balls) soak in water and cook till they are transparent.
1 ½  Cups coconut (grated)
1 Cup jaggery (powdered into fine powder)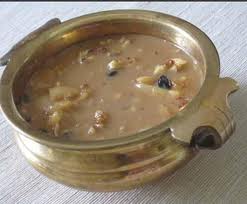 Procedure of Ada Pradhaman :
Heat 2 tbsp ghee and fry ada.
Grind cardamoms and dry ginger together to a fine powder, and place aside
Heat 2 tbsp ghee and saute the cashewnuts and raisins until light brown
Immerse coconut in one cup lukewarm water, grind and extract thick milk.
Repeat the process, make a second extract and set aside.
Crush jaggery to a fine powder, keep it aside.
To one cup of water add the second extract of coconut milk . Add ada and when it starts boiling lower the flame.
After 10 mins check if ada has cooked.Ada should remain smooth but hold its shape.
Add jaggery with it and continue cooking until it thickens.(Suggested to boil jaggery separately with ¼ cup of water. This will ensure the residue is filtered)
Heat the remaining ghee and add this to the pradhaman. Add cooked sabudhana.
Mix the first extract of coconut milk and the fried dry fruits with it, stir well and heat thoroughly.
Sprinkle with the cardamom powder and dry ginger powder.
Ada pradhaman /Ada payasam is ready to serve.
Sarson Ka Saag is a popular Punjabi dish and commonly prepared in North India. This popular curry is served along makki ki roti.(roti variety made of maize flour).
Ingredients:
1 kg Sarson (green mustard)
250 gm Spinach ( palak)
2 fresh Shalgam (turnips) (peeled and chopped (optional)
3-4 flakes Garlic (finely chopped)
2″ piece Ginger (finely chopped)
2-3 Green chillies (finely chopped)
2 tsp Makki ka atta (maize flour)
1 ½  tsp Powdered gur (jaggery)
Salt ( to taste )
½ cup Water
Tempering (Tadka)
3 tsp: Desi ghee
1/2 tsp Red chilli powder
2-3 Green chillies (finely chopped)
1″ piece  Ginger (finely chopped)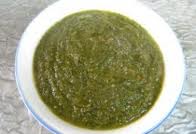 Procedure of Sarson ka Saag :
Wash, clean and chop the mustard and spinach leaves.
Pressure cook the leaves with garlic, ginger, green chillies and shalgam. Add salt and 1/2 a cup of water. The saag will be done in 15-20 mins. Remove from fire and cool.
Grind the spinach to a rough paste. Add makki ka atta and cook for 15 minutes on low heat.
For tempering heat ghee in a pan . Add ginger, green chillies and red chillies , when fried …add to the hot saag and stir lightly.
Serve hot with Makki ki Roti.
Gobi Manchuria is a popular Chinese dish. It has been indianized for being popular and a good combination with rice, roti varieties and noodles.
Ingredients:
1 No.  Cauliflower (medium, clean and cut into small floret's)
1/4 cup Plain flour
3 tsp Cornflour
1 small bunch Spring onion (finely chopped)
2 tsp Ginger (finely chopped)
1 tsp  Garlic (finely chopped)
1/4 tsp Red chilli powder
2 no Red chillies (dry)
1 tsp Milk
3 tspOil
1-1/2 cup Water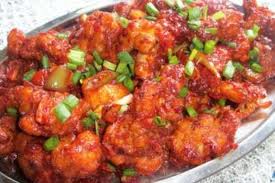 Procedure of Gobi Manchuria :
Boil the florets for 3-4 minutes in plenty of water, to which a tsp of milk has been added. Drain and pat dry on a clean cloth.
Make thin batter out of flour and 2 tsp corn flour, adding 1/4 tsp. each of ginger and garlic and red chilli powder and salt to taste.
Dip the floret's in the batter one by one and deep fry in hot oil. Keep aside.
In the remaining oil, add remaining ginger, garlic and crushed red chilli and fry for a minute. Add the salt and spring onions. Stir fry for a minute. Add 1-1/2 cups water and bring to a boil. Add 1 tsp. corn flour to 1/4 cup water and dissolve well. Gradually add to the gravy and stir continuously till it resumes boiling. Boil till the gravy becomes transparent.
Add floret's and soya sauce. Boil for two more minutes and remove.
Serve hot with noodles or fried rice.
Procedure of Gobi Manchuria2nd option (without gravy):
Dry Manchurian can be made by omitting the gravy.
Make floret's as above and instead of adding water as above, add fried floret's, spring onions and soya sauce at this stage.
Sprinkle 1 tsp. cornflour on the florettes and stir fry for 2 minutes.
Serve piping hot with toothpicks or mini forks and chilli-garlic sauce or tomato sauce.
Note: Same procedure can be followed for Veg. Manchurian recipe (with gravy or dry). Along with cauliflower floret's include finely chopped minced vegetables, peas and bind with some cornflour or bread crumbs and make small lumps the size of a lemon.
Malai Kofta is a popular North Indian side dish. This popular curry is served along with main course vegetarian meal or Roti varieties.
 Ingredients:
150 gms Cottage cheese
3 medium tomatoes
¼ cup Cashewnuts
2 tbsp Melon seeds (magaz)
1 tbsp Poppy seeds (khuskhus)
1 tbsp Ginger (chopped)
2 nos Green cardamoms
1 tbsp Red chilli powder
¼ cup Yogurt
¼ tbsp Green cardamom powder
2 tsp Refined flour (maida)
2 tbsp Fresh cream
¼ tsp Garam masala powder
1 tbsp Oil
Salt ( to taste)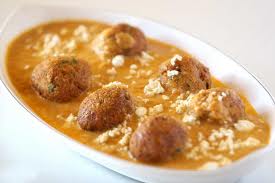 Procedure of Malai Kofta :
In a pressure cooker add chopped tomatoes ,cashewnuts, melon seeds, poppy seeds, ginger, green cardamoms, red chilli powder, salt and 1 tbsp oil and mix well.
Add yogurt to this mix. Stir well.
Add 1 cup water and close the cooker with the lid. Cook under pressure till 4 whistles.
Heat sufficient oil in a flat wide pan. Grate cottage cheese into a bowl.
Add green cardamom powder, salt, flour and mix well. Take small portions and shape into koftas.
Deep fry these koftas till golden. Drain and place on tissue paper.
Once the pressure reduces, open the lid of the cooker and blend the mixture with a hand blender.
Strain the mixture and pour into another non-stick pan and heat. Add a little cream and garam masala powder and mix.
Arrange the koftas in a serving bowl, pour the gravy over, drizzle a little cream and serve immediately.
Phirni is a popular North Indian sweet dish. This popular dessert is flavoured with cardamom and saffron. Served during festivals and occasions.
Ingredients:
1/2 cup long grained rice (like Basmati)
1 litre/ 4 cups of whole/ full cream milk
1/2 cup sugar
1/2 tsp cardamom powder
1 pinch of saffron
1/2 cup mix of unsalted almonds and pistachios chopped coarsely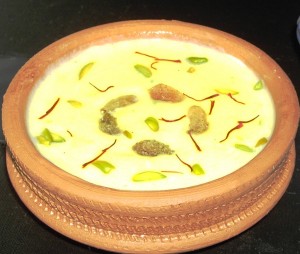 Procedure of Phirni:
Thoroughly wash and drain the rice. Put it into a bowl and cover with water. Soak for 2 hours.
Drain all the water away and grind the rice to a very coarse paste ( grainy appearance ).
Put the rice paste, milk, sugar, cardamom (powdered )and saffron into a deep, heavy bottomed pan and cook on medium heat till the rice is completely done (it will get soft).
Stir frequently to prevent the milk from scorching or burning at the base of the pan.
Keep aside 3 tsp of mixed chopped nuts ,  add the remaining mixed nuts to the Phirni and stir well. Turn off the heat.
Allow the Phirni to cool, then chill in the refrigerator. Ready to serve.
Garnish with the remaining chopped nuts and serve

.
Mutter Paneer Masala is a popular North Indian dish . A good combination with Roti and Rice.
Ingredients:
500 gms Shelled Mutter (green peas)
300gms Paneer
3 medium Onions (chopped)
8 cloves Garlic (crushed)
2 tbsp grated Ginger
2 Green Chilies (chopped)
250gms Tomatoes (peeled and sliced)
1 cup curd (plain Yogurt)
1 tsp Turmeric Powder
1 tbsp Coriander Seeds
4 Bay Leaves
2 cups Water
1/2 cup Ghee / Vegetable oil
Salt (to taste)
To Garnish:
Garam Masala Powder
Chopped coriander Leaves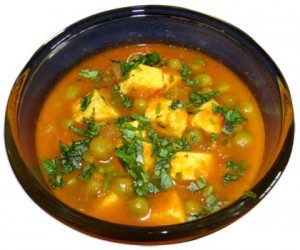 Procedure of Mutter Paneer Masala:
 

Make a paste by grinding together half the onions, garlic and coriander seeds.
Heat the ghee in a frying pan and cut the paneer into 1-inch cubes.
Fry the paneer to a light brown. Remove to drain on a plate.
Add the remaining onion and the ginger to the ghee / oil in a pan and add the bay leaves and fry until the onion is golden brown.
Add the turmeric and the paste mixture and fry until the ghee starts to separate.
Add the paneer and mutter (peas) along with the yogurt, chilli, tomato and salt. Stir for 5-6 minutes over low heat.
Pour in the water and simmer gently for 20 minutes.
Garnish with garam masala and coriander leaves. Serve the Mutter Paneer Masala.
Palak Paneer is a popular side dish . Frequently prepared in North India. A good combination with roti and fried rice.
Ingredients:
1/2 kg Spinach
100 gm Paneer
1 Onion (finely chopped)
1/4 tsp Black pepper powder
3/4 tsp Ginger-garlic paste
1/2 tsp Green chilli paste
3 tbsp Butter
2 or 3 Bay Leaves
1 tsp Cumin Seeds
1 tsp Garam Masala Powder
3 tbspVegetable oil
Salt (to taste)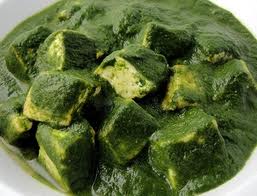 Procedure of Palak Paneer:
Mix green chilli paste and ginger-garlic paste with spinach. Add little water.
Pressure-cook the above mixture for 7 to 8 minutes. Remove before the first whistle.
Cut paneer into small cube shaped pieces. Keep aside few cubes for decoration.
Heat 3 tbsp vegetable oil in a frying pan.
Fry the paneer cubes on a medium flame till they become light brown. Remove from pan and keep aside.
Take butter, heat it.
Add bay leaves and cumin for frying.
Add finely chopped onions and fry again until they are transparent.
Add garam masala powder, black pepper powder and salt. Mix well.
Now add fried paneer and cooked spinach. Mix them properly.
Cook palak paneer on a medium flame for 10 mins.
Garnish with finely grated paneer pieces .
Palak Paneer is ready to serve.
Jeera Pulao is a popular rice variety. Quickly prepared and good for health. Goes well with paneer curry, non vegetarian curries with gravy.
Ingredients:
3 tsp Cumin Seeds (Jeera)
2 cups Rice (Basmati variety)
3 Bay Leaves
3 tbsp Cashew Nuts
5 Cloves
4 Whole Peppercorns
1 Onion (finely sliced)
2 cms Cinnamon Stick
3tbsp Clarified Butter (Ghee)
Salt (to taste)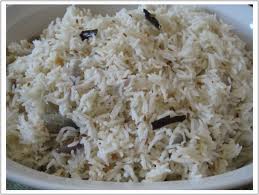 Procedure of Jeera Pulao:
In a utensil wash the rice and soak it in water for an hour.
At medium heat place a thick bottomed wide pan and add the ghee.
When the ghee heats up, add the cashew nuts and stir till golden brown. Remove from oil and keep aside.
Add to the ghee other ingredients like cloves, bay leaves, cumin seeds, cinnamon stick and peppercorns.
Stir and immediately add rice, salt and water and stir.
Cover the pan and simmer it for 15 minutes. For the next 5 mins place on low flame or when it is done.
Gobi Aloo Masala is a favourite side dish . A good combination for main course and breakfast items like puri , bread and roti.
Ingredients:
1 whole Cauliflower (florets)
4 Potatoes (chopped in blocks)
1 Onion (chopped lengthwise)
1 Green chilli ( slit in half)
1/2 tsp ginger-garlic paste
1/2 tsp Turmeric
2 tsp Cumin Powder
2 tsp Coriander Powder
2 tsp Red Chilli Powder
1 tsp Garam Masala powder
few  coriander leaves (for garnishing)
1 tbsp Oil
Salt (to taste)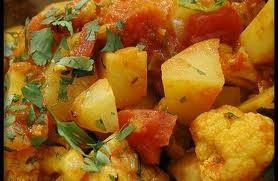 Procedure of Gobi Aloo Masala:
Wash and drain the separated Cauliflower florets.
Cut Potatoes into small pieces.
Heat Oil in a Pan, add Onions and fry till transparent.
Add green chilli, ginger – garlic paste, stir , mix in potatoes, cover to cook.
Once the potatoes are half done, add the cauliflower florets.
Add turmeric and salt. Cover to cook. Remove the lid after a few minutes.
Add all the cumin powder, coriander powder, red chilli powder and garam masala powder & mix.
Garnish with coriander leaves.
Chinese Chicken Fried Rice is an all time favourite main course meal. Usually prepared as a Chinese variety.
Ingredients:
2 cups (16 ounces) Rice (cooked)
2 Chicken Breast
2 Eggs (beaten)
1/4 cup (2 ounces) Green Peas
1/4 cup (2 ounces) Sweet Corn Kernels
1/4 cup (2 ounces) Spring Onions
2 tbsp Chilli Sauce
4 tbsp Soya Sauce
1 tbsp Tomato Ketchup (or sauce)
2 large pinches China Salt (Ajinamoto)
3 tbsp Lime Juice
Salt & Black Pepper (Kali Mirch) to taste
2 tsp oil
1 tsp olive oil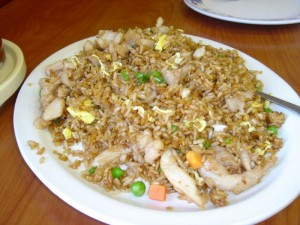 Procedure of Chinese Chicken Fied Rice:
Cook rice separately, cool it in a large pan and keep aside.

Cut chicken breasts into thin cubes and marinate with salt, pepper and lime juice for 15 minutes.

In a non-stick cooking pan , pour 1 tbsp olive oil and fry the chicken cubes until they turn slightly brown

Sauté green peas and corn kernels until they become soft.

Also saute spring onions till slightly brown.

Scramble 2 eggs in the pan items.

Heat 2 tbsp oil in a deep vessel. Add the fried chicken cubes, peas, corn kernels, scrambled eggs and rice.

Add china salt, chilli sauce, soya sauce, tomato ketchup and mix them thoroughly.

Serve hot.
 Note: Chinese fried rice tastes good when hot.