MUTTER PANEER MASALA
Mutter Paneer Masala is a popular North Indian dish . A good combination with Roti and Rice.
Ingredients:
500 gms Shelled Mutter (green peas)
300gms Paneer
3 medium Onions (chopped)
8 cloves Garlic (crushed)
2 tbsp grated Ginger
2 Green Chilies (chopped)
250gms Tomatoes (peeled and sliced)
1 cup curd (plain Yogurt)
1 tsp Turmeric Powder
1 tbsp Coriander Seeds
4 Bay Leaves
2 cups Water
1/2 cup Ghee / Vegetable oil
Salt (to taste)
To Garnish:
Garam Masala Powder
Chopped coriander Leaves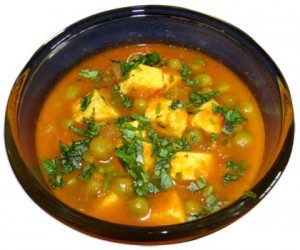 Procedure of Mutter Paneer Masala:
 

Make a paste by grinding together half the onions, garlic and coriander seeds.
Heat the ghee in a frying pan and cut the paneer into 1-inch cubes.
Fry the paneer to a light brown. Remove to drain on a plate.
Add the remaining onion and the ginger to the ghee / oil in a pan and add the bay leaves and fry until the onion is golden brown.
Add the turmeric and the paste mixture and fry until the ghee starts to separate.
Add the paneer and mutter (peas) along with the yogurt, chilli, tomato and salt. Stir for 5-6 minutes over low heat.
Pour in the water and simmer gently for 20 minutes.
Garnish with garam masala and coriander leaves. Serve the Mutter Paneer Masala.