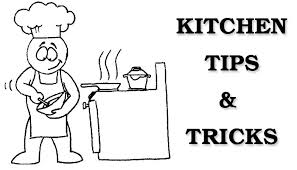 For a beginner in the kitchen all the activities will feel like a huge task. As you experience with cooking several dishes you start gaining confidence and the tasks start looking simpler and less complicated. Here are a few tips from my experiences in the kitchen in continuation to the previous posts that was shared.
Watch out for the tips and tricks that has to be managed while working in the kitchen.
Cutting or chopping vegetables
Sharpen your knife with a stone. Soak the stone in water and then rub the knife in an angle to get a better finish. Avoid the electric sharpener as much metal will be rubbed off in the process.
To avoid crying while cutting onions refrigerate  and then cut. If you have not refrigerated then  place an onion on the tip of the knife you use to cut the onion. No shedding of tears.
To avoid itching after cutting elephant foot take a small piece and place it on flame using a pincer. Your itching will minimize and gradually stop.
Vara pindi / Banana stem dish is tasty. While chopping banana stem you need to remove the fibers that is present between the stem. Ideal method cut the inner white stem in ½ inch circular pieces. While segregating you will observe long hairy threads along with the circular piece. Roll this hairy threads on your finger and proceed to cut another circular slice. This way unwanted threads can be removed and finally hold 4 to 5 circular slices and chop them fine.
Do not throw away the water in which rice is washed prior to cooking. Raw banana , banana stem , banana flower chopped for torran i.e a dry vegetable dish: can be soaked in this water. This will avoid becoming black. Drain water and squeeze the ingredients well prior to cooking.
Add chopped Potato, brinjal (egg plant) ,elephant foot in water to avoid blackening. The actual color of the vegetable is retained.
To keep the green chillies fresh for a longer time, remove the stems before storing.
Wash and dry ladies finger prior to chopping. This will relieve you of stickiness.
Reduce bitterness of Karela. Slit karelas ( bitter gourd) length wise and apply a mixture of salt. Keep aside for ½ hour and then cook.
Cooking tips:
While boiling pasta and noodles, use some oil in the water to avoid sticking. When the noodles  are boiled, drain all the hot water and then add cold water. This way all the noodles will get separated.
To prevent the growth of fungus in pickles, burn a small grain of asafoetida over a burning coal and invert the empty pickle jar for some time before putting pickles in the jar.
Before cooking cauliflower florets soak them in warm salted water for a while to get rid of any tiny insects that may be present deep inside the florets and not visible to the eye.
A little rice flour added to bhajia batter will not only make the bhajias crisper but also less oily.
Always warm dry spices like cumin seeds, cardamom, cloves, etc. on a griddle before powdering. They will grind faster and the powder will be finer.
If you want the onion to change color during sautéing on a low flame, add ½ tsp of sugar and you will see a coloration appear .
Safety tips:
If you are not using a chopping board, then it is advised to use finger gloves while cutting vegetables.
Fry the fat of chicken in a kadai on a low flame. The oil that is collected can be stored in a clean and dry bottle. This oil is ideal to apply on minor burns in the kitchen. It gives cooling effect and heals faster too. Shelf life: 3 years
General tips:
If the lemon or lime is hard, put it in warm water for 5-10 minutes to make it easier for squeeze. Also lemon can be used while washing chicken, fish, meat to remove that raw blood smell, cleansing properties too.
To remove fish and meat odor from your hands rub with lemon rind.
Always keep dough (atta/ maida flour) covered with a moist cloth to avoid a dry crust from forming on it.
Crust removed from bread for making sandwiches etc., can be sun dried or oven dried and powdered in a mixer to form fine breadcrumbs. Refrigerate and use as required. You can make tikkis or use in cutlets.
Commonly observed that jam bottle cap does not open as it is seal locked. Make a small dent on the cap with a knife to remove the vacuum and you will be able to open the cap.
Soak and cook dhals ,you can save cooking gas.  For more tips on gas saving methods check out- Great tips to save LPG in your kitchen.
Keep a scissor, bottle opener, stone for sharpening knives handy in the kitchen to avoid delays.
An organized kitchen is the key to work efficiently. Once a week organize the racks to ensure you get your containers and spoons on time.
Related reading:
My experiences in the kitchen-Part 1
How to Prepare Basic Garam Masala at Home
How to make Ginger Garlic paste at home
How to extract fresh Coconut milk at home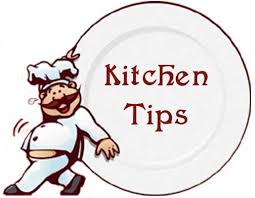 Working in the kitchen is fun. If the day is hot and not going good you will end up with more mess. Here are few special tricks that I have learnt along with the art of cooking . I started off with great experiences and at times disastrous ones too during experimentation in the kitchen. I wish to share these tricks and kitchen tips to the beginners and newbies experimenting in the kitchen.
Indian cooking involves lots of masalas, powdering and grinding in the cooking process You can save time and effort, also learn from experiences rather than inventing the wheel again.
Frying papad at home:
Prick at least two holes to avoid papad bulging. Store in tight containers to avoid fried papad becoming soft.
Place unfried papad in the refrigerator.  To prevent stiffening and breakage of the papads once the cover is opened, place the unfried papads in a polythene cover this will prevent stiffening and breakage.
Boiling milk:
Dispense packet milk into container and only then place on the stove. If not the milk catches at the base leaving a burnt smell. Low or Medium flame should be maintained while boiling milk.
While boiling milk at medium heat stir the milk with a spoon. It will avoid milk sticking at the bottom of the vessel.
Handling hot oil:
While frying puris in oil, immerse in oil and then press with a flat spoon such that the puri will puff like a ball. Do not leave the dough for a long time, it'll absorb oil. Instant frying is the key to avoid oil absorption for puri.
To check oil is hot, put a small piece of the dough / batter. If it comes up boiling,  the oil is hot enough to fry. If the batter is lying at the base, oil needs more heating.
To cool the oil and avoid fumes after frying activity, switch off flame and put 8-10 cooked rice into the oil. It will absorb the heat.
Fry papad in medium flame. To retain color of fryums while frying, heat the oil sufficiently, lower the flame completely and then add fryums to avoid the deep brown color
Cake baking tips:
Weigh and add quantities while you plan to make a cake. Measuring can be tricky and the cake baking will not be accurate.
If you plan to add soaked nuts and raisins while baking. Coat them with All purpose flour (maida) and then add when the baking is half way through. This will avoid the nuts and raisins reaching the bottom.
After applying butter on the cake tin, sprinkle maida and then pour the batter. The baked cake will come off easily.
Making soft idli and crispy dosa
If you add half a teaspoon of fenugreek seeds to the lentil and rice mixture while soaking, dosas will be more crisp, idlis will be soft.
Apply ghee in the idli tray prior to dispensing the batter. The idlis will come away freely without sticking at the base.
To check tawa has become hot , sprinkle few drops of water. If it sizzles with steam coming out it  indicates tawa is hot.
Rub slices of onion on dosa tawa (griddle) before spreading dosas. This will avoid the dosa from stubbornly sticking to the griddle or tawa.
Preparing cutlet with a crispy covering
To prevent oil foaming while frying cutlets- use only egg white. Make a small hole on one end of the egg. Let the egg white flow freely into a bowl. Whisk the egg white thoroughly and the process will not be messy.
To get a crispy covering for your cutlets, powder fresh bread. Dip the cutlet balls in egg white (pepper and salt included) and finally coat with powdered fresh bread.
If you have to make cutlets in a hurry and have no breadcrumbs use semolina for coating them.
There is a popular saying, " The best way to win a man's heart is thru' his stomach". You can also win the hearts of your family members by cooking good and healthy food.
Remember to cook as per the need. Avoid wastage as there are thousands of people going without a meal every day.
Related reading:
How to Prepare Garam Masala at Home
How to make Ginger Garlic paste at home