Mint Chutney is a favourite chutney among South Indians. A good combination with Idli, Dosa, Bonda, bajji's etc.
Ingredients:
1 bunch fresh mint leaves (pudinah)
2 green chillies
1 tbsp tamarind pulp
Little water
Salt (to taste)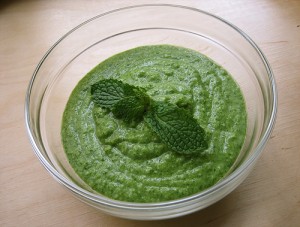 Procedure of Mint chutney:
To make tamarind pulp, soak little tamarind in water and keep aside for 2 hours.
Then strain the mixture in a bowl with the help of a spoon. To make tamarind juice add little water to the pulp.
Wash the mint leaves well.
Grind it to a smooth paste with green chillies, salt and tamarind juice.
You can add water if the mixture is thick.
Ada Pradhaman is a Malabar sweet dish famous for its unique aroma and mouth watering taste. This payasam is a must have dish during Onam festival in Kerala and important occasions.
Ingredients:
1/2 Cup Ada(available in ready to cook packs)
4 Green cardamoms
1/2 tbsp dry ginger ( Sonti / Chuk)
1/4 Cup pure ghee
1/2 cup Cashewnuts/Kaju
2 tbsp Raisins ( Kishmish)
¼ cup Sabudhana( white balls) soak in water and cook till they are transparent.
1 ½  Cups coconut (grated)
1 Cup jaggery (powdered into fine powder)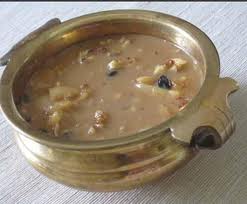 Procedure of Ada Pradhaman :
Heat 2 tbsp ghee and fry ada.
Grind cardamoms and dry ginger together to a fine powder, and place aside
Heat 2 tbsp ghee and saute the cashewnuts and raisins until light brown
Immerse coconut in one cup lukewarm water, grind and extract thick milk.
Repeat the process, make a second extract and set aside.
Crush jaggery to a fine powder, keep it aside.
To one cup of water add the second extract of coconut milk . Add ada and when it starts boiling lower the flame.
After 10 mins check if ada has cooked.Ada should remain smooth but hold its shape.
Add jaggery with it and continue cooking until it thickens.(Suggested to boil jaggery separately with ¼ cup of water. This will ensure the residue is filtered)
Heat the remaining ghee and add this to the pradhaman. Add cooked sabudhana.
Mix the first extract of coconut milk and the fried dry fruits with it, stir well and heat thoroughly.
Sprinkle with the cardamom powder and dry ginger powder.
Ada pradhaman /Ada payasam is ready to serve.
Beef Cutlet is a popular Kerala dish . It can be used as a snack or side dish during festival meals.  It is relished in South India also.
Ingredients:
Beef – 1 kg (boneless)
Potato – 3 – 4 nos (boiled and mashed)
Onion(big) – 1 – 2 nos , finely diced
Green chillies – 4 nos, finely chopped
Ginger – 1 inch piece, finely chopped
Garlic pods – 6 nos, finely chopped
Mustard seeds
Bread crumbs
Egg – 2 to 3 nos (use egg white only )
Salt – to taste
Oil for frying
Finely chopped Coriander leaves and curry leaves for garnishing the mix
Spices:-
Chilli powder – 4 tbsp
Turmeric powder – 1/4 tsp
Coriander powder – 1 tbsp
Garam masala powder – 2 1/2 tsp
Pepper – 1 tsp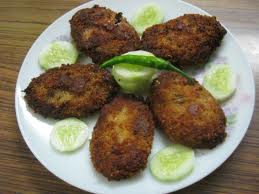 Procedure of Beef Cutlet ( Kerala Style):
Pressure cook the cut, cleaned beef with salt and turmeric powder until tender . Drain all gravy and keep aside for cooling. Once cool, ground the cooked beef in the mixer.
Heat little oil in a pan. Splutter mustard seeds. Add diced onions, chopped green chillies and saute until light brown.
To this add the chopped ginger, garlic and curry leaves, until they are sauted well.
Add mashed potatoes and spices and mix well, reduce flame such that it does not get stuck at base of utensil.
Add ground beef along with coriander leaves. Maintain medium flame and keep mixing until the mixture is uniform. Add salt if needed
Shape the mixture into oval shaped patties. Set aside
Powder bread slices / rusk . Keep aside. Beat egg white along with little salt and pepper
Dip the oval shaped patties into beaten egg and roll them into bread crumbs.
Deep fry the patties in oil.
Serve hot with tomato ketchup.!!