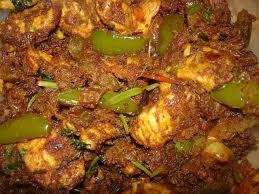 Hot and Spicy Chicken Pepper masala is a popular dish at home especially during winter and rainy days and when the family is in a mood for eating out. The dish is easy to prepare, you can become an expert and prepare this dish when you have guests at home too.
Spicy Chicken Pepper masala can be made a little less hot and spicy by reducing the pepper powder quantity. The dish looks attractive and is a great hit among family too. Try this recipe and surprise your family with exquisite treats.
Let's move on to the recipe and understand the requirements.
Ingredients for Hot and Spicy Chicken Pepper Masala
Chicken : 500 g (preferably use skinless and boneless chicken-thigh)
Green Ball pepper/ Capsicum: ½ cup (diced)
Onion : 1.5 cup (chopped)
Tomato: 1 cup ( chopped)
Ginger: 1 tsp (finely chopped)
Garlic: 4 to 5 cloves (finely chopped)
Green chillies: 2 nos ( finely chopped)
Curry leaves: 2 sprigs
Pepper powder: 1.5 tsp (adjust to your taste)
Turmeric powder: ¼ tsp
Chilli powder: ½ tsp
Coriander powder: 1 tsp
Cumin powder: ½  tsp
Garam Masala Powder: ¼  tsp
Fennel seeds / Saunf: ¼ tsp
Coriander leaves / Cilantro: 1 bunch(finely chopped)
Oil: 2 tbsp
Salt: to taste
Lime: ½ no.
Procedure for preparing Hot and Spicy Chicken Pepper Masala
Method:
Cut and wash chicken thoroughly, add juice of half a lemon and rinse the pieces well. The benefit of adding lime is it will take off the smell and your pieces will look clean. Drain water and rinse once more with fresh water.
Drain water completely through a sieve and transfer the chicken pieces to a bowl.
Add turmeric powder and keep aside.
Heat 1 tbsp of oil in a kadai/ pan, add chopped capsicum and stir for 2 minutes along with ¼  tsp pepper and ¼ tsp salt. When mixed transfer contents to a plate.
Ensure the pepper is coarsely grinded for this dish.
Heat 1 tbsp of oil in the kadai add saunf, when it splutters add curry leaves, chopped garlic, ginger and green chillies. Saute on a medium flame, add 1 tsp pepper powder and allow it to sizzle in the heat.
Now add onions, sprinkle little salt and sauté till they are light golden brown. This will take approx 4 to 5 mins.
To this add chopped tomatoes and stir till it becomes mushy.
This is the stage when you need to add all the dry powders and mix on low flame. If you want to have gravy sprinkle little water.
To this base add chicken pieces and stir fry for another 2 minutes and cook covered in medium heat until the chicken pieces gets cooked. The pieces should become soft and tender.
At this stage add roasted capsicum kept aside in a plate, after stirring for 2 mins add balance pepper powder and mix all the contents in the kadai.
Add the chopped coriander leaves and switch off the flame.
Your hot and Spicy Chicken pepper masala is ready to serve with hot rice, chapathis, pulka, side dish for biryani , vegetable pulao too.
You can try variations in this recipe by adding potato, mushroom, paneer /cottage cheese. The vegans can exclude chicken and add the above vegetables and I'm sure you are going to try the vegan preparation. Do not miss to give us an update.
Try this recipe and enjoy easy and healthy cooking. For more healthy and tasty recipes visit our Facebook page and Google+ page.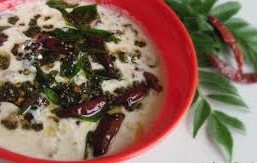 Ladies finger pachadi is a popular dish during a sadhya or special occasions in Kerala. Pachadi is a mandatory dish during sadhya on occasions like Onam and Vishu. Pachadi / Kichadi is made with ash gourd, beetroot, cucumber etc. Lichadi / pachadi looks like a raitha mixed with mustard seeds.
The milky white color of pachadi / kichadi is very attractive and is healthy too. Ladies finger pachadi / Okra pachadi is easy to cook and can be included on your menu especially on days planned for vegetarian meals.
My son likes the blend of colors that kichadi / pachadi generates especially when made with beetroot and cucumber.
Ingredients for Ladies finger pachadi: 
Ladies finger / Okra/ Vendakka : 15 nos
Green chillies : 2 nos
Coconut: ½ cup grated
Yoghurt / Thick curd: 1 cup
Cooking Oil : 4 tbpn
Mustard seeds: 2 tsp
Jeera: ½ tsp
Garlic-3 slices
Curry leaves: few
Dry red chilly: 2 nos
Salt: to taste
Procedure for preparing Ladies finger/ Vendakka pachadi:
Method:
·        Wash the ladies finger / vendakka and pat dry. Cut okra into round slices, cut them as thin as possible.
·        Heat 2 tablespoon of oil in a pan and fry them until crisp. Ensure they do not get burnt.
·        Grind grated coconut along with a pinch of jeera and 3 slices of garlic.
·        Powder mustard coarsely.
·        In a bowl mix coconut paste, thick curd, fried ladies finger, mustard coarse powder, salt as required and mix well. Heat the base for a minute.
·        Heat the remaining oil in a pan. Do seasoning with mustard, jeera, dry red chilli, curry leaves and add into the bowl.
·        Vendakka pachadi/Okra kichadi is ready to serve with hot rice or rotis too.
This is the authentic way of cooking vendakka pachadi. Your family will appreciate your original cooking bringing nostalgic memories of grandma's cooking. The family will is gonna relish your cooking.
Try this recipe and enjoy healthy cooking. For more healthy and tasty recipes visit ourFacebook page and Google+ page
Rasam is popular among South Indians .Tamarind rasam is ideal when you are feeling down and need an energy boost. Rasams are made in different styles in different parts of South India. Addition of dhal or tomato is commonly seen in preparation. Basic ingredients are tamarind pulp, tomato and rasam powder.
In a formal meal, the rasam course is served after the sambhar course and followed by curd rice. Served to eat with rice or few people enjoy drinking the light soup by itself. Rasam is consumed as an appetizer before the beginning of a meal.Rasam can be considered daily, a mandatory curry in most homes.
Today I'm sharing a tamarind rasam recipe without tomato and dal. The recipe is simple and can be followed with ease. This rasam is ideal during winter and cold evenings.
Ingredients :
Tamarind: Medium Lemon sized ball
Garlic cloves: 3 to 4 nos (crush them lightly)
Fenugreek seed powder(Methi / Menthulu): ¼ tsp
Turmeric powder: ¼ tsp
Pepper powder: 1.5 tsp
Salt ( to taste)
Asafoetida (Hing): 2 pinches
For seasoning:
Mustard seeds: 1 tsp
Cumin seeds( Jeera): 1 tsp
Curry leaves: 1 stalk
Dry red chillies: 2 nos
For garnishing:
Chopped coriander leaves : 2 tbsp
Procedure for preparing Tamarind rasam without tomato and dal:
Method:
Soak tamarind in 1 cup water for 30 mins. Strain the pulp by adding water.
Heat oil in a kadhai and add mustard seeds. Add garlic pods, cumin seeds, curry leaves, dry red chilies.
Saute a while and add pepper powder, Fenugreek seed powder and asofoetida. Add tamarind water along with squeezed pulp.
To this add 1 cup water and turmeric powder.
Mix the watery solution, add salt as per taste. Cook till it boils.
Garnish with chopped coriander and serve with steamed rice.
The pepper aroma will be strong and smells perfect. Remembering the catchy words of a popular ad: Ee rasam bahu kemam (this rasam taste excellent)

Benefits of having Rasam:
Rasam when had at the beginning of the meal is said to increases the appetite.
Rasam contains many spices which are considered beneficial to health.
Steaming hot rasam is soothing when you are suffering from a cold, cough or sore throat.
When you have a headache plan for a rasam preparation, it will relieve your headache.
Rasam is served  to the person who is sick with fever and has no appetite and feels tastelessness in the mouth, it not only increases the appetite but also the spices in the rasam hit the mouth and throat increasing the taste in the mouth.
If you like this recipe or know of any variations do let us know in the comments.
Summer special recipes for further reading: Buttermilk, Ragi Java, Green Mango drink, Pudina Pani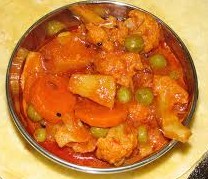 Mixed Vegetable curry is an ideal choice for vegetarians and for people following lent . I usually prepare this mixed veg curry on the days the vegetables are few at home i.e the day prior to market .
We have vegetable markets near our homes called Rythu bazaar . These vegetable markets are basically promoted such that the farmers can bring their products and sell at their price without mediators. They will get correct pricing and the customer is not levied high too. The vegetables are fresh and sold in bulk quantities . You need to purchase 250 gms at a minimum. Rythu bazaars have become a common place to meet all colony people and share news.
Coming back to the preparation of mixed vegetable curry. This is a simple dish with regular ingredients. The uniqueness of this dish is the taste of each vegetable that gets combined as a whole. I cook this in the AMC dish which retains each vegetables taste and aroma too while cooking. Water is not required for cooking.
Ingredients :
Capsicum : 1 no (diced into 1 inch cubes)
Beans: 4 nos (cut into 1 inch length)
Potato:1 no. ( diced into 1 inch cubes)
Carrot: 1 no (cut into 1 inch length)
Tomato:1 no.(cut into small pieces)
Cauli flower:2 to 3 small florets
Green peas:1/2 cup
Onion: 1 medium size(cut into small pieces)
Green chilly:1 no.(slit length wise)
Vegetable oil: 4 tspn
Chilli powder: 1 tspn
Coriander powder: 1 tspn
Turmeric powder: ¼ tspn
Salt: ¾ tspn
Ginger-garlic paste: ½ tspn
Garam masala powder: ¼ tspn
Coriander leaves: few sprigs(for garnishing)

Ingredients for Seasoning:
Mustard – 1/2 tsp
Curry leaves : 1 stem
Procedure for Mixed Vegetable Curry:
Method:
Wash all vegetables. Cut them into small pieces after water is drained.
Heat oil in a kadai and add mustard. When it splutters add curry leaves.
Add green chilly and onions. When onions have become tender add potato, carrot, cauli flower, beans. Sauté it for a minute and close the lid of the kadai. Reduce the flame.
After 3 to 4 minutes add capsicum and green peas, turmeric powder and salt. Mix well and close the lid.
Closing the lid and cooking the vegetables at low fame will enable cooking with steam. The water in the vegetables with the help of steam will make the vegetables tender and soft.
Add ginger garlic paste and tomato to it. Mix all the contents thoroughly.
After around 3 mins you will notice the sizzling of vegetables in the hot kadai. Now add the chilli powder, coriander powder and garam masala to the base. Sauté and close the lid.
After 5 mins of low heat cooking the curry is ready to serve. Garnish with coriander leaves in the serving container.
If you require the curry to be wet with a little gravy, add ½ glass of boiled water and allow the curry to boil for 2 minutes prior to serving.
Mixed Vegetable curry is a popular side dish at our home. The curry can be can be prepared  with the available vegetables. Brinjal, cucumber, bottle gourd can be included as per your choice. You can include or exclude vegetables as per availability. Mixed Vegetable curry is ideal with phulka, chapathi and puris too. My son loves to take it in his lunch box and his friends have appreciated the taste.
You need to give a try at this side dish and let us know if you enjoyed the taste. Best of luck!!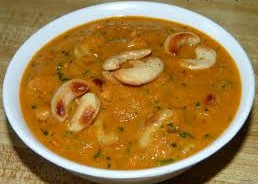 Kaju curry is very popular in Indian cuisine. Kaju curry is a royal dish and it is prepared during special and festive occasions. Kaju curry is prepared with a lot of variations. You can add paneer, capsicum, green peas. Today I've attempted the recipe with potatoes.
During the lent season when non veg dishes are not prepared in Christian homes, they take to preparing kaju curry when they have guest at home.
Serves – 4
Ingredients:
Raw Cashew nuts: 1 cup
Potato :  1 medium size ( peeled and diced)
Onion : 1 small size ( chop it to fine pieces)
Green chilly: 1 no ( slice it into halves- lengthwise )
Coconut milk: 1 cup
Turmeric powder: ½ tsp
Chilli powder: ¼ tsp
Coriander powder: ½ tsp
Ginger – garlic paste: ½ tsp
Garam masala powder: ¼ tsp
Oil: 2 tsp
Salt

to taste)
Coriander leaves / Kothmir : 3 tbsp for garnishing

Procedure for Kaju curry:
Method:
Soak dry kaju in water for 30 mins. Drain water. If you are using tender kaju then you need to sauté it in oil.
Heat oil in a pan / non stick kadai.
Fry onions, potato, green chilli. Saute and when it is partially cooked add soaked kaaju / fresh kaju.
After two minutes add the powders.Lower flame.
Saute and add the coconut milk. Mix and do not allow it to boil.
Let it simmer on low flame for 5 mins. Garnish with coriander leaves and roasted kaju
Delicious kaju curry is ready to be served with Chapathi / Pulka or Hot rice.
Go ahead and try the cooking this recipe.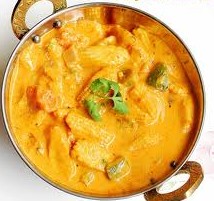 Baby corn Korma is a great side dish along with Chapathi / pulka and Fried Rice. Children love the crunchy taste. A popular dish in functions and occasions too.
Baby corn has become very popular and is available in local markets too. Baby corn has several health benefits:
Low in calories , low in cholesterol
High in fiber content
High in Vitamin B- folate and is a good source of nutrients like potassium, Vitamin C, riboflavin, etc.
Contains complex carbohydrate which provides a steady stream of energy throughout the day
Confused as to what to cook when you have an unplanned guest for meals or when you are bored with the routine cooking . Try Baby corn korma , a delight to your cooking and also provides nutritional benefits.

Serves – 4
Ingredients:
Baby Corn: 15-16 nos
Red chilli powder : 1 tsp
Turmeric powder: 1/4 tsp
Garam Masala Powder: 1/2 tsp
Ginger garlic paste: 1tsp
Oil: 2 tsp
Salt : to taste
Milk: ½ cup
For Grinding:
Onions: 1 Big (fry in oil till translucent)
Tomato: 2 medium
Green chilly: 3 medium sized ( 1 inch pieces)
Grated coconut: ¼ cup
Cashew nut: 12 nos  ( grind with little water separately)
For tempering:
Curry leaves: 2 tablespoons (finely chopped)
Bay leaf : 1 medium size
For garnishing:
Coriander leaves: 2 tablespoons (finely chopped)
Procedure for Baby Corn Korma: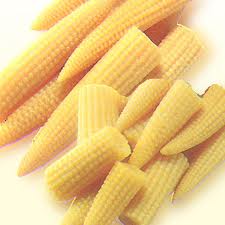 Wash baby corn and drain water. Cut baby corn into desired size and pressure cook for 2 whistles along with ¼ cup of water.
Fry chopped onions in a kadai. When cool grind with tomato, green chilly . Keep it aside.
Grind cashew nuts along with grated coconut and keep it aside.
Heat oil in a kadai. Temper with bay leaf and curry leaves. Reduce flame.
To this add ginger garlic paste and the first set of grinded paste. Saute well.
Add Red chilli powder, turmeric powder, garam masala powder, salt and mix well.
Close the kadai with a lid. Continue cooking on low flame. Mix in between intervals to ensure the korma mixture does not get burnt at the base of the kadai.
When the mixture starts leaving the sides of the dish , add cashewnut paste. Mix well.
After 3 to 4 mins add cooked baby corn along with the water in which the baby corn was cooked. When the curry comes to a boil, add milk gradually.
Keep stirring the korma curry on low flame to ensure milk does not split .
Put off the flame. Garnish with coriander leaves.
Baby corn korma curry is ready to serve with Chapathi  / Pulka or Vegetable Fried rice.
Options:

You can add cubed paneer in the curry along with cashew nut paste. Follow the procedure as mentioned above.
Paneer is a good combination. It brings variety to the korma preparation. You can name it Baby corn Paneer korma recipe.
Great side dish . A must try recipe for chapathi and pulka.
Kerala Chilli Chicken is a popular Chinese dish. It has been indianised for being popular and a good combination with rice, roti varieties and noodles
Ingredients:
¼ kg boneless Chicken
1 medium Capsicum (chopped)
2 tsp Tomato Puree
3 tsp Soy Sauce
1 tsp Black Pepper (powdered)
½ Onion (chopped)
2 tsp Honey
Little Chili Powder
Little White Pepper
½ tsp Corn flour
Salt (to taste)
1 tsp Ginger-Garlic Paste
1 tbsp spring onion chopped
2 tbsp Oil (more for frying)
 
Tempering (Tadka)
2-3: Green chillies (slit in halves)
2 stems curry leaf
1″ piece Ginger (finely chopped)
2 pods garlic (finely chopped)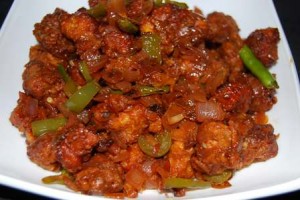 Procedure of Kerala Chilli Chicken :
Mix chicken with tomato puree, salt, 1 tsp soy sauce, ½ tsp black pepper powder, corn flour and ginger-garlic paste. Toss the chicken pieces in the spices. Keep aside for 15 mins
Heat oil in a pan and fry the chicken pieces. Remove and keep aside to cool.
Heat 2 tbsp oil in another pan and shallow fry the onion.
Stir in capsicum, honey, remaining black pepper powder, 1 tsp soy sauce and salt. Close the pan with a lid and cook until the capsicum is well cooked.
Add chicken, remaining 1 tsp soy sauce, chilli powder and white pepper.
Mix the remaining corn flour in ½ cup water. Stir in the gravy and cook for a while.
In a separate pan take 2 tsp oil and temper with green chillies, ginger and garlic and finally curry leaf. Add this to the gravy.
Garnish with Spring Onion
Sarson Ka Saag is a popular Punjabi dish and commonly prepared in North India. This popular curry is served along makki ki roti.(roti variety made of maize flour).
Ingredients:
1 kg Sarson (green mustard)
250 gm Spinach ( palak)
2 fresh Shalgam (turnips) (peeled and chopped (optional)
3-4 flakes Garlic (finely chopped)
2″ piece Ginger (finely chopped)
2-3 Green chillies (finely chopped)
2 tsp Makki ka atta (maize flour)
1 ½  tsp Powdered gur (jaggery)
Salt ( to taste )
½ cup Water
Tempering (Tadka)
3 tsp: Desi ghee
1/2 tsp Red chilli powder
2-3 Green chillies (finely chopped)
1″ piece  Ginger (finely chopped)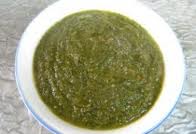 Procedure of Sarson ka Saag :
Wash, clean and chop the mustard and spinach leaves.
Pressure cook the leaves with garlic, ginger, green chillies and shalgam. Add salt and 1/2 a cup of water. The saag will be done in 15-20 mins. Remove from fire and cool.
Grind the spinach to a rough paste. Add makki ka atta and cook for 15 minutes on low heat.
For tempering heat ghee in a pan . Add ginger, green chillies and red chillies , when fried …add to the hot saag and stir lightly.
Serve hot with Makki ki Roti.
Gobi Manchuria is a popular Chinese dish. It has been indianized for being popular and a good combination with rice, roti varieties and noodles.
Ingredients:
1 No.  Cauliflower (medium, clean and cut into small floret's)
1/4 cup Plain flour
3 tsp Cornflour
1 small bunch Spring onion (finely chopped)
2 tsp Ginger (finely chopped)
1 tsp  Garlic (finely chopped)
1/4 tsp Red chilli powder
2 no Red chillies (dry)
1 tsp Milk
3 tspOil
1-1/2 cup Water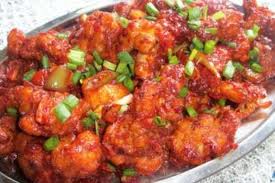 Procedure of Gobi Manchuria :
Boil the florets for 3-4 minutes in plenty of water, to which a tsp of milk has been added. Drain and pat dry on a clean cloth.
Make thin batter out of flour and 2 tsp corn flour, adding 1/4 tsp. each of ginger and garlic and red chilli powder and salt to taste.
Dip the floret's in the batter one by one and deep fry in hot oil. Keep aside.
In the remaining oil, add remaining ginger, garlic and crushed red chilli and fry for a minute. Add the salt and spring onions. Stir fry for a minute. Add 1-1/2 cups water and bring to a boil. Add 1 tsp. corn flour to 1/4 cup water and dissolve well. Gradually add to the gravy and stir continuously till it resumes boiling. Boil till the gravy becomes transparent.
Add floret's and soya sauce. Boil for two more minutes and remove.
Serve hot with noodles or fried rice.
Procedure of Gobi Manchuria2nd option (without gravy):
Dry Manchurian can be made by omitting the gravy.
Make floret's as above and instead of adding water as above, add fried floret's, spring onions and soya sauce at this stage.
Sprinkle 1 tsp. cornflour on the florettes and stir fry for 2 minutes.
Serve piping hot with toothpicks or mini forks and chilli-garlic sauce or tomato sauce.
Note: Same procedure can be followed for Veg. Manchurian recipe (with gravy or dry). Along with cauliflower floret's include finely chopped minced vegetables, peas and bind with some cornflour or bread crumbs and make small lumps the size of a lemon.
Malai Kofta is a popular North Indian side dish. This popular curry is served along with main course vegetarian meal or Roti varieties.
 Ingredients:
150 gms Cottage cheese
3 medium tomatoes
¼ cup Cashewnuts
2 tbsp Melon seeds (magaz)
1 tbsp Poppy seeds (khuskhus)
1 tbsp Ginger (chopped)
2 nos Green cardamoms
1 tbsp Red chilli powder
¼ cup Yogurt
¼ tbsp Green cardamom powder
2 tsp Refined flour (maida)
2 tbsp Fresh cream
¼ tsp Garam masala powder
1 tbsp Oil
Salt ( to taste)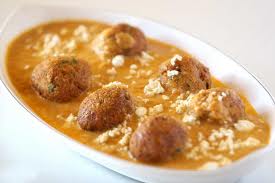 Procedure of Malai Kofta :
In a pressure cooker add chopped tomatoes ,cashewnuts, melon seeds, poppy seeds, ginger, green cardamoms, red chilli powder, salt and 1 tbsp oil and mix well.
Add yogurt to this mix. Stir well.
Add 1 cup water and close the cooker with the lid. Cook under pressure till 4 whistles.
Heat sufficient oil in a flat wide pan. Grate cottage cheese into a bowl.
Add green cardamom powder, salt, flour and mix well. Take small portions and shape into koftas.
Deep fry these koftas till golden. Drain and place on tissue paper.
Once the pressure reduces, open the lid of the cooker and blend the mixture with a hand blender.
Strain the mixture and pour into another non-stick pan and heat. Add a little cream and garam masala powder and mix.
Arrange the koftas in a serving bowl, pour the gravy over, drizzle a little cream and serve immediately.