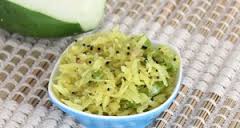 Raw papaya pickle is a quick and interesting recipe. Raw papaya pickle is a good appetizer and good enough for digestion too. You can relish the taste as a starter too. It is not spicy and can be enjoyed by children too.
The papaya crop is abundant and at times you get blessings from your neighbours kitchen garden as it their first harvest. To sum up you will have several fruits at the same time and you will be in a dilemma to consume them as it is your favourite fruit too.
Keep all your worries aside as there are many ways you can utilize papaya .For your information tutti frutti used in cakes and breads are made from raw papaya . This was news for me too. However let's come back to the recipe that will take only 10 minutes for preparation.
Ingredients for Pickled Raw Papaya
Raw papaya : 2 cups (diced)
Green chilly / Bird's eye chilly : 2 nos
Mustard seeds:2 tspn (crushed)
Salt: 1 tspn (as per taste)
Vinegar: 1/3 cup
Curry leaves:1 stem ( optional)
Water: 2 cups
Procedure for preparing Pickled Raw Papaya
Method:
Peel and wash the raw papaya. Cut the raw papaya into small cubes.
In a small bowl heat 2 cups of water. Add the diced raw papaya when the water comes to a boil.
Put off the flame. After 2 minutes drain the water completely. The papaya is semi cooked now.
Add crushed mustard, salt, chopped green chilly or bird's eye chilly, vinegar and chopped curry leaves to the bowl containing drained papaya. Mix all the ingredients.
Transfer the ingredients into a glass jar and leave it overnight. The steamed papayas will absorb the salt, chilly and vinegar.
The crushed mustard only enhances the taste of the pickle.
This raw papaya pickle is a great alternative during meal time. Try this and do not miss to reply with feedback.
Papaya has numerous health benefits. Grab the opportunity to be healthy by incorporating healthy dishes and a great  lifestyle too.
You can try variations in this recipe by adding chilli powder, other vegetables.  Try this recipe and enjoy easy and healthy cooking. For more healthy and tasty recipes visit our Facebook page and Google+ page.