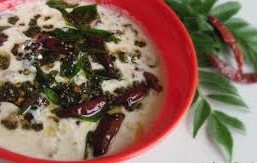 Ladies finger pachadi is a popular dish during a sadhya or special occasions in Kerala. Pachadi is a mandatory dish during sadhya on occasions like Onam and Vishu. Pachadi / Kichadi is made with ash gourd, beetroot, cucumber etc. Lichadi / pachadi looks like a raitha mixed with mustard seeds.
The milky white color of pachadi / kichadi is very attractive and is healthy too. Ladies finger pachadi / Okra pachadi is easy to cook and can be included on your menu especially on days planned for vegetarian meals.
My son likes the blend of colors that kichadi / pachadi generates especially when made with beetroot and cucumber.
Ingredients for Ladies finger pachadi: 
Ladies finger / Okra/ Vendakka : 15 nos
Green chillies : 2 nos
Coconut: ½ cup grated
Yoghurt / Thick curd: 1 cup
Cooking Oil : 4 tbpn
Mustard seeds: 2 tsp
Jeera: ½ tsp
Garlic-3 slices
Curry leaves: few
Dry red chilly: 2 nos
Salt: to taste
Procedure for preparing Ladies finger/ Vendakka pachadi:
Method:
·        Wash the ladies finger / vendakka and pat dry. Cut okra into round slices, cut them as thin as possible.
·        Heat 2 tablespoon of oil in a pan and fry them until crisp. Ensure they do not get burnt.
·        Grind grated coconut along with a pinch of jeera and 3 slices of garlic.
·        Powder mustard coarsely.
·        In a bowl mix coconut paste, thick curd, fried ladies finger, mustard coarse powder, salt as required and mix well. Heat the base for a minute.
·        Heat the remaining oil in a pan. Do seasoning with mustard, jeera, dry red chilli, curry leaves and add into the bowl.
·        Vendakka pachadi/Okra kichadi is ready to serve with hot rice or rotis too.
This is the authentic way of cooking vendakka pachadi. Your family will appreciate your original cooking bringing nostalgic memories of grandma's cooking. The family will is gonna relish your cooking.
Try this recipe and enjoy healthy cooking. For more healthy and tasty recipes visit ourFacebook page and Google+ page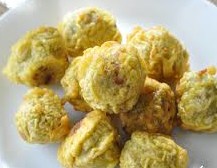 Sukhiyan is a favorite snack at our home along with evening tea. Sukhiyan is prepared mostly during Onam, Christian festivals and it is available at tea stalls across India. Because of its popularity and demand you will notice Sukhiyan being sold by Malayali vendors outside Kerala. Wherever there is a kerala fest / cultural programs being conducted by keralites, you can see Sukhiyan being sold in the outlets.
Sukhiyan is a sweet and tasty snack containing high protein. You can relish it when served hot or can be eaten at room temp. Sukhiyan balls have to be kept in the refrigerator if you want to serve the next day.
As the base is fresh coconut and cooked moong gram it has to be consumed the same day, accordingly plan for the batch of suvians. This is not a typo error, we used to call this sweet Suvian until recently when an elderly aunt of mine corrected me.
Whole green Moong gram : ¼ kg
Jaggery: ¼ kg
Coconut: 2 cups grated
Cardamom/ Elaichi: 8 nos (seeds to be powdered)
Rice flour/ Maida/Wheat flour: 2 cups
Salt: as per taste
Cooking oil: for frying the sukhiyan balls
Haldi powder/ Turmeric powder: 2 pinches
Jeera: 1 pinch
Procedure for preparing Sukhiyan-Popular 4pm snack of South India:
Method:
Soak the whole green moong gram for an hour. Wash and drain the water. Ensure no stones.
Pressure cook the moong gram adding water as the measurement of moong gram prior to soaking.i.e 1 glass of moong gram:1 glass of water.Add ¼ tsp of salt and a pinch of haldi powder.
After the cooker cools you will observe that the water is totally absorbed by the moong gram and they are nicely swollen, cooked with a crack here and there. When the whistle blows you will also get the aroma of typical cooked moong gram.
Crush / grate the jaggery and boil in a vessel with ¼ glass of water. When all the jaggery melts filter to remove any dust particles that are embedded in the jaggery blocks.
In a flat bottomed wide pan add the jaggery solution. Keep stirring the liquid to avoid catching at the base. After 4 to 5 mins add grated fresh coconut. You will observe that after 3 to 4 mins the coconut has absorbed the jaggery and it is turning dry.
This is the time to add powdered elaichi. Mix well, reduce flame and add the cooked whole green moong gram.
Mix well to avoid catching at the base. Put off the flame. Allow this base to cool down. Make small balls –the size of rava laddoo.
The covering for sukhiyan balls can be made with rice flour/ maida flour/wheat flour or a combination of rice flour and maida i.e 1:1 ratio.
Add a pinch of jeera, pinch of haldi powder, salt to the dry flour. Add water and make a thick batter. When you dip the balls it should get covered and the coating should remain as in mirchi bajji.
Heat oil and start frying the sukhiyan balls immersed in the batter. Deep fry until texture is crisp and has turned color. Drain onto paper towels. Serve hot or at normal temperature.
Try this recipe and surprise your family and friends with an authentic recipe. Sukhiyan is considered to be a part of kerala cuisine and the smell and look are bringing fond memories making my eyes damp with tears.
Variations in the batter for covering can be by immersing in dosa batter. You can make sukhiyan on the day you have left over dosa batter.
Try this recipe and enjoy healthy cooking. For more healthy and tasty recipes visit our Facebook page and Google+ page