KAJU CURRY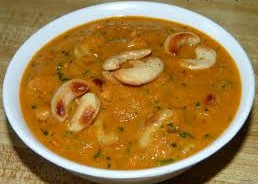 Kaju curry is very popular in Indian cuisine. Kaju curry is a royal dish and it is prepared during special and festive occasions. Kaju curry is prepared with a lot of variations. You can add paneer, capsicum, green peas. Today I've attempted the recipe with potatoes.
During the lent season when non veg dishes are not prepared in Christian homes, they take to preparing kaju curry when they have guest at home.
Serves – 4
Ingredients:
Raw Cashew nuts: 1 cup
Potato :  1 medium size ( peeled and diced)
Onion : 1 small size ( chop it to fine pieces)
Green chilly: 1 no ( slice it into halves- lengthwise )
Coconut milk: 1 cup
Turmeric powder: ½ tsp
Chilli powder: ¼ tsp
Coriander powder: ½ tsp
Ginger – garlic paste: ½ tsp
Garam masala powder: ¼ tsp
Oil: 2 tsp
Salt

to taste)
Coriander leaves / Kothmir : 3 tbsp for garnishing

Procedure for Kaju curry:
Method:
Soak dry kaju in water for 30 mins. Drain water. If you are using tender kaju then you need to sauté it in oil.
Heat oil in a pan / non stick kadai.
Fry onions, potato, green chilli. Saute and when it is partially cooked add soaked kaaju / fresh kaju.
After two minutes add the powders.Lower flame.
Saute and add the coconut milk. Mix and do not allow it to boil.
Let it simmer on low flame for 5 mins. Garnish with coriander leaves and roasted kaju
Delicious kaju curry is ready to be served with Chapathi / Pulka or Hot rice.
Go ahead and try the cooking this recipe.