Potato French fries- Homemade recipe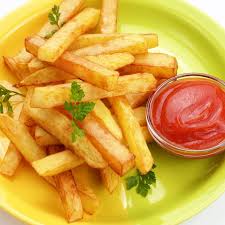 Potato French fries is a special snack for the kids at home. They insist on buying Potato French fries when they go to any Food outlet. It was then I decided to prepare this snack at home. I was looking at the right crispiness when fried and it was a big surprise when we achieved the taste for the homemade Potato French fries which had the look and taste of popular food outlet.
When the table was set with Potato French fries and tomato ketchup, I could see the elders also staring at the plate. Therefore we had two sets fried, first for the kids and later for the elders.  Now I can avoid purchasing the frozen ones and save money by preparing at home.
Ingredients for Potato French Fries
Potato: 2 large ones
Salt: to taste
Chilli powder: to taste
Cooking oil: 1 cup
Water: 5 cups
Procedure for preparing Potato French Fries at home
Method:
Peel potato and wash them, chop them in ½ inch thick and long slices.
Place the pieces in 2 cups of water for 5 minutes.
Drain water and add the potato pieces in boiling water for 3 minutes.
Put off flame. Drain water and spread the potato pieces on a tissue paper.
Store these pieces in refrigerator for 4 to 5hrs. This will ensure crispiness on the exterior when fried.
Heat oil in a flat bottomed pan. When sufficiently hot add few potato pieces in batches and fry them till they are crisp on the exterior.
Maintain low flame to avoid color change of the Potato French fries.
Drain onto tissue paper and afterwards transfer on a serving plate. Sprinkle with salt and chilli powder
Serve Hot and crispy Potato French fries with tomato ketchup or sauce.
Ideal for kids and with a little pre-work you can bring a smile on your little one's face.
Go ahead and give this recipe a try. Follow precautions while handling hot oil.
Also read: My experiences in the kitchen-Part 1 &  Part 2
You can store in air tight containers to ensure crispiness.
Potato French fries is easy to prepare, requires less time and effort and therefore ideal for evening snacks, birthday parties and  kids gathering.
Try this recipe and enjoy healthy cooking. For more healthy and tasty recipes visit our Facebook page and Google+ page.