Tomato Chutney is also known as Tamatar ki chutney. Famous and a favorite chutney among South Indians. A good combination with rice, khichdi etc.
 Ingredients:
6 to 8 large cloves garlic (finely chopped )
1/4 cup onion (finely chopped  )
2 dry red chilies, soaked
1 cup tomatoes, finely chopped
1 tbsp coriander finely chopped
1 tsp oil
salt (to taste)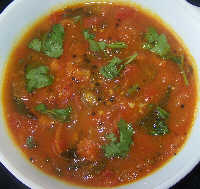 Procedure of Tomato chutney
Drain the soaked chillies and chop them finely.
Heat the oil, add the onions and garlic and sauté over a slow flame for 4 to 5 minutes till they are lightly brown.
Add the chillies and salt and sauté again.
Add the tomatoes and cook for 10 to 12 minutes over a slow flame till the tomatoes are soft and can be mashed lightly.
Cool completely and add the coriander leaves and mix well.
Serve tomato chutney with hot rice or khichdi
Peanut Chutney is popular chutney among South Indians. A good combination with Idli, Dosa, etc.
 Ingredients:
1/2 cup peanut (Groundnut / Moongfalee )
¼ cup coconut (fresh grated)
3-4 green chilies ( diced)
1 small onion (medium) finely chopped
few coriander leaves
1 tsp cumin powder (jeera)
3 tbsp jaggery (gud)
¼ tsp mustard seeds ( rai)
2 dry red chilli
Salt (to taste)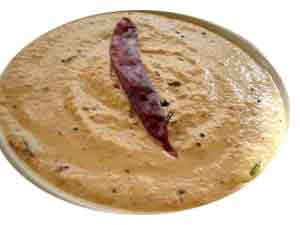 Procedure of Peanut chutney:
Fry peanuts and remove the skin.
Heat oil in a pan, add green chilies, cumin seeds, garlic , onions. Sauté over low flame.  Keep aside to cool.
Grind together peanuts, coconut, salt, jaggery and the fried ingredients to form a coarse paste.
Season with mustard and dry red chillies. Spread this on the chutney.
Add lemon juice prior to serving.
Mint Chutney is a favourite chutney among South Indians. A good combination with Idli, Dosa, Bonda, bajji's etc.
Ingredients:
1 bunch fresh mint leaves (pudinah)
2 green chillies
1 tbsp tamarind pulp
Little water
Salt (to taste)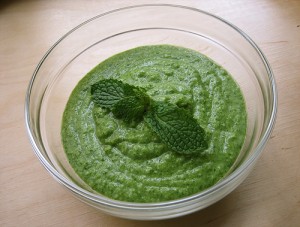 Procedure of Mint chutney:
To make tamarind pulp, soak little tamarind in water and keep aside for 2 hours.
Then strain the mixture in a bowl with the help of a spoon. To make tamarind juice add little water to the pulp.
Wash the mint leaves well.
Grind it to a smooth paste with green chillies, salt and tamarind juice.
You can add water if the mixture is thick.
Lime Rice is a sour South Indian dish. Ideal for meal packs during travel too.
Ingredients:
2 cups Rice
2 lemon (extract juice)
6 tbsp Oil
½  tsp Black Mustard seeds
Few curry leaves
3-4 green chilies
1/4 tsp. turmeric powder
1/4 cup peanuts
Salt (to taste)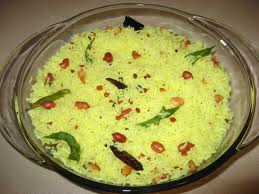 Procedure of Lime rice:
Pressure Cook the rice and spread on a plate, keep aside. Mix lime juice  and salt to the rice and keep aside.
Heat oil in a pan and add mustard seeds, allow to splutter.
Add peanuts, fry till brown.
Now add green chilies, curry leaves, turmeric powder and fry for 2 minutes.
Switch off the stove and add this to the boiled rice mixed with lemon juice. Mix well.
Lemon rice is ready to be served.
Can be taken with tomato chutney or pickle.
Tamarind Rice is also known as " Pulihora". Served during festive occasions and as prasadam i.e God's offering after auspicious occasions, festivals. A tangy South Indian dish. Ideal for meal packs during travel too.
Ingredients:
2 cups rice
1/2 cup tamarind juice ( thick pulp)
1/2 tsp turmeric powder
1/2 tsp jaggery powder
1 tsp fenugreek powdered ( Methi)
a pinch of asafoetida ( Hing)
1 tsp mustard
1 tsp chana dhal ( split Bengal gram)
6 dry red chilly
5 tsp cooking oil (as needed)
a bunch of curry leaves
1 tsp peanuts
Salt (to taste)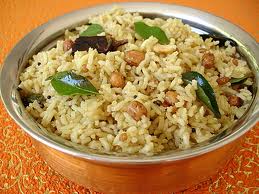 Procedure of Tamarind rice:
Pressure Cook the rice and spread on a plate, keep aside.
To the tamarind pulpy paste add salt, turmeric powder, jaggery, fenugreek powder and asafoetida.
Heat oil in the non-stick flat pan.  Fry mustard, red chillies, chana dhal, peanuts and curry leaves in sesame oil.
Pour into the tamarind juice mixture. Add salt.
Boil tamarind juice till it reaches thick gravy form and until oil separates from the mixture with good flavor.
Add cooked tamarind gravy to the rice. Mix well and serve
Note: Tamarind paste can be retained for 2-3 days.

Vegetable Biryani is a popular main course rice variety It goes well with raita and pickle. You enjoy the unique taste and fine aroma.
Ingredients:
2 cups Basmati Rice
1 cup Mixed Vgetable (cauliflower, potato, carrot, french beans)
150 gms Green Peas
3 Finely Sliced Onion
2 Finely Sliced Green Chillies
Salt to taste
1 tsp Red Chilli Powder
2 tsp Cinnamon(dalchini),
Caraway Seeds(zeera)
4 Cloves (laung)
1/2 tsp Black Pepper Powder
4 Tomato
1/2 cup Yogurt (curd)
4 tbsp Vegetable Oil
1/2 tsp Mustard Seeds
3 tbsp Dry Fruits (cashew nuts, raisin)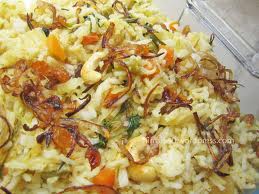 Procedure of Vegetable Biryani:
Wash the basmati rice well before cooking. Then take rice with 3 ¾  cup water and a little salt added to it and 2 tbsp of dry fruits. Cook it in pressure cooker or in a pan or microwave.
Cut all the vegetables into small thin pieces and fry each one of it separately in oil. Fry the green peas also.
Take 1 tbsp oil in a pan and add mustard seeds, green chilli, cinnamon and caraway seeds powder, cloves, black pepper powder and stir for about half minute. Then add onions and saute them for a minute or till they get pink in color.
Add salt and red chilli powder and stir.
Add fine chopped tomatoes and fry till they are properly cooked.
Take the yogurt and make it fine by putting in a blender for just 2 rotations. Add this fine yogurt and stir well. Heat it for about 10 seconds.
Add all the fried vegetables.
Add the cooked rice and mix well with very light hands so that the rice grain doesn't break. Cook for about 3 minutes.
Take this vegetable biryani out in a rice serving dish.
Garnish with dry fruits and green coriander leaves.
Serve the vegetable biryani hot with raita and pickle.
Rice Khichdi is considered to be quickly prepared rice variety. Famous inNorth India, basic ingredient is rice and tur dhal. Can be prepared for breakfast or main course. Popular for its flavour and taste.
Ingredients:
2 cups rice
1 cup toor dhal ( split red gram)
5 cloves ( laung)
1 Cinnamon (dalchini),
5 cardamom ( elaich)
2 finely sliced onion
5 tomatoes
4 green chillies (slitt into halves)
½ bunch mint leaves ( finely chopped)
1/2 bunch coriander leaves ( finely chopped)
1 tsp garlic paste
1 ½ tsp ginger paste
1/4 cup vegetable oil
a few curry leaves
3 cups water
a pinch of turmeric powder
Salt (to taste)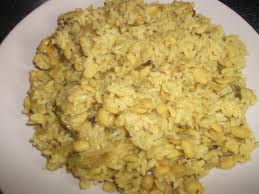 Procedure of Rice Khichdi:
Wash and cook dhal with a pinch of turmeric powder. Set aside.
Don't discard the cooked dhal water.
Fry the onions, cloves, cinnamon and cardamom.
When onions are golden add slit green chillies, mint leaves, curry leaves and a part of the coriander leaves.
Add salt, ginger and garlic paste. Fry for 2 minutes.
Add the washed, drained rice and chopped tomatoes. Fry for 2- 3 minutes.
Add the cooked dhal, mix well and add 3 cups of water.(include cooked dal water)
Cook it for 8 to 10 minutes till the rice is done.
Garnish with chopped corriander leaves and serve hot.
Can be served with pickle, chutney.
Hyderabadi Mutton Biryani is a popular main course rice variety .The flavors and typical aroma makes it to be the king of all Biryani's.
Ingredients:
½ kg – basmati rice
1 kg – lamb, cubed with bones
1/4 kg – curd
3 tsp – ginger garlic paste
3 – deep fried onions sliced ( medium size)
1 bunch – mint leaves (finely chopped and fried in oil)
1 ½ bunch – coriander leaves( finely chopped )
3 – deep fried green chillies, sliced
1 tsp – garam masala powder
Raw spices:
3 – bay leaf ( tej patta)
3 – cloves ( laung)
3 – cinnamon ( dal chini)
3 – cardamom (elaichi)
1/2 tsp – fennel ( saunf)
3 tsp – red chilli powder
1/4 cup – lime juice
3 tsp ghee
a pinch – orange food colour
A pinch – saffron
1/2 cup – milk
2 sliced fresh green chillies (to be added in boiling rice)
1/4 cup – vegetable oil
½ cup – mutton bones stock
Salt ( to taste )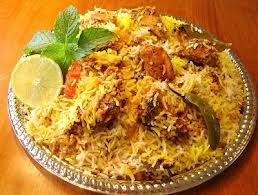 Procedure of Hyderabadi Mutton Biryani:
Wash and soak rice in  water at the ratio 1:2
Boil 1/2 kg rice in water for 15 min with green chillies and all the raw spices and 1/2 tsb oil.
Spread on a plate and keep aside.
Marinate lamb with curd, ginger garlic paste, lime juice, red chiili powder, garam masala powder, salt and deep fried onions, mint and green chillies
Mix well and keep aside for 1 hour.
After it is marinated, transfer contents into a pressure cooker, add the oil which was used for deep frying onions.
Add a lot of coriander leaves, cover and cook the lamb till it is tender.
Grease another big cooker with refined oil, add the rice layer then the mutton layer till it reaches the top.
Pour the mutton stock on it then make a paste of milk, ghee, saffron and pour this liquid over the rice.
Cook it on low for 15 min.
Serve mutton biryani hot with curd, cucumber and onions salad.
Double Ka  Meeta is also known as "Double roti ka halwa" or  " Indian Bread Pudding " . Double ka meeta is made from basic ingredient Bread also called double roti in Hyderabad.  Double ka meeta is a delicious and popular dessert in South India and is uniquely associated with Hyderabadi food.
Ingredients:
10 slices bread, crusts removed and bread cut into 4 pieces
1 cup vegetable oil for frying bread slices ( Ghee optional)
4 tsp ghee ( for frying dry fruits)
1 cup sugar
1 ½  cup water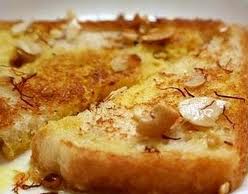 Procedure for Double Ka Meetha:
Remove the moisture in bread. Air dry it under a fan / under sun light. This ensures it absorbs less oil during frying..
Heat vegetable oil / ghee in a large wide pan over medium heat. Fry bread slices, 3-4 at a time until golden brown It will take app 2 to 4 minutes. Remove bread and drain on a paper towel-lined plate.
Mix sugar, water, and cardamom together in a saucepan; cook over medium heat until syrup has reduced slightly, it will take app. 10 to 15 minutes. Dip bread slices into syrup until fully soaked and transfer to a plate.
Boil milk in a heavy-bottomed saucepan over medium-low heat. Transfer soaked bread triangles to the simmering milk; cook over low heat until the milk is absorbed into the bread and the fat separates, app. 10 to 15 minutes. Stir in raisins. Add kova and mix properly. Garnish with almonds and cashews.
Dahi Vada  is a popular and tangy snack of North India. Dahi vada is also known as " Thayir Vada" in South India. This is made and sold in Chaat bandi's all across India, near the shopping complexes, streets.
Ingredients:
1 cup Urad dal(split white lentil)  soak in water
3 ½ cup Fresh curd (yogurt)
Salt ( to taste).
½ tsp  Sugar.
Vegetable oil – for frying.
Sweet tamarind paste
Ingredients to be added while serving -
2 tsp Red chili powder
Cumin powder – 1 tbsp
1 bunch Fresh Coriander leaves ( finely chopped )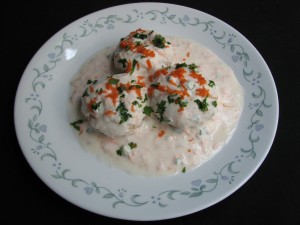 Procedure of Dahi vada / Thayiru vada:
Wash and soak urad dal for 1 hour. Drain and grind urad dhal to a thick paste using a little water. Do not use too much water.
Add salt, mix well and keep aside.
In a small bowl take half cup curd. Beat well. Add 1 cup water, a little salt, cumin powder, sugar. Beat well again and keep aside. This will be used to soak vadas.
Beat the remaining curd well, add salt, sugar, a little cumin powder to the curd and mix well. Keep aside. This will be added to vada while serving.
Heat oil. Keep a flat pan filled with warm water ready. Once oil is hot, keep heat medium. Drop spoonfuls of batter in the hot oil. Fry till golden brown in color.
Remove and drain well. Add the vada to the warm water. This will remove excess oil from the vada.
After a minute, Remove each vada from water. Press between your palms lightly to remove water. Add to the watery beaten curd mixture. Let soak for a minute.
Remove and put in a flat shallow dish where it will remain till serving time.
You may put this dish in fridge if you plan to serve later. Follow the steps for each batch of vada.
Note: While pressing vada to remove water make sure it does not break.
While serving dahi vadas, place 2 soaked vadas in a flat serving plate. Add a spoon ful of thick beaten curd. Add sweet tamarind paste. Sprinkle a little chili powder, cumin powder, coriander leaves. Serve immediately.
Note: Remaining beaten curd mix can be kept aside for extra helpings.