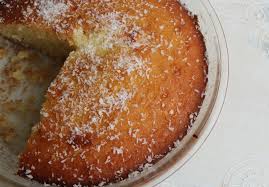 Ravani or Revani is a buttery cake doused with syrup. The recipe I'm sharing with you today attains a texture that is so delicate, it's so fluffy, it's so moist, it's sweet but not overly sweet and there's a twist. The addition of desiccated coconut to the batter is truly the secret that makes it taste divine and that it gives a different, more luscious texture to the cake.
The syrup is lemon flavored and it permeates the cake giving it a delicious lemony taste that's prominent but not overpowering. This syrup is so light, "showering" the cake, balancing out its buttery and sugar notes.
Its pale yellow color with golden brown top is a beautiful sight. It's mouth watering and the aroma of lime zest is awesome and in new gen language ' mind blowing'. As you bring a piece of ravani to your mouth you can smell the butter, the lemon and the exotic coconut and when you taste it, it fulfills every expectation.
You can serve it with a dusting of desiccated coconut, with a side of vanilla ice cream, accompanying your coffee or tea and it is guaranteed to satisfy your sugar craving after dinner.
Most versions of Ravani contain semolina flour (rava/ sooji). But for this recipe we have opted for all-purpose flour (maida) which is a far better choice for this cake. Semolina flour is one of the ingredients that make Ravani incredibly heavy.

Ingredients for Ravani Cake drenched with sugar lemony syrup
For Ravani Cake
150 g unsalted butter +10 g for greasing the pan
250 g sugar
3 medium-sized eggs
150 ml milk (preferably whole milk)
250 g All-purpose flour/Maida
1 tsp Baking powder
150 g desiccated coconut
For Sugar syrup
350 g sugar
360 ml water
4 tsp lemon juice, freshly squeezed
Lemon peel from 1 medium-sized lemon
Procedure for preparing Ravani Cake drenched with sugar lemony syrup
Method:
For Ravani Cake
Pre-work:
a)Preheat your oven to 175 degrees Celsius.
b)Grease the bottom and the sides of the spring-form pan/ baking pan with some butter.
c)Powder sugar quantity kept for cake.
d)Need to prepare the sugar syrup too (refer directions below)
e)In a large bowl, mix sugar and butter with a hand blender until it is fluffy. Add the eggs one by one, beating continuously, until they are totally combined into the mixture. Pour in the milk and beat well.
f)Add the flour and baking powder and beat until mixed and then add the desiccated coconut. Keep aside 2 tsp for garnishing the cake. Mix in the coconut with a rubber spatula until the mixture is well blended.
g)Pour the batter in the spring-form pan and place it in the preheated oven. Bake for 35 to 40 mins.
h)After 35 minutes, check if cake is sufficiently baked by inserting a tooth pick or a knife in the middle of the cake and also check if it comes out clean.  If it is still sticky, bake for another 5 to 8 mins.
For Syrup:
Meanwhile prepare the syrup. In a small saucepan, add the sugar, water, lemon juice and lemon peel. Bring to a boil over medium-high heat, stirring until all the sugar is dissolved, then lower the flame and boil uncovered, for 10 minutes. Remove from heat and leave the contents to infuse i.e all the flavors to get incorporated in the sugar syrup. Remove the lemon peel from the saucepan and discard it.
When the cake has baked well, remove from the oven and place it on a wire rack to cool. The cake will have a golden brown color on top. When it has cooled down a bit, pour the warm syrup over the cake, a spoonful at a time, starting to pour always from the middle of the cake.
Leave the drenched cake on a wire rack to absorb all the syrup and cool completely. Then remove the interlocking side band of the pan and cut the cake into squares (while still being on the round base of the pan). Remove each square and place it on a cake dish.
Decorate the cake with desiccated coconut ,sprinkle on top.
If you have used a regular pan for baking the cake, then you need to separate the cake from the baking pan and when it has sufficiently cooled pour the sugar syrup on the cake as mentioned above.
Also check: Alcohol free Plum cake recipe for Last minute bakers
Note:
1. The cake will be almost stuck at the bottom of the pan and that is why you need to cut it into pieces first so that it doesn't crack while trying to remove it as a whole.
2. Remember whole milk is preferable as it contains 3.5% milk fat and is the closest to the way it comes from the cow before processing.
Serve the cake and keep in mind that it tastes far better the next day!!
The cake will remain fresh for 4-5 days, covered, at room temperature.
Try this recipe and enjoy easy and healthy cooking. For more healthy and tasty recipes visit our Facebook page and Google+ page.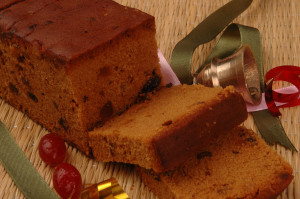 Christmas time is when you get to see a lot of cakes, cake baking and decorated cake varieties in bakeries and malls. Cakes are a delight and the plum cake happens to be very close to heart. Fond memories of all family members gathering during Christmas eve and sharing the occasion with love and togetherness.
This recipe of alcohol free plum cake is planned for last minute bakers who did not get sufficient time to soak the fruits in advance. You can now bake a cake whenever you have the urge to have a bite of plum cake. There is no soaking involved and the recipe is simple and taste similar to a plum cake which is soaked in alcohol i.e rum/ brandy for a long duration.
Ingredients for Alcohol free Plum cake
All purpose flour / Maida: 100 gm
Butter: 100 gm
Sugar: 100 gm +3 tsp
Eggs: 2 nos ( equivalent to 100 gm weight)
Baking powder: ½ tsp
Raisins (Kismis): ½ cup
Tuttie-Fruitie: ½ cup
Orange peels (dried): 2 tsp – chopped finely
Cashew nuts(Kaaju)-1/4 cup
Vanilla Essence: 1.5 tsp
Water: ½ cup
Spice powder: cardamom-2, cinnamon bark-1 small stick, nutmeg-a small pinch

Procedure for preparing Alcohol free Plum cake
Method:
The first basic step is to caramelize sugar. Boil ½ cup water in a pan. Then heat three tsp of sugar in the center of a flat bottomed pan. Do not touch the pan or mix the sugar. The sugar will start melting and when there is no sugar (white color specks) to be seen add ½ cup boiling water and switch off the flame.
Now mix sugar and water well and bring it to a boil. It is time to add the raisins, tuttie-fruitie, cashewnuts in the pan. Continue boiling for 5 mins on a medium flame, check if they have become tender. If yes, then put off the flame and allow the fruits to cool down.
Next major step is to sift maida and baking powder. Keep aside 3 tspn of baking powder and sift the powders 2 to 3 times.
Keep aside 2 tsp of butter for greasing the baking pan. Butter should be at room temperature, powder sugar and beat the butter and sugar until fluffy and add eggs one by one and beat well. If you are not using a blender to beat the base, you can beat the eggs in a mixer and add it into the butter and sugar mix.
Add vanilla essence and spice powder and dried orange peels. Mix well. Add the flour powders. Pour the caramelized water and you will see the cake base turning brown in color. Do not add fruits and nuts at this stage.
Add 3 tsp of maida to the strained fruits and nuts and ensure there is a light coating over all the soaked fruits. By dusting maida on the soaked fruits you will have equal distribution across the cake. Dusting with maida will prevent the fruits and nuts from sinking to the bottom of the cake while baking. Sharing my experiences in the kitchen…

Add the dusted fruits and nuts to the cake mix. Pour the batter into the greased baking pan and level the top of the cake.
 Bake it in a preheated baking oven at 350 ° F for about 40 to 50 mins. Use a toothpick or a long pin to check baking is enough. If the pin comes out clean the cake is ready. You will also observe a nice dark brown color on the top layer.
Remove the baking tray and allow the cake to cool. Slice it only when it has cooled down. Watch out for the cake not crumbling when you are making slices.
Tip: You should use a sharp knife to cut the cake. Wipe the knife clean after slicing 2 to 3 pieces. This will avoid crumbling of cake.Use baking cutters if required.
For perfect baking and no breaking it is always recommended to weigh and add quantities. Dispense only the egg white to balance accuracy in addition.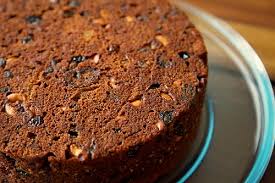 Now with most places going dry and people becoming vegan during 25 days of Christmas (lent- nombu) the alcohol free plum cake will be a huge hit.
Serve plum cake with homemade Ginger wine or Chukka kapi which is a great combination during chilly weathers. You can also serve for carols and your near and dear ones on Christmas eve.
Wishing you all Merry Christmas!!
Try this recipe and enjoy easy and healthy cooking. For more healthy and tasty recipes visit our Facebook page and Google+ page.
Also read:
Bake a Sponge cake with Caramelized sugar
Vattayappam –Steamed rice cake
Vettu Cake – Popular 4 pm Snack available at Bakeries and Tea stall in Kerala
Beef Cutlet recipe -Kerala style
Sukhiyan Popular 4pm snack with High protein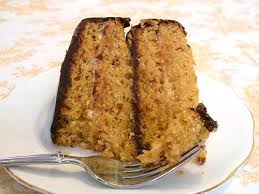 Cakes are universally popular during birthdays and special occasions at home. We have a practice of baking cake additionally from the home made butter. The butter is fresh and ideal for making soft and spongy cakes.
Cake baking is no great skill. The secret of baking cake successfully lies with the proportions of the ingredients. Any mismatch will make the cake become a disaster. Therefore recommend you to go by weight and not measures for basic ingredients.
Cake baking process is no rocket science but basic awareness of the role for each of the ingredients during the basic process needs understanding for the users.
You can bake cakes in various different ways by experimenting with different fruits and flavors. Today we shall go thru the recipe of baking a sponge cake with caramelized sugar.
Ingredients for Sponge cake with Caramelized Sugar:
All-purpose flour /Maida: 200 gm
Butter (home made or saltless variety): 200 gm
Sugar:175 gm+ 25 gm for caramelization
Eggs: 200 gm
Cardamom / Elaichi: 6 nos
Patta : 1 inch piece
Vanilla essence: 1.5 tsp
Cashewnut / Kaaju: 10 nos
Raisins / Kismis: 10 nos
Baking powder: 1+1/2 tsp
Procedure for preparing Sponge cake with Caramelized Sugar :
Method:
Sieve maida and baking powder together for 2 times, this will ensure uniform mixing. Powder sugar in a mixer. Transfer in a mixing bowl.
Eggs also needs to be weighed, you can only use the white of the egg to balance the weight. Beat eggs in the same mixer.
Add butter ( kept at room temperature) to the powdered sugar in the mixing bowl. Mix well with a plastic ladle or with your hand. After 3 to 4 mins of constant mixing add beaten eggs. Mix all the ingredients again for 3 to 4 mins.
To this base add maida and mix vigorously to remove any lumps of unmixed flour. Add the caramelized sugar and thoroughly mix the batter.
After 5 mins add cashew,raisins and vanilla essence. It is ready to transfer into the baking oven.Retain a few for decorating the cake.
Meanwhile grease the baking pan with butter. Sprinkle some dry maida onto the baking pan to form a thin layer of maida. Now pour the cake batter into the pan.Decorate with cashew and raisin on top.
If you are using the micro oven, preheat oven to 200 deg C for 10mins. Bake in preheated oven at 200 degree C for 10 mins, then reduce temperature to 180 deg C and bake it for 30-35 mins.
Take a tooth pick and prick the cake till the base to check whether it comes out clean or not. If the mixture is still sticky, then bake it for another 10 minutes. Check it again and turn off the oven.
Remove pan from the oven and cool for about 5 minutes before flipping it over onto a platter. Use a butter knife to lightly run along the edges of the cake; make sure that the edges are all loose before you flip it.
I use the cake oven with a sand tray accessory at the bottom. I heat the sand tray for 4 to 5 mins and then decrease the flame of the gas stove. I place the cake pan above the sand tray. The oven has to be kept at low flame for 25 mins.
Sponge Cake with caramelized sugar is ready. Let it cool down for a while and then separate it from the pan with the help of a knife. Cut the cake in the shapes you desire and serve it.
Pre-work: You need to caramelize sugar on the pan. Heat sugar on a thick bottomed pan. When it melts and become liquid keep stirring. It will start changing color and when it becomes dark brown you can add a few spoons of water and put off the flame. The other option will be to cool caramelized sugar on a tray of ice.
You will receive a lot of appreciation for the baked cake. The aroma of fresh cake baking will be all over your house and out in the open air too.
My kids will visit the kitchen often mainly because of the aroma and the curiosity to know what other varieties I'm actually attempting that day.
Try this recipe and enjoy healthy cooking. For more tasty recipes visit our Facebook page and Google+ page.