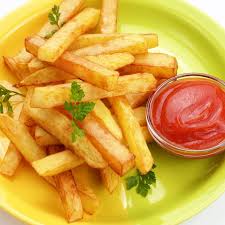 Potato French fries is a special snack for the kids at home. They insist on buying Potato French fries when they go to any Food outlet. It was then I decided to prepare this snack at home. I was looking at the right crispiness when fried and it was a big surprise when we achieved the taste for the homemade Potato French fries which had the look and taste of popular food outlet.
When the table was set with Potato French fries and tomato ketchup, I could see the elders also staring at the plate. Therefore we had two sets fried, first for the kids and later for the elders.  Now I can avoid purchasing the frozen ones and save money by preparing at home.
Ingredients for Potato French Fries
Potato: 2 large ones
Salt: to taste
Chilli powder: to taste
Cooking oil: 1 cup
Water: 5 cups
Procedure for preparing Potato French Fries at home
Method:
Peel potato and wash them, chop them in ½ inch thick and long slices.
Place the pieces in 2 cups of water for 5 minutes.
Drain water and add the potato pieces in boiling water for 3 minutes.
Put off flame. Drain water and spread the potato pieces on a tissue paper.
Store these pieces in refrigerator for 4 to 5hrs. This will ensure crispiness on the exterior when fried.
Heat oil in a flat bottomed pan. When sufficiently hot add few potato pieces in batches and fry them till they are crisp on the exterior.
Maintain low flame to avoid color change of the Potato French fries.
Drain onto tissue paper and afterwards transfer on a serving plate. Sprinkle with salt and chilli powder
Serve Hot and crispy Potato French fries with tomato ketchup or sauce.
Ideal for kids and with a little pre-work you can bring a smile on your little one's face.
Go ahead and give this recipe a try. Follow precautions while handling hot oil.
Also read: My experiences in the kitchen-Part 1 &  Part 2
You can store in air tight containers to ensure crispiness.
Potato French fries is easy to prepare, requires less time and effort and therefore ideal for evening snacks, birthday parties and  kids gathering.
Try this recipe and enjoy healthy cooking. For more healthy and tasty recipes visit our Facebook page and Google+ page.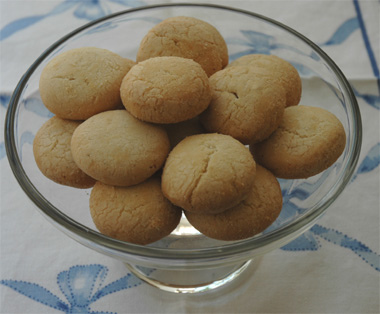 Nan katai is a buttery Indian cookie that is popular among kids and elders alike. Nan katai is made from simple ingredients that are available in every kitchen. Nan katai can be easily made at home. These delicate crumbling delicacy is popularly made during festivals like Diwali and as a snack during birthday parties.
14 Nov is celebrated as Children's day in India to commemorate the birthday of our Former Prime Minister Pandit Jawaharlal Nehru who is fondly called Chacha Nehru by children. Several programs are organized in schools and in residential societies to have fun and spread the joy in children. There is no teaching in schools on this day and children attend cultural programs conducted by teachers.
Kids come home early from school with a huge appetite. They do not want the regular stuff prepared at home. They want royal treatment as it is their day, so moms get ready and surprise your kid with this sweet that will bring a big smile on your kid's innocent face.
All sweets are prepared in the name of kids and in fact the boxes are emptied by older kids and elders. For a change let them too enjoy this special day with a treat. Let us go thru' the ingredients required to prepare Nan Katai.
Ingredients for Non Katai – Indian Butter cookie
Maida / All Purpose Flour: 1.5 cups
B.Rawa / Sooji: 3 tspn
Chana powder / Chick pea flour: ¼ cup
Ghee / Butter: ¾ cup
Sugar: ¾ cup (powdered)
Elaichi / Cardamom: 5 nos (powdered)
Vanilla Essence: ½ tsp
Baking powder: ½ tsp
Optional - For decorating the nan katai: Cashew- 6 nos, Badam/ Almonds – 6 nos or Pistachio-6 nos ( chop into fine pieces)
Procedure for preparing Non Katai – Indian Butter cookie
Method:
In a vessel mix ghee / butter, powdered sugar, vanilla essence .
In another vessel mix all the powders: Maida, Sooji, Chana Powder, Elaichi powder, baking powder. You can sift the ingredients through a sieve to ensure uniformity of baking powder in the flour.
Now add the mixed powders into the first vessel containing ghee / butter mixed with powdered sugar. Mix till it becomes a soft dough.
Grease the baking tray with ghee/ butter.
Make small balls of the dough and flatten it a bit. Place the flattened dough rolls on the plate.
Maintain distance between the katai rolls.
Decorate with the chopped cashew nut / badam / pistachio and place the tray for convection baking at 150 deg c for 35 mins.
Non katai- Indian Butter cookies are ready. Serve it when it has cooled down.
You can store in air tight containers for a month's time.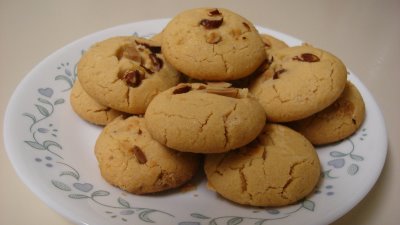 Nan katai is easy to prepare, requires less time and effort and therefore ideal for travel, birthday parties, kids gathering.
Try this recipe and enjoy healthy cooking. For more healthy and tasty recipes visit our Facebook page and Google+ page.
You can also read recipes for kids:
Kerala Vettayappam–Steamed Rice Cake
Sukhiyan Popular 4pm snack with High protein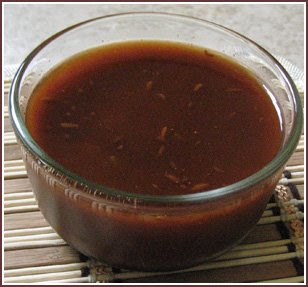 Khatta meetha chutney is a mandatory ingredient that adds flavor to the snack items. Khatta meetha chutney is used in popular recipes like Dahi Vada, Pani Puri, Bhel puri, Ragada chaat, Samosa, Chilli bajji, etc. We do not get this chutney ready to use in shops, therefore this recipe is critical to make tasty snacks.
Children love to eat snacks from the stalls placed by vendors and considering the risk to health, I prefer to prepare snacks at home and serve to my kids. I'm free of stress with the thought of them getting sick.
Ingredients for Khatta Meetha Chutney
Tamarind: 2 balls ( lemon sized)
Jaggery / Gur / Sharkkara: 3 tbspn (grated)
Jeera: ¼ tspn
Chilli powder: ½ tsp
Cooking oil: 2 tbspn
Salt:1/4 tsp
Water :1/3 cup (to soak tamarind and make pulp)
Procedure for preparing Khatta Meetha Chutney
Method:
Soak tamarind in water for an hour. Extract thick pulp and filter the same to remove shreds.
Grate jaggery and keep aside.
In a shallow pan heat oil and add jeera. When it splutters, lower flame and add  chilli powder.
To this base add tamarind pulp, grated jaggery, salt and mix well.
Close the pan with a lid and allow this mixture to boil on a low flame for 10 to 15 mins until it thickens.
The khatta meetha chutney is ready and can be used for your snack preparations.
The chutney can be refrigerated for about 3 months for further use. Store in an air tight container.
Similarly you can try the dates chutney that can used for dosa, chapathis, enjoyed by children for its sweet and sour taste.
Making snacks like pani puri, dahi vada call for preparation of several items that are mainly basic ingredients for the snacks You can save time by preparing the chutney in advance and go ahead planning the others just in time.
Hope you enjoyed the instant recipe for Khatta Meetha Chutney. Try this recipe and enjoy healthy cooking. For more healthy and tasty recipes visit our Facebook page and Google+ page.