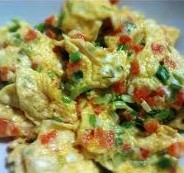 Egg omelette is a quick and tasty dish in the menu. Loved by people of all ages at any time of the day. Teenagers experiment cooking usually with simple recipes and omelette is the preferred choice. Basic preparation of egg omelette involves salt, onion and pepper . Here is a trendy variety in the egg brand.
Sure you are going to enjoy this variety – Masala Egg Omelette
Ingredients:
Eggs : 4 nos
Onion: 2 medium finely chopped
Green chillies : 2 ( finely minced)
Black pepper powder : ¼ tsp
Turmeric powder : 2 pinches
Garam Masala powder : ¼ tsp
Milk : 2 tbpns
Coriander leaves: 2 tbsps ( finely chopped)
Oil : 3 tbsps
Include vegetables(optional): Carrot , Capsicum , Tomato – 3 tbspn of each vegetable ( finely minced ) or shredded chicken : 3 tbspn
Salt ( to taste)

Procedure for Masala Egg Omelette:
 Beat the eggs in a bowl till foamy. Add all the ingredients except oil and mix well.
 Heat the pan. When hot , spread oil in the pan. Reduce flame and pour half of the omelette base onto pan. Swirl the pan such that the omelette base spreads over.
Cook on medium flame till one side is brown.
The centre will be liquidy therefore be careful while flipping omellette on the pan. With a ladle gently flip over and cook the other side for another minute.
You can add grated cheese on the omelette , the heat of the omellette will lightly melt the cheese.
The masala egg omelette has cooked and is ready to serve.
Transfer the masala egg omelette onto a plate and serve with bread , buns or chapathis.
Prior to making the next omelette,  mix the omelette base well and pour.
Maintain low flame to avoid burnt smell of omelette.
Your family will ask you make more of this tasty omelette. Enjoy…
Drumstick plant leaves are an excellent source of nutrition and natural energy booster. Drumstick tree leaves are commonly called Moringa leaves .  Moringa leaves are a power house of nutrients. Moringa flowers and buds are also used for cooking along with leaves.
A simple side dish recipe with moringa leaves, flowers and buds. Serve with hot rice or chapattis.
Ingredients:
Fresh moringa leaves : 2 cups . Include flowers and buds too
Onion : 1 medium (chop to fine pieces)
For grinding:
Fresh coconut (grated) : ½ cup
Green chilly : 2 nos ( cut lengthwise), Garlic pods: 4 nos, Cumin seeds ( Jeera) : ¼ tsp
Turmeric powder: ¼ tsp
Grind all ingredients in a mixer coarsely
For seasoning
Cooking oil : 2 tsp , Mustard seeds : ¼ tsp, Rice (uncooked) :2 tsp, Curry leaves : 1 stem
Salt ( to taste)
Procedure for Moringa leaves torran:
Wash the moringa leaves, flowers and buds and place in a sieve to drain all water.
Heat oil in a flat bottom pan,  season with mustard seeds, rice and curry leaves.
Add onion, when translucent add the Drumstick plant leaves, flowers and buds.
Saute and steam cook on a low flame.
Add salt and the grinded coarse paste. Mix thoroughly till it is of dry consistency.
Coconut relieves the bitter taste of the leaves and is a good combination with rice or hot pulkas.
Usually in Indian dishes seasoning includes dhals but for Moringa leaves dishes rice is used. Rice becomes white  and crispy when fried in oil.
Mineral Contents in Drumstick Leaves
Vitamin A — Four times as in Carrot.
Vitamin C — Seven times as in Orange.
Potassium – Three times as in Banana
Calcium – Four times Calcium as in Milk.
Protein – Two times Protein as in Yogurt.
Enjoy various ways to include the leaves and vegetable in your diet. Stay healthy.
Pudina pani is a refreshing drink during summer time and when you are outdoors on hot days. It is a common coolant in India , relished by young and old. Children love the chatpati taste.
Vendors place Pudina pani stalls at prime places which attracts shoppers and the passer-bys. If you are health conscious and not comfortable drinking from the road side vendors , you can as well prepare this delicious drink at home and serve the family.
Pudina pani is a healthy summer coolant. You can also use drinking water stored in earthern pots if you want to avoid crushed ice cubes.
For making 3 large glasses of Pudina pani.
Ingredients:
Pudina leaves ( Mint leaves): ½ cup
Fresh Ginger: 2 " piece
Drinking water : 2 cups
Lemon: 2 nos (extract juice)
Sugar: 5 tspns
Black salt ( Kala namak) :1 tspn – crushed
Chaat masala: 1 tspn ( recommend Everest brand, I always use this Chaat masala)
Cumin seeds ( Jeera) : ¾ tspn ( roasted and powdered)
For garnishing :
lemon slices -3 nos
5 to 6 mint leaves
crushed ice cubes-3/4 cup

Procedure for Pudina pani:
Wash Mint leaves and drain all water.
Grind mint leaves and ginger in a grinder along with 1 cup of water.
Strain the juice thru' a fine mesh filter , this will keep off all fibers.
Transfer the filtered juice into a large jug.
Add all the remaining ingredients. Mix well and check for the level of sweetness and taste.
Chill this for 30 minutes prior to serving.
Serve into tall serving glasses.
Garnish with lime slices and 1 or 2 mint leaves and add some crushed ice cubes into each glass.
You family will be amazed to have the healthy drink at home and will also appreciate your efforts in hot summer.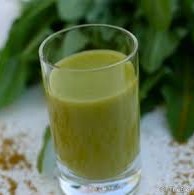 Green Mango drink is a summer delight. It is known as Aam panna and is popular all over India. Mango drink gives cooling effect to the body and is enjoyed by people of all ages.
The preparation is easy too. Quench your thirst with Green Mango drink. Follow this quick and easy recipe , you can certainly give it a try.
Ingredients:

Unripe green mango: 3 nos
1 tsp dry roasted cumin seeds( Jeera)
½ tsp red chilli powder
¼ cup mint leaves finely chopped
6 tsp Sugar
Ice cubes ½ cup crushed
Chilled water : 2 cups
Procedure for Green Mango drink:
Wash green unripe mangoes.
Heat water in a small pan. Add  unripe mangoes into water.
Close the lid, reduce flame and allow to boil for 10 minutes.
Switch off flame, drain water and allow the mangoes to cool.
When cool, peel the mango skin and remove the pulp with a steel spoon into a bowl.
When the pulp is collected completely, add cumin seed powder, red chilli powder, sugar and salt .
Beat this pulp and mixture with a fork. Use a blender for thorough mix.
Add the chopped mint and mix again. Add crushed ice cubes and chilled water.
Take a large serving jug and shift the mixture from one beaker to the bowl.
Green mango drink is ready to be served. Sure your family is going to appreciate the summer special drink.
Further reading: How to make Ragi Java at home and remain healthy this summer.