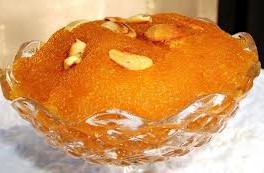 Rava Kesari is a sweet dish prepared during festive occasions. Rava Kesari is an easy recipe and quick to make too. Kesari can be consumed by all age groups and is a popular sweet.
Rava kesari is made plain without addition of food colors. To attract children food colors can be added in the sweet dish. You can also cut into various shapes and garnish on top to make the dish distinct.
Rava Kesari is made from basic ingredients that are available in every kitchen commonly. Bombay Rava / Sooji is the basic ingredient.
Serves – 8
Ingredients:
Rava / Sooji: 1 cup
Sugar : 1.5 cup
Water : 2 cups
Milk : 1 cup
Ghee : ½ cup
Cashew nuts : 10 to 12 nos (break into halves)
Raisins : 10 to 12 nos
Saffron: 1 pinch
Cardamom / Elaichi powder: Green chilly: 1 no ( slice it into halves- lengthwise )
Warm milk: 2 to 3 tspn ( to soak saffron)
Kesar food color : 2 pinches ( optional)

Procedure for Rava Kesari:
Method:
In a shallow kadai heat 2 tspn of ghee and roast cashew nuts and raisins. Take it into a separate plate.
In the same kadai heat another 3 tspns of ghee and roast the rava / sooji on a low flame until it changes color and the roasted smell comes. Transfer the fried rava onto a flat plate. Ensure rava is roasted well for a soft kesari.
Soak the saffron in the milk and keep it separately.
Boil water and milk, add the roasted rava slowly. The flame should be kept at medium level. During addition you need to constantly stir the boiling water and rava to avoid formation of lumps.
Once the entire rava is added and the mixture is boiling, switch off the flame.
After approximately 8 to 10 mins, the water is completely absorbed. The rava is almost cooked.
Now switch on the flame and add sugar and kesar color to the cooked rava. The sugar starts melting and the rava starts absorbing the sweetness.
Add the remaining ghee gradually into the rava mix . Add elaichi powder and soaked saffron. Switch off the flame when the semi thick consistency has been reached.
The preparation becomes thicker upon retention also, therefore you switch off the flame a little in advance.
Transfer into katoris and reverse after some time. The other option is to transfer the rava kesari onto a plate and after it sets cut into desired shapes and sizes.
Garnish with fried cashew nuts and raisins.
Do not wait. Go ahead and try this easy recipe and show your family and friends your speed in cooking.
You need to watch out at two critical stages during preparation of Rava Kesari. At the time you add rava into boiling water and the stage when you add sugar.Constant stirring is required to avoid catching at the base and avoid burnt smell of rava.