Enjoy Combo Offer-Hot Steaming Tapioca with Bird's Eye Chilli Chutney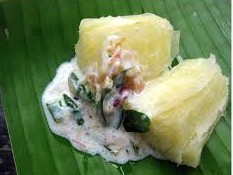 Today I'm sharing a recipe of Kappa Puzhungiyathu along with Kanthari  Mulaku Chammanthi. It is a great combination especially when you are having a great appetite. It boosts energy levels. I'm sure any keralite staying away from home will long to have a bite of this delicious feast. The images are so tempting that I would like to grab a piece or two from the banana leaf spread.
The back ground was that I reached home tired after work and was in no mood to cook dinner. I was relaxing after a cup of tea and my hubby comes in with a big bag of kerala store items. As we are away from Kerala, he longs for Friday -basic reason to collect the fresh stock of ethakka (kerala banana) ,kappa (tapioca), Chena (elephant foot), Kaachil (Purple Yam), Kochu ulli (Shallots), Kanthari Mulakka (bird's eye chilies),Coconuts, masala powders , etc..
The visual image of Kappa Puzhungiyathu with green chilli chutney combination was so tempting that I finalized on the menu for dinner. This is a quick dish and relished too bringing in nostalgic memories back home. Though my younger son was fussy over the change in menu (pulka regularly), he was willing to adjust with fish curry.
Therefore started to prepare the menu finalized for dinner: Kappa Puzhungiyathu along with Kanthari  Mulaku Chammanthi.
Ingredients for Kappa Puzhungiyathu – Boiled Tapioca- Yuca- Cassava
Kappa-Tapioca- Yuca- Cassava : 2 large roots
Water: as required to cook
Salt: as per taste
Procedure for preparing Kappa Puzhungiyathu – Boiled Tapioca:
Method:
Cut the kappa-tapioca into 4 cm length slices.Peel the skin , it will come off as a thick layer.
Slice these round pieces lengthwise into 2 or 4 pieces to allow easy cooking.
Transfer the cut pieces into a large shallow pan containing water. Wash the immersed kappa thoroughly to remove any impurities and sand particles.
Pour water till the level of chopped kappa-tapioca and cover the vessel with a lid. Allow this to boil. After 4 to 5 minutes of boiling, drain the water completely. This step is essential to remove the katta or starch.
Now pour the same amount of fresh water and allow the kappa-tapioca to boil. Add salt as required and cook for 10 to 12 minutes until it turns soft and tender.
Put off the flame. Drain the water completely and keep aside.
Serve it steaming hot with kanthari Mulaku Chammanthi/ Chicken curry with lots of gravy, Fish curry-Kerala style.
Ingredients for Kanthari Mulaku Chammanthi-Bird's Eye Chiili Chutney
Kanthari Mulaku / Bird's eye chilli: 20 nos (optional green chilli-4 nos)
Shallots/Pearl Onion/Kochulli: 12 nos
Tamarind extract: soak lime sized tamarind and extract thick pulp
Salt: as per taste
Coconut oil: 3 tspn
Curry leaves-shred 4 to 5 leaves
Procedure for preparing Kanthari Mulaku Chammanthi- Green chilli dip:
Method:
In a mixer ,pulse kanthari Mulaka/ green chilli, shallots, curry leaves 2 or 3 times. You can also use the arakalla- motor and pestle – ideal for taste.
Green chilli is an option for kanthari Mulaka, like wise use onion for shallots.
Transfer the mixture into a serving bowl. Add salt ,tamarind extract and coconut oil and mix well.
Ready to serve with steaming kappa puzhingiyatha.
This is a quick fix menu and can be prepared with ease. You can prepare the green chilli dip when the kappa is boiling. Maximum time will be 25 to 30 minutes for preparing this menu.
Chicken curry with gravy, Fish curry are great combinations. An ideal recipe for breakfast, evening snacks and dinner too.
We enjoyed this sumptuous dinner. Go ahead and give it a try…
Try this recipe and enjoy healthy cooking. For more healthy and tasty recipes visit our Facebook page and Google+ page