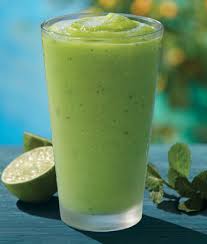 Cucumber Mint Smoothie is a refreshing drink in hot summers. You can feel the coolness from within when you sip this drink. The flavors of mint, lime and cucumber is very soothing and will make you feel fresh and ready to bang on with energy.
Hyderabad Summer is at its peak now and the humidity levels are at all time high. Sweat keeps flowing from the head and neck even if inside a room. There is no sign of monsoon, infact all are looking forward for the rains.
To beat the external heat and make yourself comfortable on a hot day, there is nothing refreshing than a chilled yogurt based drink. You can make an easy recipe at home and feel cool. This is a quick and easy way to get the calcium in your diet and thereby benefiting your body.
Ingredients :
Cucumber: ½ cup (peeled and diced)
Fresh mint leaves: 3 nos
Ice cubes-: 10-12
Yogurt: 1.5 cup (thick consistency)
Chaat masala: a pinch
Black salt: As per taste
Lime juice: ½ tsp
Chilled water: ¼ cup (optional for thinner consistency)

Procedure for preparing Cucumber Mint Smoothie recipe:
Method:
In a mixer blend diced cucumber, mint leaves, ice cubes, yogurt, chaat masala and black salt.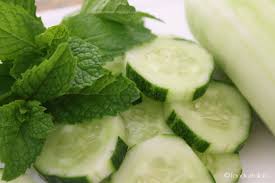 You can add water and blend if you desire a thinner consistency.
Dispense into serving glasses and dash it with lime juice. Serve cold.
Garnish with mint leaf and cucumber peel.
Cucumber Mint Smoothie is a refreshing drink  and soothing in hot summers. Feel the coolness and come back with doubled energy after taking this smoothie. The flavors of mint, lime and cucumber revives you and you are ready for action.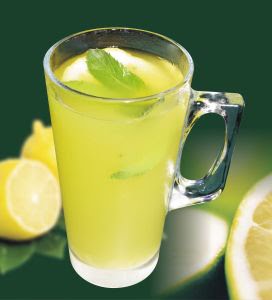 Ginger mint Lemonade is a popular summer cooler in much demand during hot sultry days. This homemade summer beverage is sure to please family and friends at a party or a get-together.
Ginger mint Lemonade can be made at home, the recipe is simple and can be made in advance to avoid last minute rush. You need to instantly mix all the ingredients.
Ingredients :
Lime / Lemon : 12 nos (approx. 1 cup extract)
Mint leaves: 1cup (chopped)
Fresh Ginger: 1 tbsp (crushed)
Sugar: ¾ cup
Water: 3 cups plain and 9 cups chilled water
Salt: ¼ tsp
Procedure for preparing Ginger Mint Lemonade recipe:
Method:
Extract juice of 12 lemons. Strain and keep aside.
Boil a cup of water add sugar and stir to allow sugar to dissolve completely. After 2 mins of boiling allow the sugar solution to cool.
In another vessel boil 2 cups of water. Put off the flame and add crushed ginger and ½ cup of fresh mint leaves. Close the lid and allow to steep. After about 15 mins, strain the liquid and cool. Discard the crushed ginger and mint leaves.
Take a large bowl. Add 9 cups of cold water. Add the lime juice extract, sugar syrup, ginger-mint solution, salt.
Mix thoroughly. Adjust sweetness by adding more sugar syrup, adjust tart by adding more of lime juice.
Dispense into tall glasses. Decorate with ice cubes, lime slice and mint leaves.
Honey is a good substitute for sugar. Only caution is not to boil honey. Just add the required quantity into the lemonade and stir.
Few people also enjoy this cooler with a pinch of roasted cumin powder / a pinch of chaat masala to enhance the taste.
Great summer cooler and as it is homemade it is healthy too. Beat the heat with this summer cooler. It will be a hit in the summer for elders and children alike.

Benefits of each ingredient:
Lemon: Lemon water makes for a powerful detox drink; lemon juice helps to cleanse and alkalize the body.
Mint: Mint adds a touch of sweetness without the sugar to your water, and it also helps settle your  stomach and aids in digestion as well.
Ginger: The spicy root helps cleanse out your system, aids in digestion, and settles your stomach.
Hey go ahead and make this Ginger mint Lemonade 1 day in advance and mix with chilled water upon requirement.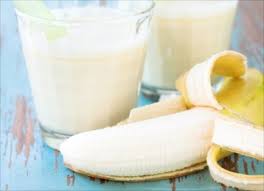 Banana Milk shake is a quick to make and ideal summer coolant during hot and sweating days. You can prepare this recipe with basic ingredients that are available on your kitchen counter.
Start the day with this recipe as it has weight losing properties too. Banana Milkshake is popular among kids. You can add other fruits like Mango, Strawberry and decorate the shake with a combination of colors and flavors
The milkshake is a good source of heart-healthy fiber and protein. Milk is a good source of calcium, potassium, phosphorous and magnesium. Bananas offer 10 percent of your recommended daily needs for vitamin C, which is important to maintain a healthy immune system and may play a role in helping to lower blood pressure.
Read thru' to understand how to make delicious recipe for all seasons at home-Banana Milk Shake.
 Ingredients :
Banana: 2 ripe ones (Robusta variety)
Curd: 1 cup
Milk-1/2 cup
Sugar- 1 tsp
Vanilla essence: ½ tsp
Lemon juice: 1 tsp
For Garnishing:
Mint leaf / Cherry / Lemon rind / Sliced banana
Procedure for preparing Banana Milk Shake recipe: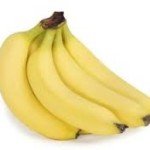 Method:
Chop the banana into slices.
In a mixer add all ingredients and blend till it forms a smooth paste.
Pour into serving glasses. Garnish with mint leaf and cherry. You can explore and try your experiments.
Add chilled milk,if you like it cold.
Go ahead and try this banana milk shake today itself. Beat the heat with this summer cooler. If you like this recipe or know of any variations do let us know in the comments.
You can try the other summer coolants: Ragi java, Pudina pani, Green Mango drink, Buttermilk ,Ice cream soda and milk shake recipe .Be healthy and cool this summer.
Courtesy: Vanita Magazine.Adapted the banana milk shake recipe from the recipes section printed in Malayalam.
If you want a similar Recipe website for FREE Visit Special offer for May2014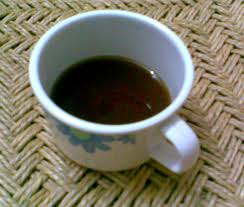 Chukka kaapi is also known as Dry Ginger Coffee. Chukka kaapi is popular in South India and the brew is made instantly when a member in the family catches cold. When the rains start, you may get wet in the initial rains. The sudden change in weather brings a nasty cold when you are back home in the evening. Cold is associated with sneezing, body pains and a lethargic feeling. You can get relieved of the sick feeling, get recharged by drinking Chukka kaapi.
Chukka kaapi is ideal for the throat and the dry ginger clears the mild cough and brings relief. Chukka kaapi is served at gatherings in winter and rainy season, reminds me of Christmas Carol season / after a midnight mass . The basic ingredients are dry ginger, peppercorns, jaggery, jeera, tulsi leaves boiled in water in which coffee powder is added. The ingredients are available in every kitchen. You need to pluck tulsi leaves from your garden.
This an ayurvedic drink also referred as kashayam. Chukka kaapi is a herbal drink which can be made instantly. It brings nostalgic memories of childhood days when Mom used to prepare immediately based on instructions from Grandma . We children were scared to have the herbal drink which had a strong flavor and spicy taste of dry ginger and peppercorns.
The elders enjoyed chukka kaapi and thanked mom for preparing it on time. Now at this stage in life we look forward for someone to offer chukka kaapi when we are down with a cold and running nose.

I made it a point to learn the preparation of chukka kaapi. It is simple to prepare, just follow the method.
Serves – 2
Ingredients:
Pepper corns : 1 tsp ( crushed)
Dry Ginger : 1 tsp ( powdered)
Jeera / cumin seeds : 1/2 tsp ( crushed )
Tulsi / holy basil leaves : 8-10 ( washed)
Jaggery: 3 to 4 tsp ( grated / crushed)
Coffee powder: 1 tsp
Water : 2 cups
Procedure for Chukka kaapi:
Place a vessel with water on the stove. When it starts boiling add pepper corns, dry ginger, jeera, jaggery. Let it boil for 2 to 3 mins.
Then add the fresh tulsi leaves, followed by coffee powder.
Lower flame and continue boiling for 5 minutes.
Switch off flame. Filter into serving glasses.
Chukka kaapi is ready to drink.
The strong flavors of dry ginger , pepper are combined with the aroma of tulsi leaves.
You need to drink warm gradually sip by sip. The vapors will clear your nose and you will feel active in spite of the rainy weather externally.
In some areas people do include 1 or 2 crushed shallots along with the ingredients. Chukka kaapi is tasty along with jaggery, you can opt for adding sugar in place of jaggery.
Another variation will be to reduce the coffee powder quantity if you do not want it strong.
I'm sure you gonna try this herbal drink again and again.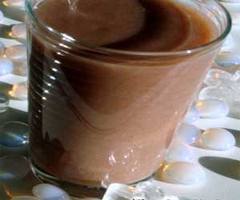 Ragi Java or Ragi malt is a popular drink in South India. Ragi java is a healthy drink especially during Summer. Ragi or Finger Millet contains high amount of calcium. Ragi has an average protein content of 9.8% with well balanced amoni acids, Phosphorus,  Vitamin A and Vitamin B .
In South India during Summer season,  Ragi Java is prepared daily in homes early in the morning. A glass of Ragi Java is taken and then they proceed for work or school. It is believed that the heat impact  / sunstroke and weakness is minimized by drinking Ragi malt.
There are various methods of preparing Ragi Malt. Easy to prepare and can be done by bachelors too. Ragi flour is available in packs at your nearby retail store.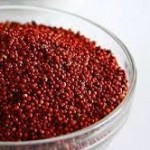 It was a big ordeal in the earlier days for washing the ragi, spreading it on a thick cloth and drying in the sun for 2 – 3 days. Later on it was powdered in the mill and then the powder was sifted prior to use. The powder would be soaked and the husk would be disposed off ( deep maroon sediment). Currently you need to go to the provision store and pick your pack. Suggest you take a small pack if your family is small.
Serves – 4
Ingredients:
Ragi flour : 4 table spoon
Butter milk : 2 glasses
Water: 4 to 5 cups
Salt : to taste
Procedure for RAGI JAVA:
Add 4 cups of water in a SS vessel and place it over flame.
Dissolve ragi powder in ½ cup of water, mix well to avoid lumps.
When the water boils, reduce flame and add ragi mix into boiling water.
Keep on stirring till the preparation becomes thick, Add salt to it.
Note: The mix will get burnt at the bottom of vessel if high flame is maintained.
Take off flame and leave it to cool.
Add butter milk and mix well.
Ragi Java is ready to drink. Serve into glasses and ensure they drink it.
Nourishing drink during hot summers. Consume ragi java and then plan a day out , you will not feel tired with the scorch heat.
If your kids dislike the salty taste you can follow this option of sweet Ragi Java:

Procedure for RAGI JAVA (Sweet variety) :
Add 4 cups of water in a SS vessel and place it over flame.
Dissolve ragi powder in ½ cup of water, mix well to avoid lumps.
When the water boils, reduce flame and add ragi mix into boiling water.
Add 2 cups of milk and 4 table spoons of sugar , maintain medium flame.
Keep on stirring till the preparation becomes semi thick
Note: The mix will get burnt at the bottom of vessel if high flame is maintained and not stirred continuously.
Take off flame and leave it to cool.
Refrigerate for 15 mins .(optional)
Ragi Java- sweet variety is ready to drink. Serve into glasses.
A surprise for your kids this summer.
You can add flavors to it by adding sliced mango, blended mango or any other fruit .
Quick tips:
For ease you can commonly make the malt and pour it into two containers. In one container add buttermilk and salt and in the other boiled milk and sugar. Your effort and time will be balanced.
In rural homes people have ragi java with ganji / kanji i.e water drained after rice is cooked in an open vessel and salt is added for taste.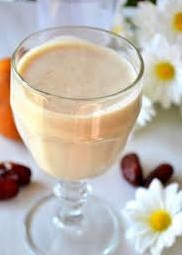 Have you heard this recipe Sharjah Milk Shake. It is a refreshing drink during hot summers. Sharjah Milk Shake is hugely popular among kids and bachelors . Easy to make and you can include your signatory style by adding additional ingredients to suit the taste.
Basically Sharjah Milk Shake is a native cooling drink of the gulf. As Indians have migrated to and fro, they have also imbibed the eating habits of the places they visit. Probably the main reason for its huge popularity in Southern India.

Serves -4

Ingredients: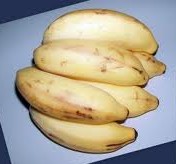 Ripe banana : 2 ( small yellow variety that is soft inside)
Milk: ½ litre (boiled, cooled and frozen)
Malt powder- Boost / Bournvita  : 4 spoons
Sugar  : 2 spoons ( Optional honey 2 tspns)
Cashew  / Soaked and peeled Almonds : 6 nos ( break into pieces)
Ice cubes: 8 nos (to maintain consistency)

Procedure for SHARJAH MILK SHAKE:
Peel and slice banana into small slices.
Crush frozen milk into small pieces. Use a knife to cut the milk cubes.
In a mixer, add banana slices and crushed milk cubes.
Top it with Boost / Bournvita , sugar, cashew / almonds and ice cubes.
Hold the mixer lid tight and run the mixer for a few seconds initially to avoid the rattling sound of ice cubes. Safe for the mixer blades too.
After one or two runs (or inches as normally mentioned for a mixer) , blend the contents well to form a smooth paste.
Transfer quantity into serving glasses.

This is a nourishing health drink. Children who dislike banana or keep away from milk will ask for more. Moms better watch out…they may snatch your glass too.
You can keep it plain and avoid cashew / almonds. If there are family members who are having diabetes issue, serve them only a few spoons.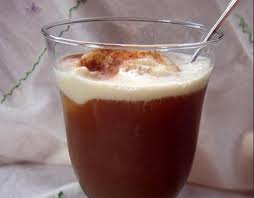 Ice cream soda recipe is a relishing and quick to make drink at home. Ideal during summer times. You can include Ice cream soda for kids parties and regular gatherings too. Try out this recipe and I'm sure everyone is going to appreciate your thoughtfulness.
Kids are gonna love Ice cream soda. It can be made instantly. Go ahead and have fun.
Serves -4

Ingredients:
Coke / Cocacola : ½ litre bottle(chilled)
Ice cream :  150 gms ( any flavor)

Procedure for Ice Cream Soda:
Take 4 tall wide glasses.
Serve 2 ice cream scoops in each glass.
Now dispense cococola upto ¾ th level of the glass.
There will be a hissing noise as the Carbondioxide gets released with vapors.
The bubbly drink is great to have. Use a spoon to mix and drink or use a wide straw.
Watch out for spills to avoid sticky feeling. You can decorate with sliced lime or fruits and make it look attractive.

Hey…Didn't I say this is an instant drink. Have fun this summer experimenting various recipes to keep you cool.
I tasted this in a kids party and enjoyed the taste . I got the recipe for all of you.
Pudina pani is a refreshing drink during summer time and when you are outdoors on hot days. It is a common coolant in India , relished by young and old. Children love the chatpati taste.
Vendors place Pudina pani stalls at prime places which attracts shoppers and the passer-bys. If you are health conscious and not comfortable drinking from the road side vendors , you can as well prepare this delicious drink at home and serve the family.
Pudina pani is a healthy summer coolant. You can also use drinking water stored in earthern pots if you want to avoid crushed ice cubes.
For making 3 large glasses of Pudina pani.
Ingredients:
Pudina leaves ( Mint leaves): ½ cup
Fresh Ginger: 2 " piece
Drinking water : 2 cups
Lemon: 2 nos (extract juice)
Sugar: 5 tspns
Black salt ( Kala namak) :1 tspn – crushed
Chaat masala: 1 tspn ( recommend Everest brand, I always use this Chaat masala)
Cumin seeds ( Jeera) : ¾ tspn ( roasted and powdered)
For garnishing :
lemon slices -3 nos
5 to 6 mint leaves
crushed ice cubes-3/4 cup

Procedure for Pudina pani:
Wash Mint leaves and drain all water.
Grind mint leaves and ginger in a grinder along with 1 cup of water.
Strain the juice thru' a fine mesh filter , this will keep off all fibers.
Transfer the filtered juice into a large jug.
Add all the remaining ingredients. Mix well and check for the level of sweetness and taste.
Chill this for 30 minutes prior to serving.
Serve into tall serving glasses.
Garnish with lime slices and 1 or 2 mint leaves and add some crushed ice cubes into each glass.
You family will be amazed to have the healthy drink at home and will also appreciate your efforts in hot summer.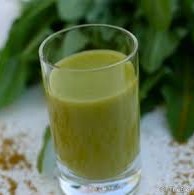 Green Mango drink is a summer delight. It is known as Aam panna and is popular all over India. Mango drink gives cooling effect to the body and is enjoyed by people of all ages.
The preparation is easy too. Quench your thirst with Green Mango drink. Follow this quick and easy recipe , you can certainly give it a try.
Ingredients:

Unripe green mango: 3 nos
1 tsp dry roasted cumin seeds( Jeera)
½ tsp red chilli powder
¼ cup mint leaves finely chopped
6 tsp Sugar
Ice cubes ½ cup crushed
Chilled water : 2 cups
Procedure for Green Mango drink:
Wash green unripe mangoes.
Heat water in a small pan. Add  unripe mangoes into water.
Close the lid, reduce flame and allow to boil for 10 minutes.
Switch off flame, drain water and allow the mangoes to cool.
When cool, peel the mango skin and remove the pulp with a steel spoon into a bowl.
When the pulp is collected completely, add cumin seed powder, red chilli powder, sugar and salt .
Beat this pulp and mixture with a fork. Use a blender for thorough mix.
Add the chopped mint and mix again. Add crushed ice cubes and chilled water.
Take a large serving jug and shift the mixture from one beaker to the bowl.
Green mango drink is ready to be served. Sure your family is going to appreciate the summer special drink.
Further reading: How to make Ragi Java at home and remain healthy this summer.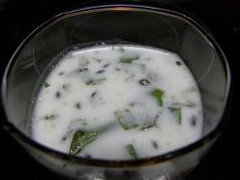 Buttermilk is an ideal drink during summer.  In Hindi it is known as Chaas, mor vellam in South India. During hot summer days you can have a glass of buttermilk and feel relaxed.
South Indian style of preparing Buttermilk.
For making 2 large glasses of butter milk.
Ingredients:
Curd: 1 cup
Water: 3 cups
Green chilly:1 no.
Ginger: 1 tsp (finely chopped)
Curry leaves: 1 stem (finely chopped)
Coriander leaves: 2 tsp (finely chopped)
Shallots / Small onions : 2 tsp (finely chopped) ……Optional
Salt (to taste)
Procedure for Buttermilk:
Crush ginger and green chilly.
In a blender add curd, water, coriander leaves, curry leaves, crushed ginger – green chilly and salt  .
If you are opting for shallots then crush onions along with ginger and green chilly. Blend in mixer for a minute.
If you want it cold , add chilled water or ice cubes to the mix.
Note: Filter and serve for children , they will not like the particles that contain in the buttermilk.
Further read easy recipes for Ragi Java and Green Mango drink and remain healthy and cool this summer.