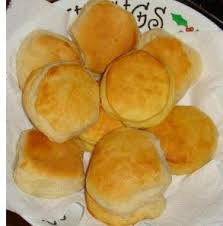 Biscuits are loved by kids and elders too,if you give them home made ones there is no turning back. This is an easy snack and very soft therefore edible by little ones who have developed tooth.
I usually prepare homemade biscuits when we are expecting guests and there is no stock of any snack to be served. You can use various molds to shape out the biscuit. At times I invert cups ,bottle cap of various sizes is also a good alternative.
The ingredients are always available at home. In the initial days when baking oven was not available I used the same ingredients to fry a tin of biscuits. These can be stored for a week's time. Idea snack during Christmas too.
When you fry the biscuits at home, the aroma will spread across and your neighbors will also be curious to know from which kitchen this smell is coming.
Ingredients:
Maida (All Purpose four): 250 gms
Sugar: 125 gms
Egg: 2 nos
Butter or ghee: 100 gms
Cardamom (Elaichi) : 5 to 6 nos
Baking powder: ½ tspn
Milk : ½ cup
Cooking oil: 2 cups

Procedure for making Homemade Biscuits:
Method:
To make homemade biscuits there is some prework involved.
Sieve maida and baking powder together and keep aside. The next step is to powder sugar in a grinder , transfer the sugar powder to a mixing bowl.
Keep aside ¼ cup of maida, this will be required for rolling the dough and cutting shapes at a later stage.
Beat eggs to a fluffy texture in the same grinder
I prefer to use butter in this snack as the final output is very soft. Ensure butter is at room temperature.
Powder cardamom. Take away the peels. You can add this into boiling tea and enjoy cardamom tea.
Add butter to the mixing bowl containing sugar powder. Mix well. Add beaten eggs to the base and continue mixing. When there are no lumps, add the maida powder sieved along with baking powder. Add cardamom powder. Knead the dough thoroughly to make a ball.
If the dough is very hard, add milk little by little such that it forms a smooth ball. Let the dough remain for 15 to 20 minutes.
Make small balls of the dough and spread on the stone similar to a chapathi. Use maida for patting the dough such that it does not stick and roll out to 1/2 inch thickness.
Now cut into shapes you desire. Place the shapes on a flat plate.
Heat oil in a flat based kadai / pan. When hot add the cut shapes in it.
Maintain flame at medium flame such that the biscuits does not get a deep color. Once light brown turn the side with a spatula.
When done drain the biscuits onto a napkin to remove any oil that is present. Your homemade biscuits are ready to serve.
When cool you can store it into air tight containers . This will lasts for a week's time.
Note: You can make salted biscuits for a change with the same ingredient by excluding sugar and adding ½ tspn salt to the recipe.
You can bake the homemade biscuits in an oven similar to baking a cake. Set the time as per your experience. Share the timings and temperature for the benefit of other readers too.
Read and enjoy making these popular recipes:
RED CHILLI CHUTNEY FOR MASALA DOSA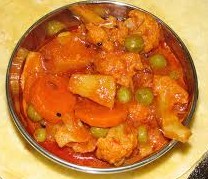 Mixed Vegetable curry is an ideal choice for vegetarians and for people following lent . I usually prepare this mixed veg curry on the days the vegetables are few at home i.e the day prior to market .
We have vegetable markets near our homes called Rythu bazaar . These vegetable markets are basically promoted such that the farmers can bring their products and sell at their price without mediators. They will get correct pricing and the customer is not levied high too. The vegetables are fresh and sold in bulk quantities . You need to purchase 250 gms at a minimum. Rythu bazaars have become a common place to meet all colony people and share news.
Coming back to the preparation of mixed vegetable curry. This is a simple dish with regular ingredients. The uniqueness of this dish is the taste of each vegetable that gets combined as a whole. I cook this in the AMC dish which retains each vegetables taste and aroma too while cooking. Water is not required for cooking.
Ingredients :
Capsicum : 1 no (diced into 1 inch cubes)
Beans: 4 nos (cut into 1 inch length)
Potato:1 no. ( diced into 1 inch cubes)
Carrot: 1 no (cut into 1 inch length)
Tomato:1 no.(cut into small pieces)
Cauli flower:2 to 3 small florets
Green peas:1/2 cup
Onion: 1 medium size(cut into small pieces)
Green chilly:1 no.(slit length wise)
Vegetable oil: 4 tspn
Chilli powder: 1 tspn
Coriander powder: 1 tspn
Turmeric powder: ¼ tspn
Salt: ¾ tspn
Ginger-garlic paste: ½ tspn
Garam masala powder: ¼ tspn
Coriander leaves: few sprigs(for garnishing)

Ingredients for Seasoning:
Mustard – 1/2 tsp
Curry leaves : 1 stem
Procedure for Mixed Vegetable Curry:
Method:
Wash all vegetables. Cut them into small pieces after water is drained.
Heat oil in a kadai and add mustard. When it splutters add curry leaves.
Add green chilly and onions. When onions have become tender add potato, carrot, cauli flower, beans. Sauté it for a minute and close the lid of the kadai. Reduce the flame.
After 3 to 4 minutes add capsicum and green peas, turmeric powder and salt. Mix well and close the lid.
Closing the lid and cooking the vegetables at low fame will enable cooking with steam. The water in the vegetables with the help of steam will make the vegetables tender and soft.
Add ginger garlic paste and tomato to it. Mix all the contents thoroughly.
After around 3 mins you will notice the sizzling of vegetables in the hot kadai. Now add the chilli powder, coriander powder and garam masala to the base. Sauté and close the lid.
After 5 mins of low heat cooking the curry is ready to serve. Garnish with coriander leaves in the serving container.
If you require the curry to be wet with a little gravy, add ½ glass of boiled water and allow the curry to boil for 2 minutes prior to serving.
Mixed Vegetable curry is a popular side dish at our home. The curry can be can be prepared  with the available vegetables. Brinjal, cucumber, bottle gourd can be included as per your choice. You can include or exclude vegetables as per availability. Mixed Vegetable curry is ideal with phulka, chapathi and puris too. My son loves to take it in his lunch box and his friends have appreciated the taste.
You need to give a try at this side dish and let us know if you enjoyed the taste. Best of luck!!
Winter is getting stronger and during this time we yearn to have hot and spicy food. Pickles is an evergreen item on the table that cannot be missed at our home. Our family enjoy pickle and papad, fryums, vadiyalu etc.
In my previous posts I mentioned about the preparation of Mixed Vegetable pickle, also mentioning the various types of pickles we indulge in.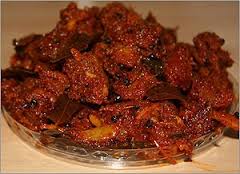 Fish pickle brings up several memories…my mama's passion in cooking, how we used to empty the bottles within a few days. The kitchen used to be filled with the aroma of frying fish and the seasoning. I didn't want my children to miss out on these special delicacies and have made it a point to master the recipe.
The first 2 to 3 times the pickle did not match the standard taste, but it has improved in the next few attempts. You can include Fish pickle in your special treat for Christmas.
Fish selection is utmost important . Fish pickle can be made with tuna(choora), sardine(mathi-chaala), butter fish(modha), seer fish(ney meen), prawns (chemeen),Anchovy (Netholi) and Pomphret(Avoli). Do not attempt fish pickle with mackerel (aiyla). Butter fish, Prawns, Tuna and Seer fish are the best options for making Fish pickle at our home.
I used lime juice in the last rinse while washing the fish to remove the strong smell and will help cook better. I prefer using Kashmiri Chilli powder for pickles-kadumanga as the pickle is not spicy, yet the appearance will be hot and spicy.
Ingredients:
Fish: ½ kg (cut into small pieces)
Lime: ½ piece(squeeze in the final rinse of fish wash)
Vegetable oil: 1 cup to fry the fish pieces
Ingredients for Marinating fish:
Red chilli powder- 1.5 tsp ( I use Kashmiri Chilli powder –Eastern Brand)
Turmeric / Haldi powder: ¼ tsp
Pepper powder: ½ tsp
Salt: ¾ tsp or as per taste
Time required for marination: 30 mins
Ingredients for fish pickle gravy:
Green chilly : 3 small( slit into halves)
Red chilli powder- 3.5 tsp ( Kashmiri Chilli powder –Eastern Brand)
Turmeric / Haldi powder: ¼ tsp
Pepper powder: ½ tsp
Ginger: 2 tsp (sliced into thin pieces)
Garlic pods: 4 tsp (sliced into thin pieces)
Salt: ¾ tsp
White Vinegar: ½ cup(boil and cool to room temp)
Vegetable oil: ¼ cup
Curry leaves: 2 stems( cut into small pieces)
Mustard : ½ tsp
Fenugreek / Methi seeds: ½ tsp
Ingredients for powdering:
Mustard : ½ tsp
Cumin seeds / Jeera: ½ tsp
Fenugreek / Methi seeds: ½ tsp
Roast on low flame and powder coarsely.

Procedure for Fish pickle / Meen Achar:
Method:
Cut fish into small pieces and wash the pieces. Drain water completely.
In a separate vessel add chilli powder, pepper powder, haldi powder and salt. Mix well and then toss the fish pieces in the vessel, mix all the fish pieces . Let it remain for 30 minutes.
Heat oil in a kadai, fry fish pieces till they are crisp. Maintain medium flame while frying the fish pieces. This will ensure moisture in the fish is taken off and the pickle can be retained for longer time.
In another kadai heat oil and add mustard seeds. When it crackle add methi seeds and curry leaves.
Immediately add chopped ginger and garlic. Keep stirring until they turn brown in color. Lower the flame.
Add chilli powder, pepper powder, haldi powder and salt. Stir this till the raw smell goes away. Mix the powders to avoid getting burnt at the base.
Add white vinegar to the powders and mix thoroughly. Add the fried fish pieces and mix the entire masala.
Add the roasted powders-mustard, jeera and methi seeds. Mix the fish pickle and transfer contents into a clean bottle.
If handled with care and refrigerated between servings you can retain fish pickle / meen achar upto 9 months.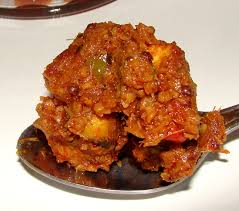 Great combination with hot rice, chutney and curd curry too. My children do enjoy with rotis, breads too.
Give a try to your culinary skills and make this Christmas feast an enjoyable one with your favorite wine, fried rice ,chicken dishes and cutlet. Share with family and friends…