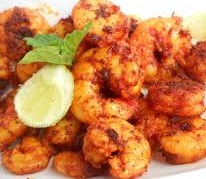 Prawns fry is an all time favorite among kids and elders too. Usually we prepare prawns curry as children enjoy the dish. They call it 'buttons curry' as the prawns curl into a circular pattern.
These days people have become very health conscious but indulging once a month is fine. The small variety prawns is an ideal choice for this recipe. Cleaning the small prawns is a pain but then the taste and the satisfaction that is seen on the faces of our loved ones after a meal makes us forget all the back pain and the tiring hours to get the prawns clean.
However our fish wala was helpful enough. He cleaned all the pods and even the vein (causes indigestion if not removed ). Usually after cleaning 1 kg of small prawns (with pod) the flesh quantity will be around 550 to 600 gms flesh. You can accordingly plan the quantity for your recipe.
I made it a point to check each prawn in the bowl. I washed it with lime juice and then the clean look was a green signal to start cooking.
I'm sharing a special prawns fry recipe generated from experiences in the kitchen. It has become a hit in our home and family too.
Ingredients :
Prawns: 250 gms (cleaned and de-veined)
Ginger garlic paste-1 table spoon
Chilli powder: 2 tsp
Turmeric powder: ½ tsp
Pepper powder: 1.5 tsp
Salt:1 tsp
Lemon juice: 1 lemon
Corn flour:2 table spoons
Cooking Oil: 1 cup
Procedure for preparing Special Prawns fry recipe:
Method:
De-vein prawns ,wash them in lime juice and strain complete water
Steam the prawns with 1/3 cup water, salt and turmeric powder.
When the water is absorbed completely switch off the flame. Let the prawns cool down, then add the remaining ingredients except oil.
Allow it to marinate for 30 mins.
Shallow fry in hot oil and drain on an absorbent paper. You can add a few curry leaves in the oil to lend a nice aroma. Maintain medium flame and remove the prawns before it gets a dark color.
Do not deep fry as the prawns are already steam cooked. The corn flour added in the base will make the prawns crispy from the exterior and will remain soft inside.
Special prawns fry is a good combination with hot rice, tomato rasam prepared without dhal, papad or pickle.
Children have become so demanding that they actually check the quantity being served for each member.
Make this special prawn fry recipe and let your family enjoy the distinct taste of prawns. A look alike of a hotel dish.
Try making Fish pickle / meen achar