Hot and Spicy Chicken Pepper Masala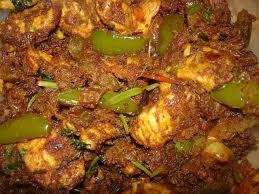 Hot and Spicy Chicken Pepper masala is a popular dish at home especially during winter and rainy days and when the family is in a mood for eating out. The dish is easy to prepare, you can become an expert and prepare this dish when you have guests at home too.
Spicy Chicken Pepper masala can be made a little less hot and spicy by reducing the pepper powder quantity. The dish looks attractive and is a great hit among family too. Try this recipe and surprise your family with exquisite treats.
Let's move on to the recipe and understand the requirements.
Ingredients for Hot and Spicy Chicken Pepper Masala
Chicken : 500 g (preferably use skinless and boneless chicken-thigh)
Green Ball pepper/ Capsicum: ½ cup (diced)
Onion : 1.5 cup (chopped)
Tomato: 1 cup ( chopped)
Ginger: 1 tsp (finely chopped)
Garlic: 4 to 5 cloves (finely chopped)
Green chillies: 2 nos ( finely chopped)
Curry leaves: 2 sprigs
Pepper powder: 1.5 tsp (adjust to your taste)
Turmeric powder: ¼ tsp
Chilli powder: ½ tsp
Coriander powder: 1 tsp
Cumin powder: ½  tsp
Garam Masala Powder: ¼  tsp
Fennel seeds / Saunf: ¼ tsp
Coriander leaves / Cilantro: 1 bunch(finely chopped)
Oil: 2 tbsp
Salt: to taste
Lime: ½ no.
Procedure for preparing Hot and Spicy Chicken Pepper Masala
Method:
Cut and wash chicken thoroughly, add juice of half a lemon and rinse the pieces well. The benefit of adding lime is it will take off the smell and your pieces will look clean. Drain water and rinse once more with fresh water.
Drain water completely through a sieve and transfer the chicken pieces to a bowl.
Add turmeric powder and keep aside.
Heat 1 tbsp of oil in a kadai/ pan, add chopped capsicum and stir for 2 minutes along with ¼  tsp pepper and ¼ tsp salt. When mixed transfer contents to a plate.
Ensure the pepper is coarsely grinded for this dish.
Heat 1 tbsp of oil in the kadai add saunf, when it splutters add curry leaves, chopped garlic, ginger and green chillies. Saute on a medium flame, add 1 tsp pepper powder and allow it to sizzle in the heat.
Now add onions, sprinkle little salt and sauté till they are light golden brown. This will take approx 4 to 5 mins.
To this add chopped tomatoes and stir till it becomes mushy.
This is the stage when you need to add all the dry powders and mix on low flame. If you want to have gravy sprinkle little water.
To this base add chicken pieces and stir fry for another 2 minutes and cook covered in medium heat until the chicken pieces gets cooked. The pieces should become soft and tender.
At this stage add roasted capsicum kept aside in a plate, after stirring for 2 mins add balance pepper powder and mix all the contents in the kadai.
Add the chopped coriander leaves and switch off the flame.
Your hot and Spicy Chicken pepper masala is ready to serve with hot rice, chapathis, pulka, side dish for biryani , vegetable pulao too.
You can try variations in this recipe by adding potato, mushroom, paneer /cottage cheese. The vegans can exclude chicken and add the above vegetables and I'm sure you are going to try the vegan preparation. Do not miss to give us an update.
Try this recipe and enjoy easy and healthy cooking. For more healthy and tasty recipes visit our Facebook page and Google+ page.