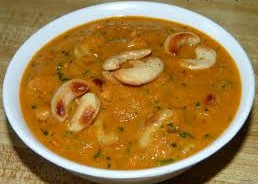 Kaju curry is very popular in Indian cuisine. Kaju curry is a royal dish and it is prepared during special and festive occasions. Kaju curry is prepared with a lot of variations. You can add paneer, capsicum, green peas. Today I've attempted the recipe with potatoes.
During the lent season when non veg dishes are not prepared in Christian homes, they take to preparing kaju curry when they have guest at home.
Serves – 4
Ingredients:
Raw Cashew nuts: 1 cup
Potato :  1 medium size ( peeled and diced)
Onion : 1 small size ( chop it to fine pieces)
Green chilly: 1 no ( slice it into halves- lengthwise )
Coconut milk: 1 cup
Turmeric powder: ½ tsp
Chilli powder: ¼ tsp
Coriander powder: ½ tsp
Ginger – garlic paste: ½ tsp
Garam masala powder: ¼ tsp
Oil: 2 tsp
Salt

to taste)
Coriander leaves / Kothmir : 3 tbsp for garnishing

Procedure for Kaju curry:
Method:
Soak dry kaju in water for 30 mins. Drain water. If you are using tender kaju then you need to sauté it in oil.
Heat oil in a pan / non stick kadai.
Fry onions, potato, green chilli. Saute and when it is partially cooked add soaked kaaju / fresh kaju.
After two minutes add the powders.Lower flame.
Saute and add the coconut milk. Mix and do not allow it to boil.
Let it simmer on low flame for 5 mins. Garnish with coriander leaves and roasted kaju
Delicious kaju curry is ready to be served with Chapathi / Pulka or Hot rice.
Go ahead and try the cooking this recipe.
Sabudhana Upma is a popular Maharashtrian dish. Cooked usually for breakfast, evening snack, during fasting and festive occasions. Sabudhana /Sago upma is a quick dish to make , easily digestible and a favorite at home too.
The pearly white appearance is a huge hit among kids. There are several names for eg: pearl upma, sago khichdi etc. In South India the dish has grated coconut and powdered groundnut is excluded. They instead add whole groundnut during tempering.
I tasted this dish from my friends tiffin box. I enjoyed the texture of sabudhana in the upma. I pushed my mom to make it. After 1 or 2 attempts it became a success. I further experimented with addition of grated carrots and fresh peas. Among all the varieties the preferred choice is the Maharashtrian style of making Sabudhana upma.
Another info to share. I always wondered in my childhood as to the source of Sabudhana. I was surprised at the uniformity in shape and the white color of sabudhana balls.We used to see more of the transparent balls in payasam and sweets. I was told that Sabudhana / sago is a product of the South Indian Topiaca.
This is one dish which I can consume at any time of the day. I never hesitate when offered.  Try this recipe and I'm sure you will love the flavor and aroma.
Serves – 4
Ingredients:
Sabudhana / Sago : 2 cups
Onion : 1 medium size ( chop it to fine pieces)
Potato : 1 medium size ( boiled- dice into small pieces)
Groundnut : ½ cup ( Roasted, peeled and powder coarsely)
Salt : (to taste)

For tempering:
Mustard seeds: ½ tsp
Cumin seeds: ½ tsp
Urad dhal: 1 tbsp
Curry leaves: 1 sprig
Green chilly: 3 nos ( slice it into halves- lengthwise )
Turmeric powder: 2 pinches
Cooking Oil: 3 tbspn
For garnishing:
Coriander leaves / Kothmir : 2 tbspn
Lime juice – ½ lime
Procedure for Sabudhana Upma:
Pre-work:
Soak Sabudhana / Sago in water for at least 3 to 4 hrs. The level of water should be such that sabudhana is submerged in water. Do not add excess water, upma will become soggy.
After soaking for the said duration wash and rinse the sabudhana well. Drain complete water and spread the sabudhana on a plate to avoid becoming lumps.
Roast peanuts. When cool, remove skin and coarsely powder in mixer.
Method:
Heat oil in a flat kadai  / non stick pan. When hot, add mustard seeds, cumin seeds, Urad dhal, curry leaves, green chilly, diced potato.
Lower flame. Keep stirring the ingredients for 2 mins. Add turmeric and salt.
Add soaked sabudhana. Mix well and steam cook the ingredients. The sabudhana will turn transparent by now.
After 3 to 4 mins toss groundnut powder. Mix well. Switch off flame.
Garnish the upma with coriander leaves and lime juice.
Tips:
While soaking sabudhana, water should not float on the surface.
Option – Heat the sago prior to soaking in water to avoid lumps and mushy feel. Ensure the color does not change.