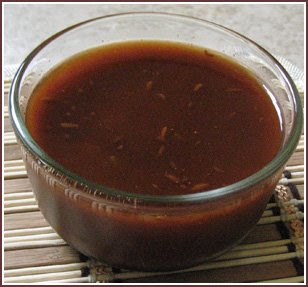 Khatta meetha chutney is a mandatory ingredient that adds flavor to the snack items. Khatta meetha chutney is used in popular recipes like Dahi Vada, Pani Puri, Bhel puri, Ragada chaat, Samosa, Chilli bajji, etc. We do not get this chutney ready to use in shops, therefore this recipe is critical to make tasty snacks.
Children love to eat snacks from the stalls placed by vendors and considering the risk to health, I prefer to prepare snacks at home and serve to my kids. I'm free of stress with the thought of them getting sick.
Ingredients for Khatta Meetha Chutney
Tamarind: 2 balls ( lemon sized)
Jaggery / Gur / Sharkkara: 3 tbspn (grated)
Jeera: ¼ tspn
Chilli powder: ½ tsp
Cooking oil: 2 tbspn
Salt:1/4 tsp
Water :1/3 cup (to soak tamarind and make pulp)
Procedure for preparing Khatta Meetha Chutney
Method:
Soak tamarind in water for an hour. Extract thick pulp and filter the same to remove shreds.
Grate jaggery and keep aside.
In a shallow pan heat oil and add jeera. When it splutters, lower flame and add  chilli powder.
To this base add tamarind pulp, grated jaggery, salt and mix well.
Close the pan with a lid and allow this mixture to boil on a low flame for 10 to 15 mins until it thickens.
The khatta meetha chutney is ready and can be used for your snack preparations.
The chutney can be refrigerated for about 3 months for further use. Store in an air tight container.
Similarly you can try the dates chutney that can used for dosa, chapathis, enjoyed by children for its sweet and sour taste.
Making snacks like pani puri, dahi vada call for preparation of several items that are mainly basic ingredients for the snacks You can save time by preparing the chutney in advance and go ahead planning the others just in time.
Hope you enjoyed the instant recipe for Khatta Meetha Chutney. Try this recipe and enjoy healthy cooking. For more healthy and tasty recipes visit our Facebook page and Google+ page.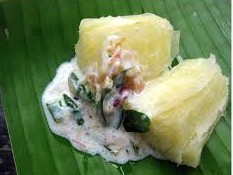 Today I'm sharing a recipe of Kappa Puzhungiyathu along with Kanthari  Mulaku Chammanthi. It is a great combination especially when you are having a great appetite. It boosts energy levels. I'm sure any keralite staying away from home will long to have a bite of this delicious feast. The images are so tempting that I would like to grab a piece or two from the banana leaf spread.
The back ground was that I reached home tired after work and was in no mood to cook dinner. I was relaxing after a cup of tea and my hubby comes in with a big bag of kerala store items. As we are away from Kerala, he longs for Friday -basic reason to collect the fresh stock of ethakka (kerala banana) ,kappa (tapioca), Chena (elephant foot), Kaachil (Purple Yam), Kochu ulli (Shallots), Kanthari Mulakka (bird's eye chilies),Coconuts, masala powders , etc..
The visual image of Kappa Puzhungiyathu with green chilli chutney combination was so tempting that I finalized on the menu for dinner. This is a quick dish and relished too bringing in nostalgic memories back home. Though my younger son was fussy over the change in menu (pulka regularly), he was willing to adjust with fish curry.
Therefore started to prepare the menu finalized for dinner: Kappa Puzhungiyathu along with Kanthari  Mulaku Chammanthi.
Ingredients for Kappa Puzhungiyathu – Boiled Tapioca- Yuca- Cassava
Kappa-Tapioca- Yuca- Cassava : 2 large roots
Water: as required to cook
Salt: as per taste
Procedure for preparing Kappa Puzhungiyathu – Boiled Tapioca:
Method:
Cut the kappa-tapioca into 4 cm length slices.Peel the skin , it will come off as a thick layer.
Slice these round pieces lengthwise into 2 or 4 pieces to allow easy cooking.
Transfer the cut pieces into a large shallow pan containing water. Wash the immersed kappa thoroughly to remove any impurities and sand particles.
Pour water till the level of chopped kappa-tapioca and cover the vessel with a lid. Allow this to boil. After 4 to 5 minutes of boiling, drain the water completely. This step is essential to remove the katta or starch.
Now pour the same amount of fresh water and allow the kappa-tapioca to boil. Add salt as required and cook for 10 to 12 minutes until it turns soft and tender.
Put off the flame. Drain the water completely and keep aside.
Serve it steaming hot with kanthari Mulaku Chammanthi/ Chicken curry with lots of gravy, Fish curry-Kerala style.
Ingredients for Kanthari Mulaku Chammanthi-Bird's Eye Chiili Chutney
Kanthari Mulaku / Bird's eye chilli: 20 nos (optional green chilli-4 nos)
Shallots/Pearl Onion/Kochulli: 12 nos
Tamarind extract: soak lime sized tamarind and extract thick pulp
Salt: as per taste
Coconut oil: 3 tspn
Curry leaves-shred 4 to 5 leaves
Procedure for preparing Kanthari Mulaku Chammanthi- Green chilli dip:
Method:
In a mixer ,pulse kanthari Mulaka/ green chilli, shallots, curry leaves 2 or 3 times. You can also use the arakalla- motor and pestle – ideal for taste.
Green chilli is an option for kanthari Mulaka, like wise use onion for shallots.
Transfer the mixture into a serving bowl. Add salt ,tamarind extract and coconut oil and mix well.
Ready to serve with steaming kappa puzhingiyatha.
This is a quick fix menu and can be prepared with ease. You can prepare the green chilli dip when the kappa is boiling. Maximum time will be 25 to 30 minutes for preparing this menu.
Chicken curry with gravy, Fish curry are great combinations. An ideal recipe for breakfast, evening snacks and dinner too.
We enjoyed this sumptuous dinner. Go ahead and give it a try…
Try this recipe and enjoy healthy cooking. For more healthy and tasty recipes visit our Facebook page and Google+ page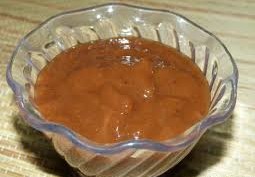 Chammandhi or chutney is an essential part of a menu in South Indian homes in addition to Sambhar. There are several varieties of Chutneys and Sambars made in South India.
The recipe I'm sharing today is a chatpati chutney loved by my kids and they empty the tiffin box clean. Chatpati Chammandhi is a great combination with Idli-dosa. My son shares his tiffin box and his friends also have given me compliments on this chutney and on few other dishes.
Ingredients :
Idli dhal: ½ cup
Ginger: 3 table spoon (chopped)
Garlic: 3 small cloves ( chop into fine pieces)
Curry leaves: 1 sprig
Onion: 1 small
Dry Red chilli:3 nos ( cut them into halves)
Jeera: ½ tsp
Jaggery: 3 table spoon (crushed)
Tamarind : size of a big lemon
Oil: 2 tsp
Salt: to taste
Procedure for preparing Chatpati Chammandhi for Idli-Dosa:
Method:
Soak tamarind for 30 mins. Use warm water to speeden the process. Make a thick pulp.Remove all strands.
Heat oil in a flat pan, add Idli dhal. When idli dhal turns color add onion, ginger, garlic, curry leaves, jeera, dry red chilli .Roast the ingredients on low flame.
Remove from flame and allow to cool.
Grind all the fried ingredients, crushed jaggery, tamarind pulp, salt to a fine paste.
Chutney is ready to serve. You can apply on one side of the dosa and roll for their lunch boxes.
Chatpati Chammandhi is ideal for tiffin boxes as the consistency is thick and therefore less chances of spilling. Once a batch is made my kids will have it with vada, kuzhi paniyaram and complete the stock.
Quick to make recipe. No need of coconut and will last for 2 to 3 days. All the ingredients are commonly available in every house hold. Try this recipe and just watch. Your kids are going to demand for more quantity.
You may also like: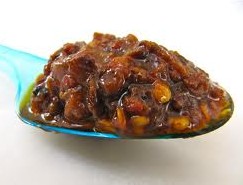 Dates chutney is a healthy recipe. Dates are delicious and one of the most popular fruits packed with an impressive list of essential nutrients, vitamins, and minerals that are required for normal growth, development and overall well-being. Available round the year, the recipe is simple and can be prepared with ease at home.
Fresh dates has soft, easily digestible flesh and simple sugars like fructose and dextrose. When eaten, they reload energy and revitalize the body instantly. For these qualities, they are being used to break the fast during Ramadan month since ancient times.
The recipe mentioned today is to make use of that delicious soft flesh of dates in a chutney .Read thru' to understand how to make tangy and healthy Dates Chutney at home.
 Ingredients :
Seedless dates: 15 nos
Green chilli: 1 tsp (finely chopped)
Red chilli powder: ½ tsp
Ginger: 1 tsp ( finely chopped)
Garlic: 4 cloves
Vinegar:4 tsp
Sugar: 1 table spoon
Turmeric powder: 2 pinch(s)
Fenugreek powder/ Methi powder: ¼ tsp(roasted and powdered)
Asafoetida / Hing: ¼ tsp
Water – ¼ cup
Salt:  to taste
For Seasoning:
Oil: 3 tbsp
Curry leaves: 4 stems
Mustard seeds: ¼ tsp
Cumin seeds / Jeera: 1 pinch

Procedure for preparing tangy and healthy Dates Chutney:
Method:
Cut the dates into small pieces. De-seed the dates if any.
In a flat kadai add oil, when hot add curry leaves, mustard and cumin seeds, chopped green chillies,ginger and garlic. Saute on a medium flame for a minute.
Minimize flame and add the powders to the base. Mix well and avoid  burning at the base.
Add vinegar and water to the base. Mix well and increase flame. When the mixture comes to a boil, add the salt and sugar. Reduce flame and keep stirring till the mixture is uniform.
Switch off flame. Allow the chutney mix to cool.
Serve this tangy and healthy dates chutney along with chapathi, dosa. Refrigerate for further use. Good for 2 months if dispensed with a dry spoon.
Health Benefits of eating Dates:
Dates are extremely rich in minerals as well as Vitamins A, B1,B2,B3 ,C and K. They do not contain Cholesterol and other harmful fats.
Dates is rich in dietary fiber, which prevents LDL cholesterol absorption in the gut. Additionally, the fiber works as a bulk laxative.
Dates contain health benefiting antioxidants known as tannins. Tannins are known to possess anti-infective, anti-inflammatory, and anti-hemorrhagic properties i.e it prevents easy bleeding tendencies
Dates are an excellent source of iron. Iron, being a component of hemoglobin inside the red blood cells, determines the oxygen-carrying capacity of the blood.
Dates are very good in potassium. Potassium is an important component of cell and body fluids that help controlling heart rate and blood pressure. Thus consuming dates offers protection against stroke and coronary heart diseases.
Dates are also rich in minerals like calcium, manganese, copper, and magnesium. Calcium is an important mineral that is an essential constituent of bone and teeth, and required by the body for muscle contraction, blood clotting, and nerve impulse conduction. Manganese is used by the body as a co-factor for the antioxidant enzyme. Copper is required for the production of red blood cells. Magnesium is essential for bone growth.
Go ahead and try the tangy dates chutney that can be served along with rice / chapathis.  Can be stored for 2 months by dispensing with a dry spoon.
If you like this recipe or know of any variations do let us know in the comments.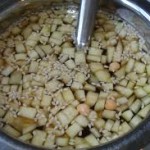 Ugadi Pachadi is made on the auspicious occasion of Ugadi. Ugadi marks the beginning of the Telugu New Year. This festival brings happiness with the beginning of Vasanth Ruthu (Spring season). Ugadi pachadi is a mandatory preparation in all Telugu homes. This pachadi consists of 6 tastes also known as Shadruchulu i.e Sweet, Sour, Bitter, Salty, Spicy-Hot and pungent.
This is an easy recipe not requiring great skills. The right proportions in addition of ingredients will bring up that taste that will bring in nostalgic  memories of childhood days.
Ingredients:
Neem flower petals: 2 tea spoons
Raw Mango: 2 Table spoons (finely chopped)
Tamarind: Small lemon size ball
Green chillies: ½ tspn finely chopped
Salt: ¼ tspn
Jaggery: ½ cup powdered
Water: 3 cups
Ripe Banana: 1 no. chopped
Putnal pappu / Fried chick pea: 2 table spoons

Procedure for Ugadi Pachadi:
Separate the petals from the flowers by rubbing them between your palms. Sieve and collect only the petals of the neem flowers. Wash and keep aside
Soak tamarind in 1 cup warm water for 20 minutes. Add 2 cups of water and dilute it to a thin, watery mix.
Heat putnal papu and keep aside.
Add rawmango pieces, neem flower petals, salt, green chilles, grated jaggery. Mix well till jaggery dissolves completely. Then add cut banana and roasted putnal pappu.
Serve chilled for the youngsters who tend to be fussy over the taste. Use water stored in earthern pot (Kunda) such that the temperature is suitable for elders while serving Ugadi Pachadi at your home.
Homemade katti meethi Ugadi Pachadi is ready to serve.
Few areas in andhra do add roasted Sesame(til) and crushed saunf (fennel)
Special dishes like Pulihora, Bobbatlu- Puran Poli and Payasam is served .Learn to make special laddoos this Ugadi for your family and dear ones.
HAPPY UGADI….Wishing all prosperity ….UGADI SUBHAKANKSHULU
"U" thsavam –  Festival
"G" owravam – Respect
"A" anandam – Happiness
"D" hanam – Money
"I" shwaryam – Prosperity
"UGADI" Shrikara Nama Samvatsra Shubhakankshalu!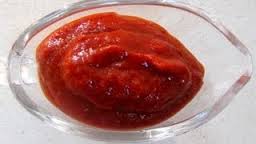 Red chilli chutney for dosa is a latest favorite at our home. Even the kids have one or two dosa with a dash of red chutney on one side of the dosa. It is a quick recipe and I'm sure taking less time for preparation.
Other varieties of chutney enjoyed with dosa or masala dosa is coconut chutney, mint leaves chutney or onion tomato chutney
Commonly made in South Indian homes.
Serves – 6
Ingredients:
Red chillies: 8 nos
Garlic : 5 medium cloves
Salt: ¼ tsp
Procedure for Red Chilli chutney for Masala Dosa:
Method:
Soak chilles in ½ cup of hot water . Close the lid of the vessel.
After 45 mins to 1 hour time, the red chillies will become soft .
Grind them with garlic and salt. Do not add water. Paste needs to be thick.
After the dosa batter is cooked on one side, apply a tsp of red chilli chutney over the dosa as a thin layer.
Steaming dosa and hot spicy chutney is a great combination.
Onion Tomato chutney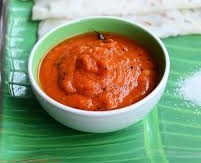 For those who cannot indulge in hot spicy chutney there is a variant for you: Onion Tomato chutney. If you do not have coconut at home you can make this chutney and win the hearts of your family members. All ingredients are available at home and can be made with ease.

Serves – 6
Ingredients:
Tomato: 1 cup chopped
Onion: 1 cup chopped
Red chilly powder : 2.5 tsp
Turmeric powder (Haldi) : ¾ tsp
Tamarind: size of a small lime
Curry leaves: 1 sprig
Salt: to taste

For Seasoning:
Mustard seeds: 1 tsp
Urad dhal(split black gram):1 tsp
Dried red chilly: 1 no
Curry leaves: 1 sprig
Asafoetida (hing): a pinch
Cooking oil: 1 tbsp+1tbsp for sautéing and seasoning
Procedure for Onion Tomato chutney served for Masala Dosa:
Method:
Heat oil in a pan , add chopped onion and sauté for 2 mins
To this add chopped tomato  and stir for a minute.
Add red chilli powder, curry leaves, salt, turmeric powder and tamarind.
Mix well till the aroma of raw smell disappears.
Put off the flame. Let the contents cool down.
Gring this in a mixie to a soft paste. Do not add water, chutney needs to be thick.
In another kadai season and add to the ground paste.
Onion tomato chutney is ready to be served. It has a wonderful colour and it is not hot and spicy therefore can be relished by kids too.
Hot dosa along with Onion tomato chutney is a great treat for dosa lovers. Ideal replacement for coconut chutney or mint chutney usually served with dosa.
Tomato Chutney is also known as Tamatar ki chutney. Famous and a favorite chutney among South Indians. A good combination with rice, khichdi etc.
 Ingredients:
6 to 8 large cloves garlic (finely chopped )
1/4 cup onion (finely chopped  )
2 dry red chilies, soaked
1 cup tomatoes, finely chopped
1 tbsp coriander finely chopped
1 tsp oil
salt (to taste)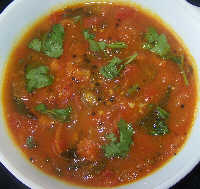 Procedure of Tomato chutney
Drain the soaked chillies and chop them finely.
Heat the oil, add the onions and garlic and sauté over a slow flame for 4 to 5 minutes till they are lightly brown.
Add the chillies and salt and sauté again.
Add the tomatoes and cook for 10 to 12 minutes over a slow flame till the tomatoes are soft and can be mashed lightly.
Cool completely and add the coriander leaves and mix well.
Serve tomato chutney with hot rice or khichdi
Peanut Chutney is popular chutney among South Indians. A good combination with Idli, Dosa, etc.
 Ingredients:
1/2 cup peanut (Groundnut / Moongfalee )
¼ cup coconut (fresh grated)
3-4 green chilies ( diced)
1 small onion (medium) finely chopped
few coriander leaves
1 tsp cumin powder (jeera)
3 tbsp jaggery (gud)
¼ tsp mustard seeds ( rai)
2 dry red chilli
Salt (to taste)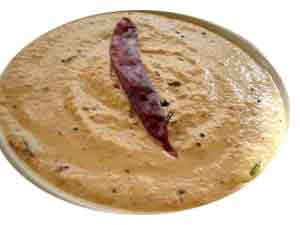 Procedure of Peanut chutney:
Fry peanuts and remove the skin.
Heat oil in a pan, add green chilies, cumin seeds, garlic , onions. Sauté over low flame.  Keep aside to cool.
Grind together peanuts, coconut, salt, jaggery and the fried ingredients to form a coarse paste.
Season with mustard and dry red chillies. Spread this on the chutney.
Add lemon juice prior to serving.
Mint Chutney is a favourite chutney among South Indians. A good combination with Idli, Dosa, Bonda, bajji's etc.
Ingredients:
1 bunch fresh mint leaves (pudinah)
2 green chillies
1 tbsp tamarind pulp
Little water
Salt (to taste)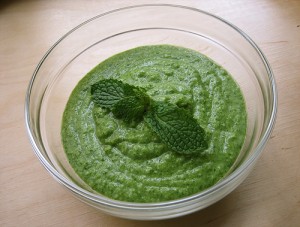 Procedure of Mint chutney:
To make tamarind pulp, soak little tamarind in water and keep aside for 2 hours.
Then strain the mixture in a bowl with the help of a spoon. To make tamarind juice add little water to the pulp.
Wash the mint leaves well.
Grind it to a smooth paste with green chillies, salt and tamarind juice.
You can add water if the mixture is thick.