Aval nanachatha is an instant recipe ideal for breakfast and evening snacks. Sweet Poha with coconut is served during travel too as it is convenient to serve and eat too. Small banana is a good combination to have along with aval nanachatha, you can have it otherwise too.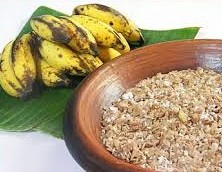 Aval is also called Poha in North India, Flattened rice, Atukulu in Telugu. Poha is made with a spicy taste in North India. Aval nanachatha itself means wetting or dampen the flakes. Therefore you need to lightly sprinkle water/ coconut water to make it absorb the taste of jaggery and fresh coconut.
In some parts of kerala, milk is used to prepare aval nanachatha, I love the taste of black coffee in aval nanachatha.
Ingredients for Aval Nanachatha- Sweet Poha with coconut
Flattened rice/ Aval/ Poha: 3 cups
Fresh coconut : 1 cup ( grated)
Jaggery: 1 cup ( grated)
Black coffee / Coconut water: 1 cup ( at room temp)
Elaichi / Cardamom: 2 nos ( powdered)
Procedure for preparing Aval Nanachatha- Sweet Poha with coconut:
Method:
Sift the flattened rice to remove any small powdered particles.
In a wide vessel add flattened rice, grated coconut, grated jaggery, powdered cardamom and mix well.
Sprinkle water / coconut  water or black coffee (kattan kapi) and mix the ingredients. The mix should not become soggy, it should remain as sweetened flakes.
Mix and serve. People do serve this with small banana.Prepare this instantly and serve .The longer you retain it will become soggy and the crispness of atuluku will go away.
If you are using the kerala poha i.e thick and red variety you will have to sprinkle lukewarm water / black coffee / milk.
My mom used to chop banana as slices and serve aval nanachatha when we were kids. Now I follow that practice for my kids.
The combination of fresh coconut and grated jaggery is loved by kids and elders and usually my kids will grab from the plate immediately after they get to know something new is being prepared in the kitchen. They will make multiple rounds to see the progress. Their senses for smell is perfect (as Madhuri Dixit says in Jhalak Dikla jaa-TV prog) and they will come sniffing from their respective study rooms more so, if they are studying.  I repeat this because you will not get them during play time or TV time.
You can try this recipe with sugar too if jaggery is not available. This is an easily digestible, healthy snack and can be made in no time. Give a try for evening snacks today.
I'm planning to prepare aval vilayichatha some time shortly. There are plenty of recipes with aval : Atukulu laddoo, Fried Atukulu and so on.
In winters you can have it with hot chukka kapi and brighten your mood.
Try this recipe and enjoy healthy cooking. For more healthy and tasty recipes visit our Facebook page and Google+ page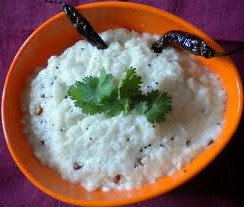 Curd Rice or Yogurt rice is very popular in South India. There is no meals or a festive occasion without curd or curd rice in the menu. This is a cooling dish and ideal during travel. You can prepare this for your lunch box or probably when you are out on a picnic. Curd rice is not spicy and therefore a hit among kids too.
The preparation of curd rice is easy and involves less time too. Curd rice is commonly prepared by mixing thick curd into cooked and cooled rice and add seasoning over it. Curd rice is prepared as Daddojanam or Thayir sadam and garnished with pomegranate seeds. It looks colorful and taste good too. Curd rice is filling and therefore appropriate for travel.
I remember the initial days when I was not aware of the preparation and sent curd mixed with rice and seasoned in the lunch box of my kid in kinder garden. I received a written communication from the school teacher. The teacher had given feedback regarding the sour smell and my son refusing to have the lunch box. I was embarrassed, but made it a point to thank her personally for her inputs and support.

I then took a decision to learn the preparation of tasty curd rice and based on my friend's tips got to learn the recipe which is suitable for picnics, travel and lunch boxes. Now that I'm good at it I do not mind preparing curd rice when there is a need for my friends too. My family too likes it when we are veg diet days.
The method prepared in this recipe is plain and can be served with mango or lime pickle
Serves – 4
Ingredients:
Cooked Rice : 2 cups
Milk : 600 ml
Curd: 3 tbsp
Salt : to taste
For seasoning:
Red chilly: 1 no
Green chilly: 2 medium sized ( 1 inch pieces)
Mustard seeds: ½ tsp
Cumin seeds ( Jeera) – ½  tsp
Ginger: 1 inch piece (finely chopped)
Curry leaves- 1 sprig ( finely chopped)
Hing ( Asafoetida) : a generous pinch
Oil: 2 tsp
For garnishing:
Coriander leaves: 2 tablespoons (finely chopped) optional
Procedure for CURD RICE:
Cook rice with a little extra water such that the rice is a little soft. Allow the rice to cool to room temperature.
Boil milk and bring it to room temperature. Add milk and salt to the cooked rice. Mix well.
Add curd to this and mix the rice thoroughly.
Ensure the level of milk is 1½ inch above the rice.
Pour oil into a kadai. When hot add mustard, green chilly, red chilly, jeera, ginger, curry leaves and finally hing to it.
Pour the seasoning into the mixed rice. Mix thoroughly such that the flavors of ginger, chilly, hing gets into the milk and finally to the curd rice.
You can transfer  the curd rice mix into an air tight container like Tupperware or SS tight fit boxes.
Garnish with coriander leaves prior to closing the lid.

There is no assurance that the coriander leaves will remain on top of the box when you open. Since you are travelling the container will shift with each pot hole on the road or while transferring the luggage.  Any way enjoy the curd rice on your journey. If you prepare this recipe for lunch box, you are going to get great feedbacks from your kids and their friends. Get prepared.
Quick tips:
Ensure an extra layer of milk on top of the rice if there is a good gap between preparation and the actual consumption. The main difference between instant curd rice and the curd rice prepared for travel is the quantity of milk over the layer of rice as it helps ferment and the end result…tasty curd rice.
Transfer the curd rice mix into an air tight container to avoid spilling . Extra caution, place the container in a poly bag and then into the travel bags. Your efforts will not go in vain.
In colder climates you will have to add an extra spoon of curd for sufficient fermentation.
There are various ingredients that go well with curd rice. Add chana dhal, urad dhal in the seasoning. Add fresh coconut pieces or black pepper along with rice, prior to seasoning.
Nutritional and health benefits provided by curd or yogurt
- Helps improve the digestion.- Helps strengthen the immune system.- Consuming curd increases the capacity to absorb the nutrients and mineralsfrom other food stuffs.- Helps get strong bones and teeth as its calcium content is high. It helps fight against osteoporosis.- Helps minimize the risk of high blood pressure.- If you have high cholesterol, consuming curd will help you.- Curd helps to increase the quality and quantity of semen.
Lime Rice is a sour South Indian dish. Ideal for meal packs during travel too.
Ingredients:
2 cups Rice
2 lemon (extract juice)
6 tbsp Oil
½  tsp Black Mustard seeds
Few curry leaves
3-4 green chilies
1/4 tsp. turmeric powder
1/4 cup peanuts
Salt (to taste)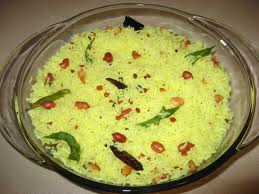 Procedure of Lime rice:
Pressure Cook the rice and spread on a plate, keep aside. Mix lime juice  and salt to the rice and keep aside.
Heat oil in a pan and add mustard seeds, allow to splutter.
Add peanuts, fry till brown.
Now add green chilies, curry leaves, turmeric powder and fry for 2 minutes.
Switch off the stove and add this to the boiled rice mixed with lemon juice. Mix well.
Lemon rice is ready to be served.
Can be taken with tomato chutney or pickle.
Tamarind Rice is also known as " Pulihora". Served during festive occasions and as prasadam i.e God's offering after auspicious occasions, festivals. A tangy South Indian dish. Ideal for meal packs during travel too.
Ingredients:
2 cups rice
1/2 cup tamarind juice ( thick pulp)
1/2 tsp turmeric powder
1/2 tsp jaggery powder
1 tsp fenugreek powdered ( Methi)
a pinch of asafoetida ( Hing)
1 tsp mustard
1 tsp chana dhal ( split Bengal gram)
6 dry red chilly
5 tsp cooking oil (as needed)
a bunch of curry leaves
1 tsp peanuts
Salt (to taste)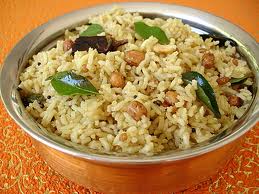 Procedure of Tamarind rice:
Pressure Cook the rice and spread on a plate, keep aside.
To the tamarind pulpy paste add salt, turmeric powder, jaggery, fenugreek powder and asafoetida.
Heat oil in the non-stick flat pan.  Fry mustard, red chillies, chana dhal, peanuts and curry leaves in sesame oil.
Pour into the tamarind juice mixture. Add salt.
Boil tamarind juice till it reaches thick gravy form and until oil separates from the mixture with good flavor.
Add cooked tamarind gravy to the rice. Mix well and serve
Note: Tamarind paste can be retained for 2-3 days.

Vegetable Biryani is a popular main course rice variety It goes well with raita and pickle. You enjoy the unique taste and fine aroma.
Ingredients:
2 cups Basmati Rice
1 cup Mixed Vgetable (cauliflower, potato, carrot, french beans)
150 gms Green Peas
3 Finely Sliced Onion
2 Finely Sliced Green Chillies
Salt to taste
1 tsp Red Chilli Powder
2 tsp Cinnamon(dalchini),
Caraway Seeds(zeera)
4 Cloves (laung)
1/2 tsp Black Pepper Powder
4 Tomato
1/2 cup Yogurt (curd)
4 tbsp Vegetable Oil
1/2 tsp Mustard Seeds
3 tbsp Dry Fruits (cashew nuts, raisin)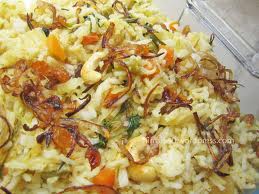 Procedure of Vegetable Biryani:
Wash the basmati rice well before cooking. Then take rice with 3 ¾  cup water and a little salt added to it and 2 tbsp of dry fruits. Cook it in pressure cooker or in a pan or microwave.
Cut all the vegetables into small thin pieces and fry each one of it separately in oil. Fry the green peas also.
Take 1 tbsp oil in a pan and add mustard seeds, green chilli, cinnamon and caraway seeds powder, cloves, black pepper powder and stir for about half minute. Then add onions and saute them for a minute or till they get pink in color.
Add salt and red chilli powder and stir.
Add fine chopped tomatoes and fry till they are properly cooked.
Take the yogurt and make it fine by putting in a blender for just 2 rotations. Add this fine yogurt and stir well. Heat it for about 10 seconds.
Add all the fried vegetables.
Add the cooked rice and mix well with very light hands so that the rice grain doesn't break. Cook for about 3 minutes.
Take this vegetable biryani out in a rice serving dish.
Garnish with dry fruits and green coriander leaves.
Serve the vegetable biryani hot with raita and pickle.
Rice Khichdi is considered to be quickly prepared rice variety. Famous inNorth India, basic ingredient is rice and tur dhal. Can be prepared for breakfast or main course. Popular for its flavour and taste.
Ingredients:
2 cups rice
1 cup toor dhal ( split red gram)
5 cloves ( laung)
1 Cinnamon (dalchini),
5 cardamom ( elaich)
2 finely sliced onion
5 tomatoes
4 green chillies (slitt into halves)
½ bunch mint leaves ( finely chopped)
1/2 bunch coriander leaves ( finely chopped)
1 tsp garlic paste
1 ½ tsp ginger paste
1/4 cup vegetable oil
a few curry leaves
3 cups water
a pinch of turmeric powder
Salt (to taste)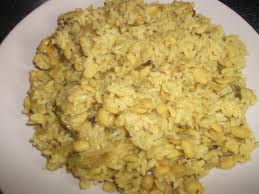 Procedure of Rice Khichdi:
Wash and cook dhal with a pinch of turmeric powder. Set aside.
Don't discard the cooked dhal water.
Fry the onions, cloves, cinnamon and cardamom.
When onions are golden add slit green chillies, mint leaves, curry leaves and a part of the coriander leaves.
Add salt, ginger and garlic paste. Fry for 2 minutes.
Add the washed, drained rice and chopped tomatoes. Fry for 2- 3 minutes.
Add the cooked dhal, mix well and add 3 cups of water.(include cooked dal water)
Cook it for 8 to 10 minutes till the rice is done.
Garnish with chopped corriander leaves and serve hot.
Can be served with pickle, chutney.
Hyderabadi Mutton Biryani is a popular main course rice variety .The flavors and typical aroma makes it to be the king of all Biryani's.
Ingredients:
½ kg – basmati rice
1 kg – lamb, cubed with bones
1/4 kg – curd
3 tsp – ginger garlic paste
3 – deep fried onions sliced ( medium size)
1 bunch – mint leaves (finely chopped and fried in oil)
1 ½ bunch – coriander leaves( finely chopped )
3 – deep fried green chillies, sliced
1 tsp – garam masala powder
Raw spices:
3 – bay leaf ( tej patta)
3 – cloves ( laung)
3 – cinnamon ( dal chini)
3 – cardamom (elaichi)
1/2 tsp – fennel ( saunf)
3 tsp – red chilli powder
1/4 cup – lime juice
3 tsp ghee
a pinch – orange food colour
A pinch – saffron
1/2 cup – milk
2 sliced fresh green chillies (to be added in boiling rice)
1/4 cup – vegetable oil
½ cup – mutton bones stock
Salt ( to taste )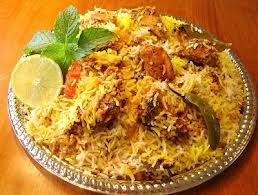 Procedure of Hyderabadi Mutton Biryani:
Wash and soak rice in  water at the ratio 1:2
Boil 1/2 kg rice in water for 15 min with green chillies and all the raw spices and 1/2 tsb oil.
Spread on a plate and keep aside.
Marinate lamb with curd, ginger garlic paste, lime juice, red chiili powder, garam masala powder, salt and deep fried onions, mint and green chillies
Mix well and keep aside for 1 hour.
After it is marinated, transfer contents into a pressure cooker, add the oil which was used for deep frying onions.
Add a lot of coriander leaves, cover and cook the lamb till it is tender.
Grease another big cooker with refined oil, add the rice layer then the mutton layer till it reaches the top.
Pour the mutton stock on it then make a paste of milk, ghee, saffron and pour this liquid over the rice.
Cook it on low for 15 min.
Serve mutton biryani hot with curd, cucumber and onions salad.
Jeera Pulao is a popular rice variety. Quickly prepared and good for health. Goes well with paneer curry, non vegetarian curries with gravy.
Ingredients:
3 tsp Cumin Seeds (Jeera)
2 cups Rice (Basmati variety)
3 Bay Leaves
3 tbsp Cashew Nuts
5 Cloves
4 Whole Peppercorns
1 Onion (finely sliced)
2 cms Cinnamon Stick
3tbsp Clarified Butter (Ghee)
Salt (to taste)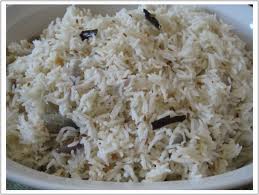 Procedure of Jeera Pulao:
In a utensil wash the rice and soak it in water for an hour.
At medium heat place a thick bottomed wide pan and add the ghee.
When the ghee heats up, add the cashew nuts and stir till golden brown. Remove from oil and keep aside.
Add to the ghee other ingredients like cloves, bay leaves, cumin seeds, cinnamon stick and peppercorns.
Stir and immediately add rice, salt and water and stir.
Cover the pan and simmer it for 15 minutes. For the next 5 mins place on low flame or when it is done.
Chinese Chicken Fried Rice is an all time favourite main course meal. Usually prepared as a Chinese variety.
Ingredients:
2 cups (16 ounces) Rice (cooked)
2 Chicken Breast
2 Eggs (beaten)
1/4 cup (2 ounces) Green Peas
1/4 cup (2 ounces) Sweet Corn Kernels
1/4 cup (2 ounces) Spring Onions
2 tbsp Chilli Sauce
4 tbsp Soya Sauce
1 tbsp Tomato Ketchup (or sauce)
2 large pinches China Salt (Ajinamoto)
3 tbsp Lime Juice
Salt & Black Pepper (Kali Mirch) to taste
2 tsp oil
1 tsp olive oil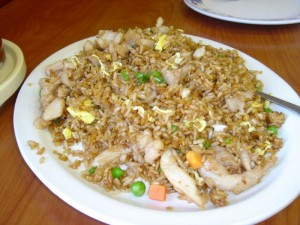 Procedure of Chinese Chicken Fied Rice:
Cook rice separately, cool it in a large pan and keep aside.

Cut chicken breasts into thin cubes and marinate with salt, pepper and lime juice for 15 minutes.

In a non-stick cooking pan , pour 1 tbsp olive oil and fry the chicken cubes until they turn slightly brown

Sauté green peas and corn kernels until they become soft.

Also saute spring onions till slightly brown.

Scramble 2 eggs in the pan items.

Heat 2 tbsp oil in a deep vessel. Add the fried chicken cubes, peas, corn kernels, scrambled eggs and rice.

Add china salt, chilli sauce, soya sauce, tomato ketchup and mix them thoroughly.

Serve hot.
 Note: Chinese fried rice tastes good when hot.