Orange peels are the thick finely-textured and orange colored skin of oranges. Since ancient times, orange peels have been valued for their curative properties.
Now there is oranges in abundance. You can make dry orange rind candies and use in cakes and other desserts, decorating sweet dishes too. Orange peel candies are made from orange zest, the top layer of the orange peel. This is a simple recipe and can be stored for a full long year.
The unique smell and flavor of orange is felt when you have a cake bite comprising orange rinds. Preferably use organic variety to avoid pesticides. Try this recipe to flavor orange all round the year.
Ingredients for Dry Orange rind Candies
Orange peel of 3 large oranges
Sugar: 1 cup
Water: 6 cups
Procedure for preparing Dry Orange rinds
Method:
Peel oranges and place in a flat bottomed pan. Add water till the level of peels.
Boil the orange peels for 10 minutes. Strain the water and add fresh water in the pan.
Repeat the boiling of orange peels for 2 more times. This will ensure all bitterness is removed. Drain off all water and cool on paper towels.
Scoop the white pith on the inner side of the orange peel with a spoon till you see only the orange color of peel.
Use a chopping board to cut the orange peel into ¼" long strips
Now add 1 cup of water and sugar into a heavy and flat bottomed pan. When the water starts boiling, add the orange strips and reduce the flame.
Keep the stove in sim for about an hour letting the orange peels boil in sugar syrup. Watch the process at regular intervals, give it a stir to check water level.
After an hour's time, put off the flame, take out the orange rinds and place on a flat surface. Store each orange strip without touching each other.
You can transfer the remaining sugar syrup into a glass bowl and store in the refrigerator, ideal as orange flavoring in sweet dishes.
It will take approx. 5 to 6 hrs for drying. Once the orange rinds have completely dried store them in an airtight container. Dry orange rind candies can be retained for a year by following this preparation.
Orange rind candies are loved by kids for its sweet and orange flavor. You can use in cakes, decorating ice cream or other fruit desserts. Dry orange rinds can be dipped in hot chocolate and can be consumed as orange chocolate candies.
Health benefits of orange peels are:
You can prepare a relaxing tea with orange peel extract to soothe your digestive system. Dietary fiber is useful for preventing irritable bowel syndrome including constipation and bloating.
Orange peels were used as medicine to cure various digestive disorders including indigestion.
Orange peels can lower the total cholesterol levels in the body.
An active chemical in orange peels helps relieve heartburn,
The chemical compounds in orange peels also help inhibit the growth and division of cancerous cells.
The anti-oxidants in oranges especially vitamin C may help avert numerous respiratory problems
Other uses and benefits of orange peels
Orange peel powder is popularly used as a face mask to help people who have oily skin, blackhead problems, reduce discoloration, reduce pimple scars and blemishes, to lighten their skin tone and smoothen skin. Orange peel paste can be used to whiten yellow-stained teeth.
Wishing you all Merry Christmas!!
Try this recipe and enjoy easy and healthy cooking. For more healthy and tasty recipes visit our Facebook page and Google+ page.
Try other recipes that is ideal for Christmas: Ginger wine , Home made biscuits, caramelized sponge cake, alcohol free cake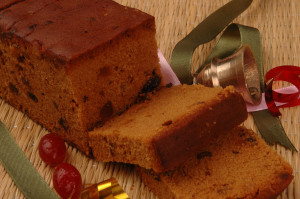 Christmas time is when you get to see a lot of cakes, cake baking and decorated cake varieties in bakeries and malls. Cakes are a delight and the plum cake happens to be very close to heart. Fond memories of all family members gathering during Christmas eve and sharing the occasion with love and togetherness.
This recipe of alcohol free plum cake is planned for last minute bakers who did not get sufficient time to soak the fruits in advance. You can now bake a cake whenever you have the urge to have a bite of plum cake. There is no soaking involved and the recipe is simple and taste similar to a plum cake which is soaked in alcohol i.e rum/ brandy for a long duration.
Ingredients for Alcohol free Plum cake
All purpose flour / Maida: 100 gm
Butter: 100 gm
Sugar: 100 gm +3 tsp
Eggs: 2 nos ( equivalent to 100 gm weight)
Baking powder: ½ tsp
Raisins (Kismis): ½ cup
Tuttie-Fruitie: ½ cup
Orange peels (dried): 2 tsp – chopped finely
Cashew nuts(Kaaju)-1/4 cup
Vanilla Essence: 1.5 tsp
Water: ½ cup
Spice powder: cardamom-2, cinnamon bark-1 small stick, nutmeg-a small pinch

Procedure for preparing Alcohol free Plum cake
Method:
The first basic step is to caramelize sugar. Boil ½ cup water in a pan. Then heat three tsp of sugar in the center of a flat bottomed pan. Do not touch the pan or mix the sugar. The sugar will start melting and when there is no sugar (white color specks) to be seen add ½ cup boiling water and switch off the flame.
Now mix sugar and water well and bring it to a boil. It is time to add the raisins, tuttie-fruitie, cashewnuts in the pan. Continue boiling for 5 mins on a medium flame, check if they have become tender. If yes, then put off the flame and allow the fruits to cool down.
Next major step is to sift maida and baking powder. Keep aside 3 tspn of baking powder and sift the powders 2 to 3 times.
Keep aside 2 tsp of butter for greasing the baking pan. Butter should be at room temperature, powder sugar and beat the butter and sugar until fluffy and add eggs one by one and beat well. If you are not using a blender to beat the base, you can beat the eggs in a mixer and add it into the butter and sugar mix.
Add vanilla essence and spice powder and dried orange peels. Mix well. Add the flour powders. Pour the caramelized water and you will see the cake base turning brown in color. Do not add fruits and nuts at this stage.
Add 3 tsp of maida to the strained fruits and nuts and ensure there is a light coating over all the soaked fruits. By dusting maida on the soaked fruits you will have equal distribution across the cake. Dusting with maida will prevent the fruits and nuts from sinking to the bottom of the cake while baking. Sharing my experiences in the kitchen…

Add the dusted fruits and nuts to the cake mix. Pour the batter into the greased baking pan and level the top of the cake.
 Bake it in a preheated baking oven at 350 ° F for about 40 to 50 mins. Use a toothpick or a long pin to check baking is enough. If the pin comes out clean the cake is ready. You will also observe a nice dark brown color on the top layer.
Remove the baking tray and allow the cake to cool. Slice it only when it has cooled down. Watch out for the cake not crumbling when you are making slices.
Tip: You should use a sharp knife to cut the cake. Wipe the knife clean after slicing 2 to 3 pieces. This will avoid crumbling of cake.Use baking cutters if required.
For perfect baking and no breaking it is always recommended to weigh and add quantities. Dispense only the egg white to balance accuracy in addition.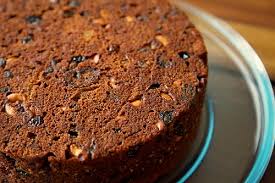 Now with most places going dry and people becoming vegan during 25 days of Christmas (lent- nombu) the alcohol free plum cake will be a huge hit.
Serve plum cake with homemade Ginger wine or Chukka kapi which is a great combination during chilly weathers. You can also serve for carols and your near and dear ones on Christmas eve.
Wishing you all Merry Christmas!!
Try this recipe and enjoy easy and healthy cooking. For more healthy and tasty recipes visit our Facebook page and Google+ page.
Also read:
Bake a Sponge cake with Caramelized sugar
Vattayappam –Steamed rice cake
Vettu Cake – Popular 4 pm Snack available at Bakeries and Tea stall in Kerala
Beef Cutlet recipe -Kerala style