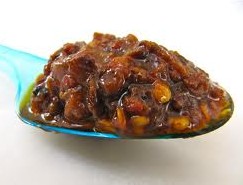 Dates chutney is a healthy recipe. Dates are delicious and one of the most popular fruits packed with an impressive list of essential nutrients, vitamins, and minerals that are required for normal growth, development and overall well-being. Available round the year, the recipe is simple and can be prepared with ease at home.
Fresh dates has soft, easily digestible flesh and simple sugars like fructose and dextrose. When eaten, they reload energy and revitalize the body instantly. For these qualities, they are being used to break the fast during Ramadan month since ancient times.
The recipe mentioned today is to make use of that delicious soft flesh of dates in a chutney .Read thru' to understand how to make tangy and healthy Dates Chutney at home.
 Ingredients :
Seedless dates: 15 nos
Green chilli: 1 tsp (finely chopped)
Red chilli powder: ½ tsp
Ginger: 1 tsp ( finely chopped)
Garlic: 4 cloves
Vinegar:4 tsp
Sugar: 1 table spoon
Turmeric powder: 2 pinch(s)
Fenugreek powder/ Methi powder: ¼ tsp(roasted and powdered)
Asafoetida / Hing: ¼ tsp
Water – ¼ cup
Salt:  to taste
For Seasoning:
Oil: 3 tbsp
Curry leaves: 4 stems
Mustard seeds: ¼ tsp
Cumin seeds / Jeera: 1 pinch

Procedure for preparing tangy and healthy Dates Chutney:
Method:
Cut the dates into small pieces. De-seed the dates if any.
In a flat kadai add oil, when hot add curry leaves, mustard and cumin seeds, chopped green chillies,ginger and garlic. Saute on a medium flame for a minute.
Minimize flame and add the powders to the base. Mix well and avoid  burning at the base.
Add vinegar and water to the base. Mix well and increase flame. When the mixture comes to a boil, add the salt and sugar. Reduce flame and keep stirring till the mixture is uniform.
Switch off flame. Allow the chutney mix to cool.
Serve this tangy and healthy dates chutney along with chapathi, dosa. Refrigerate for further use. Good for 2 months if dispensed with a dry spoon.
Health Benefits of eating Dates:
Dates are extremely rich in minerals as well as Vitamins A, B1,B2,B3 ,C and K. They do not contain Cholesterol and other harmful fats.
Dates is rich in dietary fiber, which prevents LDL cholesterol absorption in the gut. Additionally, the fiber works as a bulk laxative.
Dates contain health benefiting antioxidants known as tannins. Tannins are known to possess anti-infective, anti-inflammatory, and anti-hemorrhagic properties i.e it prevents easy bleeding tendencies
Dates are an excellent source of iron. Iron, being a component of hemoglobin inside the red blood cells, determines the oxygen-carrying capacity of the blood.
Dates are very good in potassium. Potassium is an important component of cell and body fluids that help controlling heart rate and blood pressure. Thus consuming dates offers protection against stroke and coronary heart diseases.
Dates are also rich in minerals like calcium, manganese, copper, and magnesium. Calcium is an important mineral that is an essential constituent of bone and teeth, and required by the body for muscle contraction, blood clotting, and nerve impulse conduction. Manganese is used by the body as a co-factor for the antioxidant enzyme. Copper is required for the production of red blood cells. Magnesium is essential for bone growth.
Go ahead and try the tangy dates chutney that can be served along with rice / chapathis.  Can be stored for 2 months by dispensing with a dry spoon.
If you like this recipe or know of any variations do let us know in the comments.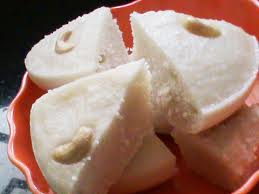 Kerala Vattayappam is a special Kerala dish prepared as a tea snack. Kerala Vattayappam is basically steamed rice cake. Vattayappam is famous as a traveling snack as it is steam cooked. No indigestion issues from the snack. Kerala Vattayappam is popular during prayers and carol services.
Vattayappam is served among church members and family, friends after Maundy Thursday service. The ingredients are available at every home and easy to prepare too.
Ingredients :
Raw rice: 1 cup ( soaked)
Cooked rice: ½ cup
Fresh coconut : 1 cup ( grated)
Salt: ¼ tsp
Sugar:4 tsp or as required
Yeast : ¼ tsp
Water: ¼ cup to ½ cup( or use fresh coconut water)
Ghee / cooking oil: 2 tsp
For garnishing:
Raisins: 3 tsp
Cashewnuts: 2 tsp
Cardamom: 6 nos ( crushed)
Procedure for preparing Kerala Vattayapam- Steamed rice cake:
Method:
Soak rice in water for approximately 6 hrs.
Wash and drain the rice. Grind the soaked rice with the cooked rice and grated coconut to make a smooth batter.
While grinding add water or coconut water. Mix the yeast in 2 tspn of luke warm water and add along with the ingredients. Add sugar and salt to the ingredients.
The batter will be thick. Mix the batter well and allow it to ferment overnight.
Grease a flat bottomed pan with ghee / cooking oil. Pour the batter till half full.
In a small pan roast cashewnuts and raisins and garnish them on top. Sprinkle crushed cardamom on top.
Steam the batter for 15 to 20 mins on a medium flame till done.
To check if done prick a tooth pick and see if there is any wetness.The vattayappam will raise and the garnishing will look great after it is cooked.
Cut the vattayappam into desired shapes and serve
Variations in this Kerala vattayappam are:
Replace sugar with jaggery.
Use fresh coconut water in place of plain water.
In some parts of Kerala, individuals add shallots, cumin(jeera), garlic flakes while grinding the batter.
Note: If your grinder is getting warm while grinding the batter, add 2 to 3 ice cubes such that the batter does not get warmed up.
If you like this recipe or know of any variations to the steamed rice cake do let us know in the comments.
Rasam is popular among South Indians .Tamarind rasam is ideal when you are feeling down and need an energy boost. Rasams are made in different styles in different parts of South India. Addition of dhal or tomato is commonly seen in preparation. Basic ingredients are tamarind pulp, tomato and rasam powder.
In a formal meal, the rasam course is served after the sambhar course and followed by curd rice. Served to eat with rice or few people enjoy drinking the light soup by itself. Rasam is consumed as an appetizer before the beginning of a meal.Rasam can be considered daily, a mandatory curry in most homes.
Today I'm sharing a tamarind rasam recipe without tomato and dal. The recipe is simple and can be followed with ease. This rasam is ideal during winter and cold evenings.
Ingredients :
Tamarind: Medium Lemon sized ball
Garlic cloves: 3 to 4 nos (crush them lightly)
Fenugreek seed powder(Methi / Menthulu): ¼ tsp
Turmeric powder: ¼ tsp
Pepper powder: 1.5 tsp
Salt ( to taste)
Asafoetida (Hing): 2 pinches
For seasoning:
Mustard seeds: 1 tsp
Cumin seeds( Jeera): 1 tsp
Curry leaves: 1 stalk
Dry red chillies: 2 nos
For garnishing:
Chopped coriander leaves : 2 tbsp
Procedure for preparing Tamarind rasam without tomato and dal:
Method:
Soak tamarind in 1 cup water for 30 mins. Strain the pulp by adding water.
Heat oil in a kadhai and add mustard seeds. Add garlic pods, cumin seeds, curry leaves, dry red chilies.
Saute a while and add pepper powder, Fenugreek seed powder and asofoetida. Add tamarind water along with squeezed pulp.
To this add 1 cup water and turmeric powder.
Mix the watery solution, add salt as per taste. Cook till it boils.
Garnish with chopped coriander and serve with steamed rice.
The pepper aroma will be strong and smells perfect. Remembering the catchy words of a popular ad: Ee rasam bahu kemam (this rasam taste excellent)

Benefits of having Rasam:
Rasam when had at the beginning of the meal is said to increases the appetite.
Rasam contains many spices which are considered beneficial to health.
Steaming hot rasam is soothing when you are suffering from a cold, cough or sore throat.
When you have a headache plan for a rasam preparation, it will relieve your headache.
Rasam is served  to the person who is sick with fever and has no appetite and feels tastelessness in the mouth, it not only increases the appetite but also the spices in the rasam hit the mouth and throat increasing the taste in the mouth.
If you like this recipe or know of any variations do let us know in the comments.
Summer special recipes for further reading: Buttermilk, Ragi Java, Green Mango drink, Pudina Pani