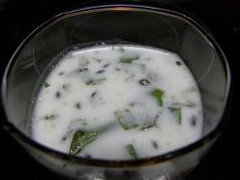 Buttermilk is an ideal drink during summer.  In Hindi it is known as Chaas, mor vellam in South India. During hot summer days you can have a glass of buttermilk and feel relaxed.
South Indian style of preparing Buttermilk.
For making 2 large glasses of butter milk.
Ingredients:
Curd: 1 cup
Water: 3 cups
Green chilly:1 no.
Ginger: 1 tsp (finely chopped)
Curry leaves: 1 stem (finely chopped)
Coriander leaves: 2 tsp (finely chopped)
Shallots / Small onions : 2 tsp (finely chopped) ……Optional
Salt (to taste)
Procedure for Buttermilk:
Crush ginger and green chilly.
In a blender add curd, water, coriander leaves, curry leaves, crushed ginger – green chilly and salt  .
If you are opting for shallots then crush onions along with ginger and green chilly. Blend in mixer for a minute.
If you want it cold , add chilled water or ice cubes to the mix.
Note: Filter and serve for children , they will not like the particles that contain in the buttermilk.
Further read easy recipes for Ragi Java and Green Mango drink and remain healthy and cool this summer.