RED CHILLI CHUTNEY FOR MASALA DOSA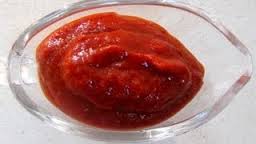 Red chilli chutney for dosa is a latest favorite at our home. Even the kids have one or two dosa with a dash of red chutney on one side of the dosa. It is a quick recipe and I'm sure taking less time for preparation.
Other varieties of chutney enjoyed with dosa or masala dosa is coconut chutney, mint leaves chutney or onion tomato chutney
Commonly made in South Indian homes.
Serves – 6
Ingredients:
Red chillies: 8 nos
Garlic : 5 medium cloves
Salt: ¼ tsp
Procedure for Red Chilli chutney for Masala Dosa:
Method:
Soak chilles in ½ cup of hot water . Close the lid of the vessel.
After 45 mins to 1 hour time, the red chillies will become soft .
Grind them with garlic and salt. Do not add water. Paste needs to be thick.
After the dosa batter is cooked on one side, apply a tsp of red chilli chutney over the dosa as a thin layer.
Steaming dosa and hot spicy chutney is a great combination.
Onion Tomato chutney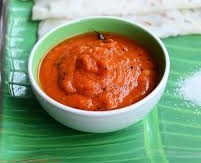 For those who cannot indulge in hot spicy chutney there is a variant for you: Onion Tomato chutney. If you do not have coconut at home you can make this chutney and win the hearts of your family members. All ingredients are available at home and can be made with ease.

Serves – 6
Ingredients:
Tomato: 1 cup chopped
Onion: 1 cup chopped
Red chilly powder : 2.5 tsp
Turmeric powder (Haldi) : ¾ tsp
Tamarind: size of a small lime
Curry leaves: 1 sprig
Salt: to taste

For Seasoning:
Mustard seeds: 1 tsp
Urad dhal(split black gram):1 tsp
Dried red chilly: 1 no
Curry leaves: 1 sprig
Asafoetida (hing): a pinch
Cooking oil: 1 tbsp+1tbsp for sautéing and seasoning
Procedure for Onion Tomato chutney served for Masala Dosa:
Method:
Heat oil in a pan , add chopped onion and sauté for 2 mins
To this add chopped tomato  and stir for a minute.
Add red chilli powder, curry leaves, salt, turmeric powder and tamarind.
Mix well till the aroma of raw smell disappears.
Put off the flame. Let the contents cool down.
Gring this in a mixie to a soft paste. Do not add water, chutney needs to be thick.
In another kadai season and add to the ground paste.
Onion tomato chutney is ready to be served. It has a wonderful colour and it is not hot and spicy therefore can be relished by kids too.
Hot dosa along with Onion tomato chutney is a great treat for dosa lovers. Ideal replacement for coconut chutney or mint chutney usually served with dosa.