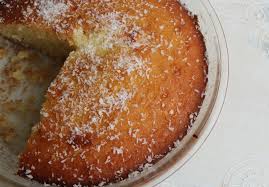 Ravani or Revani is a buttery cake doused with syrup. The recipe I'm sharing with you today attains a texture that is so delicate, it's so fluffy, it's so moist, it's sweet but not overly sweet and there's a twist. The addition of desiccated coconut to the batter is truly the secret that makes it taste divine and that it gives a different, more luscious texture to the cake.
The syrup is lemon flavored and it permeates the cake giving it a delicious lemony taste that's prominent but not overpowering. This syrup is so light, "showering" the cake, balancing out its buttery and sugar notes.
Its pale yellow color with golden brown top is a beautiful sight. It's mouth watering and the aroma of lime zest is awesome and in new gen language ' mind blowing'. As you bring a piece of ravani to your mouth you can smell the butter, the lemon and the exotic coconut and when you taste it, it fulfills every expectation.
You can serve it with a dusting of desiccated coconut, with a side of vanilla ice cream, accompanying your coffee or tea and it is guaranteed to satisfy your sugar craving after dinner.
Most versions of Ravani contain semolina flour (rava/ sooji). But for this recipe we have opted for all-purpose flour (maida) which is a far better choice for this cake. Semolina flour is one of the ingredients that make Ravani incredibly heavy.

Ingredients for Ravani Cake drenched with sugar lemony syrup
For Ravani Cake
150 g unsalted butter +10 g for greasing the pan
250 g sugar
3 medium-sized eggs
150 ml milk (preferably whole milk)
250 g All-purpose flour/Maida
1 tsp Baking powder
150 g desiccated coconut
For Sugar syrup
350 g sugar
360 ml water
4 tsp lemon juice, freshly squeezed
Lemon peel from 1 medium-sized lemon
Procedure for preparing Ravani Cake drenched with sugar lemony syrup
Method:
For Ravani Cake
Pre-work:
a)Preheat your oven to 175 degrees Celsius.
b)Grease the bottom and the sides of the spring-form pan/ baking pan with some butter.
c)Powder sugar quantity kept for cake.
d)Need to prepare the sugar syrup too (refer directions below)
e)In a large bowl, mix sugar and butter with a hand blender until it is fluffy. Add the eggs one by one, beating continuously, until they are totally combined into the mixture. Pour in the milk and beat well.
f)Add the flour and baking powder and beat until mixed and then add the desiccated coconut. Keep aside 2 tsp for garnishing the cake. Mix in the coconut with a rubber spatula until the mixture is well blended.
g)Pour the batter in the spring-form pan and place it in the preheated oven. Bake for 35 to 40 mins.
h)After 35 minutes, check if cake is sufficiently baked by inserting a tooth pick or a knife in the middle of the cake and also check if it comes out clean.  If it is still sticky, bake for another 5 to 8 mins.
For Syrup:
Meanwhile prepare the syrup. In a small saucepan, add the sugar, water, lemon juice and lemon peel. Bring to a boil over medium-high heat, stirring until all the sugar is dissolved, then lower the flame and boil uncovered, for 10 minutes. Remove from heat and leave the contents to infuse i.e all the flavors to get incorporated in the sugar syrup. Remove the lemon peel from the saucepan and discard it.
When the cake has baked well, remove from the oven and place it on a wire rack to cool. The cake will have a golden brown color on top. When it has cooled down a bit, pour the warm syrup over the cake, a spoonful at a time, starting to pour always from the middle of the cake.
Leave the drenched cake on a wire rack to absorb all the syrup and cool completely. Then remove the interlocking side band of the pan and cut the cake into squares (while still being on the round base of the pan). Remove each square and place it on a cake dish.
Decorate the cake with desiccated coconut ,sprinkle on top.
If you have used a regular pan for baking the cake, then you need to separate the cake from the baking pan and when it has sufficiently cooled pour the sugar syrup on the cake as mentioned above.
Also check: Alcohol free Plum cake recipe for Last minute bakers
Note:
1. The cake will be almost stuck at the bottom of the pan and that is why you need to cut it into pieces first so that it doesn't crack while trying to remove it as a whole.
2. Remember whole milk is preferable as it contains 3.5% milk fat and is the closest to the way it comes from the cow before processing.
Serve the cake and keep in mind that it tastes far better the next day!!
The cake will remain fresh for 4-5 days, covered, at room temperature.
Try this recipe and enjoy easy and healthy cooking. For more healthy and tasty recipes visit our Facebook page and Google+ page.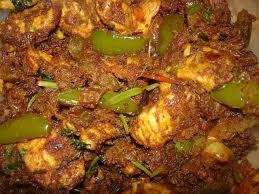 Hot and Spicy Chicken Pepper masala is a popular dish at home especially during winter and rainy days and when the family is in a mood for eating out. The dish is easy to prepare, you can become an expert and prepare this dish when you have guests at home too.
Spicy Chicken Pepper masala can be made a little less hot and spicy by reducing the pepper powder quantity. The dish looks attractive and is a great hit among family too. Try this recipe and surprise your family with exquisite treats.
Let's move on to the recipe and understand the requirements.
Ingredients for Hot and Spicy Chicken Pepper Masala
Chicken : 500 g (preferably use skinless and boneless chicken-thigh)
Green Ball pepper/ Capsicum: ½ cup (diced)
Onion : 1.5 cup (chopped)
Tomato: 1 cup ( chopped)
Ginger: 1 tsp (finely chopped)
Garlic: 4 to 5 cloves (finely chopped)
Green chillies: 2 nos ( finely chopped)
Curry leaves: 2 sprigs
Pepper powder: 1.5 tsp (adjust to your taste)
Turmeric powder: ¼ tsp
Chilli powder: ½ tsp
Coriander powder: 1 tsp
Cumin powder: ½  tsp
Garam Masala Powder: ¼  tsp
Fennel seeds / Saunf: ¼ tsp
Coriander leaves / Cilantro: 1 bunch(finely chopped)
Oil: 2 tbsp
Salt: to taste
Lime: ½ no.
Procedure for preparing Hot and Spicy Chicken Pepper Masala
Method:
Cut and wash chicken thoroughly, add juice of half a lemon and rinse the pieces well. The benefit of adding lime is it will take off the smell and your pieces will look clean. Drain water and rinse once more with fresh water.
Drain water completely through a sieve and transfer the chicken pieces to a bowl.
Add turmeric powder and keep aside.
Heat 1 tbsp of oil in a kadai/ pan, add chopped capsicum and stir for 2 minutes along with ¼  tsp pepper and ¼ tsp salt. When mixed transfer contents to a plate.
Ensure the pepper is coarsely grinded for this dish.
Heat 1 tbsp of oil in the kadai add saunf, when it splutters add curry leaves, chopped garlic, ginger and green chillies. Saute on a medium flame, add 1 tsp pepper powder and allow it to sizzle in the heat.
Now add onions, sprinkle little salt and sauté till they are light golden brown. This will take approx 4 to 5 mins.
To this add chopped tomatoes and stir till it becomes mushy.
This is the stage when you need to add all the dry powders and mix on low flame. If you want to have gravy sprinkle little water.
To this base add chicken pieces and stir fry for another 2 minutes and cook covered in medium heat until the chicken pieces gets cooked. The pieces should become soft and tender.
At this stage add roasted capsicum kept aside in a plate, after stirring for 2 mins add balance pepper powder and mix all the contents in the kadai.
Add the chopped coriander leaves and switch off the flame.
Your hot and Spicy Chicken pepper masala is ready to serve with hot rice, chapathis, pulka, side dish for biryani , vegetable pulao too.
You can try variations in this recipe by adding potato, mushroom, paneer /cottage cheese. The vegans can exclude chicken and add the above vegetables and I'm sure you are going to try the vegan preparation. Do not miss to give us an update.
Try this recipe and enjoy easy and healthy cooking. For more healthy and tasty recipes visit our Facebook page and Google+ page.