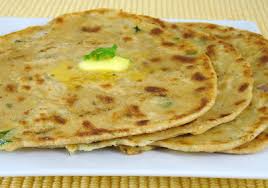 Sweet corns are available during winter days. In monsoon people usually have corn roasted by at road side vendors. Sweet corn is mostly steamed and eaten with a garnish of lime juice and salt. Sweet corn is full of vitamins and fiber. Sweet corn can be included in your wheat dough to make delicious sweet corn paratha.
Here's the recipe for sweet corn paratha also referred to as Makai ki roti.
Ingredients for Sweet Corn Paratha:
Wheat flour: 2cups
Sweet corn: 1 cup
Green chilly: 2 nos ( chopped finely)
Coriander leaves: 3 tsp (finely chopped)
Ajwain ( Carom seeds or Bishop's weed): ¼ tsp
Ginger-garlic paste: ¼ tsp
Cooking oil / Ghee: 4 tbsp
Salt: as per taste
Water: as required
Procedure for preparing Sweet Corn Paratha:
Method:
Remove the corn from the cob and grind in the mixer to form a smooth paste.You can even grate the cob and remove the pulp.
Add the sweet corn pulp into the dough along with 1 tbsp of oil.Knead the flour to form a hard flour.
Cover the dough with a wet cloth and let it remain for 20 to 30 mins. The dough will become fluffy and will set.
Smoothen the dough by kneading for a few minutes.
Make small rolls (size of a lemon} and roll the dough with a rolling pin. Dip the balls into wheat flour to avoid sticking to the base.
Put 2 drops of oil a little wheat flour and fold the paratha at 1/3 length. Place the other 1/3rd length over the first fold. Fold both the open end one over the other like a handkerchief.
Dip the dough into wheat flour and with a rolling pin to make a thick paratha. Make sure the spread is even i.e not too thick nor thin.
Heat a tawa / pan and apply little oil on the pan. Place the paratha on the pan. When one side is heated flip the paratha.
Apply oil / ghee on the top side. Flip the paratha and apply oil on the second side too.
Maintain low heat to avoid burning of paratha. You will observe the paratha is golden brown color indicating it has cooked.
Prepare the sweet corn parathas with the remaining dough and place it in a hot pack-casserole or serve them hot.
A good combination with green peas curry, kaju curry,mixed vegetable curry. You can also Makai ki roti serve with raitha, pickle or chutney.

Delicious and healthy Sweet Corn Paratha is ready to serve. You will enjoy the taste and also benefit with the vitamins and fibers that are within the Sweet corn. The aroma of carom seeds and the flavors while making the parathas will increase your appetite.
Please add a comment and, if you like the post, feel free to share it with your friends.