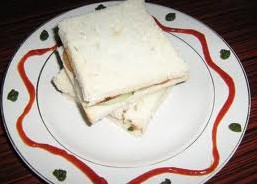 Bread sandwich is a popular snack be it home or during an outing. What I like about it is the hygiene part. The sandwiches available at shops are usually covered in a nice cover and it makes it more irresistible.
Children love bread sandwich and is ordered mostly during Interval time during a movie along with chips, popcorn or a cool refreshment drink , etc. It is a filling snack and enjoyed by people of all ages.
Bread sandwich can be packed for school snacks. Convenient during travel too.
Now that the school had started and the rains have commenced. You can give an option for your kids.
You can make tasty bread sandwiches at your home. Just follow this simple recipe and give your family a huge surprise during snack time in the evening.
Serves – 4
Ingredients:
Bread : 12 slices
Cucumber : 1 large and tender( peel and cut into thin slices)
Cheese : 4 slices
Butter : 8 tsp ( as required / optional)
Salt and pepper powder (to taste)

For chutney:
Mint leaves / Pudinah leaves : ¼ cup
Coriander leaves / Kothmir : ½ cup
Lime juice – ½ lime
Green chilli: 2 medium size
Salt: to taste
Water : 2 to 3 tbsp ( for grinding)
Procedure for Bread Sandwich:
Wash leaves and green chilli. Drain water completely. Chop it to medium pieces. Grind in mixer along with lime juice, water and salt. Divide paste into 8 equal portions.
Butter 8 slices of bread and place it on a plate with buttered side up.1 tsp per slice of bread.
Spread chutney on both sides for 4 slices of bread .
On a plate arrange the bread sandwich in the following sequence.
-       Bread slice with butter on top side, spread 4 to 5 cucumber slices.
-       Sprinkle some salt and pepper powder.
-       Place a cheese slice over it.
-       Now place the bread slice with chutney on both sides.
-       Place 4 to 5 cucumber slices. Sprinkle some salt and pepper powder.
-       Place the bread slice with butter side down.  This is the last layer.
-       Cut the 4 edges of the bread carefully with a sharp knife.
-       Cut the sandwich with a knife into 2 halves-shape of triangles.
The sandwich will look and taste just like the one you buy at your favorite bakery or snack shop. You can bring in variations in chutney by adding sesame seeds/ peanut chutney
Your kids will also enjoy with tomato sauce. Add your creativity , include smiley faces with sauce on the serving plate.
There are various variations to bread and you can experiment by adding tomato slices / onion slices / salad leaves / boiled egg etc.
Make vegetable cutlet with the bread edges known as bread crumbs.
Go ahead and try this popular snack.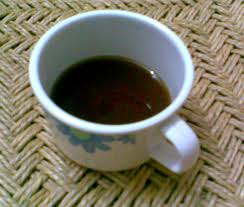 Chukka kaapi is also known as Dry Ginger Coffee. Chukka kaapi is popular in South India and the brew is made instantly when a member in the family catches cold. When the rains start, you may get wet in the initial rains. The sudden change in weather brings a nasty cold when you are back home in the evening. Cold is associated with sneezing, body pains and a lethargic feeling. You can get relieved of the sick feeling, get recharged by drinking Chukka kaapi.
Chukka kaapi is ideal for the throat and the dry ginger clears the mild cough and brings relief. Chukka kaapi is served at gatherings in winter and rainy season, reminds me of Christmas Carol season / after a midnight mass . The basic ingredients are dry ginger, peppercorns, jaggery, jeera, tulsi leaves boiled in water in which coffee powder is added. The ingredients are available in every kitchen. You need to pluck tulsi leaves from your garden.
This an ayurvedic drink also referred as kashayam. Chukka kaapi is a herbal drink which can be made instantly. It brings nostalgic memories of childhood days when Mom used to prepare immediately based on instructions from Grandma . We children were scared to have the herbal drink which had a strong flavor and spicy taste of dry ginger and peppercorns.
The elders enjoyed chukka kaapi and thanked mom for preparing it on time. Now at this stage in life we look forward for someone to offer chukka kaapi when we are down with a cold and running nose.

I made it a point to learn the preparation of chukka kaapi. It is simple to prepare, just follow the method.
Serves – 2
Ingredients:
Pepper corns : 1 tsp ( crushed)
Dry Ginger : 1 tsp ( powdered)
Jeera / cumin seeds : 1/2 tsp ( crushed )
Tulsi / holy basil leaves : 8-10 ( washed)
Jaggery: 3 to 4 tsp ( grated / crushed)
Coffee powder: 1 tsp
Water : 2 cups
Procedure for Chukka kaapi:
Place a vessel with water on the stove. When it starts boiling add pepper corns, dry ginger, jeera, jaggery. Let it boil for 2 to 3 mins.
Then add the fresh tulsi leaves, followed by coffee powder.
Lower flame and continue boiling for 5 minutes.
Switch off flame. Filter into serving glasses.
Chukka kaapi is ready to drink.
The strong flavors of dry ginger , pepper are combined with the aroma of tulsi leaves.
You need to drink warm gradually sip by sip. The vapors will clear your nose and you will feel active in spite of the rainy weather externally.
In some areas people do include 1 or 2 crushed shallots along with the ingredients. Chukka kaapi is tasty along with jaggery, you can opt for adding sugar in place of jaggery.
Another variation will be to reduce the coffee powder quantity if you do not want it strong.
I'm sure you gonna try this herbal drink again and again.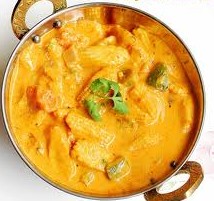 Baby corn Korma is a great side dish along with Chapathi / pulka and Fried Rice. Children love the crunchy taste. A popular dish in functions and occasions too.
Baby corn has become very popular and is available in local markets too. Baby corn has several health benefits:
Low in calories , low in cholesterol
High in fiber content
High in Vitamin B- folate and is a good source of nutrients like potassium, Vitamin C, riboflavin, etc.
Contains complex carbohydrate which provides a steady stream of energy throughout the day
Confused as to what to cook when you have an unplanned guest for meals or when you are bored with the routine cooking . Try Baby corn korma , a delight to your cooking and also provides nutritional benefits.

Serves – 4
Ingredients:
Baby Corn: 15-16 nos
Red chilli powder : 1 tsp
Turmeric powder: 1/4 tsp
Garam Masala Powder: 1/2 tsp
Ginger garlic paste: 1tsp
Oil: 2 tsp
Salt : to taste
Milk: ½ cup
For Grinding:
Onions: 1 Big (fry in oil till translucent)
Tomato: 2 medium
Green chilly: 3 medium sized ( 1 inch pieces)
Grated coconut: ¼ cup
Cashew nut: 12 nos  ( grind with little water separately)
For tempering:
Curry leaves: 2 tablespoons (finely chopped)
Bay leaf : 1 medium size
For garnishing:
Coriander leaves: 2 tablespoons (finely chopped)
Procedure for Baby Corn Korma: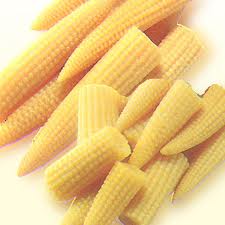 Wash baby corn and drain water. Cut baby corn into desired size and pressure cook for 2 whistles along with ¼ cup of water.
Fry chopped onions in a kadai. When cool grind with tomato, green chilly . Keep it aside.
Grind cashew nuts along with grated coconut and keep it aside.
Heat oil in a kadai. Temper with bay leaf and curry leaves. Reduce flame.
To this add ginger garlic paste and the first set of grinded paste. Saute well.
Add Red chilli powder, turmeric powder, garam masala powder, salt and mix well.
Close the kadai with a lid. Continue cooking on low flame. Mix in between intervals to ensure the korma mixture does not get burnt at the base of the kadai.
When the mixture starts leaving the sides of the dish , add cashewnut paste. Mix well.
After 3 to 4 mins add cooked baby corn along with the water in which the baby corn was cooked. When the curry comes to a boil, add milk gradually.
Keep stirring the korma curry on low flame to ensure milk does not split .
Put off the flame. Garnish with coriander leaves.
Baby corn korma curry is ready to serve with Chapathi  / Pulka or Vegetable Fried rice.
Options:

You can add cubed paneer in the curry along with cashew nut paste. Follow the procedure as mentioned above.
Paneer is a good combination. It brings variety to the korma preparation. You can name it Baby corn Paneer korma recipe.
Great side dish . A must try recipe for chapathi and pulka.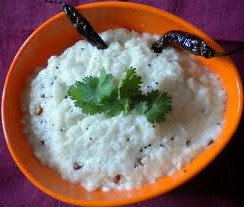 Curd Rice or Yogurt rice is very popular in South India. There is no meals or a festive occasion without curd or curd rice in the menu. This is a cooling dish and ideal during travel. You can prepare this for your lunch box or probably when you are out on a picnic. Curd rice is not spicy and therefore a hit among kids too.
The preparation of curd rice is easy and involves less time too. Curd rice is commonly prepared by mixing thick curd into cooked and cooled rice and add seasoning over it. Curd rice is prepared as Daddojanam or Thayir sadam and garnished with pomegranate seeds. It looks colorful and taste good too. Curd rice is filling and therefore appropriate for travel.
I remember the initial days when I was not aware of the preparation and sent curd mixed with rice and seasoned in the lunch box of my kid in kinder garden. I received a written communication from the school teacher. The teacher had given feedback regarding the sour smell and my son refusing to have the lunch box. I was embarrassed, but made it a point to thank her personally for her inputs and support.

I then took a decision to learn the preparation of tasty curd rice and based on my friend's tips got to learn the recipe which is suitable for picnics, travel and lunch boxes. Now that I'm good at it I do not mind preparing curd rice when there is a need for my friends too. My family too likes it when we are veg diet days.
The method prepared in this recipe is plain and can be served with mango or lime pickle
Serves – 4
Ingredients:
Cooked Rice : 2 cups
Milk : 600 ml
Curd: 3 tbsp
Salt : to taste
For seasoning:
Red chilly: 1 no
Green chilly: 2 medium sized ( 1 inch pieces)
Mustard seeds: ½ tsp
Cumin seeds ( Jeera) – ½  tsp
Ginger: 1 inch piece (finely chopped)
Curry leaves- 1 sprig ( finely chopped)
Hing ( Asafoetida) : a generous pinch
Oil: 2 tsp
For garnishing:
Coriander leaves: 2 tablespoons (finely chopped) optional
Procedure for CURD RICE:
Cook rice with a little extra water such that the rice is a little soft. Allow the rice to cool to room temperature.
Boil milk and bring it to room temperature. Add milk and salt to the cooked rice. Mix well.
Add curd to this and mix the rice thoroughly.
Ensure the level of milk is 1½ inch above the rice.
Pour oil into a kadai. When hot add mustard, green chilly, red chilly, jeera, ginger, curry leaves and finally hing to it.
Pour the seasoning into the mixed rice. Mix thoroughly such that the flavors of ginger, chilly, hing gets into the milk and finally to the curd rice.
You can transfer  the curd rice mix into an air tight container like Tupperware or SS tight fit boxes.
Garnish with coriander leaves prior to closing the lid.

There is no assurance that the coriander leaves will remain on top of the box when you open. Since you are travelling the container will shift with each pot hole on the road or while transferring the luggage.  Any way enjoy the curd rice on your journey. If you prepare this recipe for lunch box, you are going to get great feedbacks from your kids and their friends. Get prepared.
Quick tips:
Ensure an extra layer of milk on top of the rice if there is a good gap between preparation and the actual consumption. The main difference between instant curd rice and the curd rice prepared for travel is the quantity of milk over the layer of rice as it helps ferment and the end result…tasty curd rice.
Transfer the curd rice mix into an air tight container to avoid spilling . Extra caution, place the container in a poly bag and then into the travel bags. Your efforts will not go in vain.
In colder climates you will have to add an extra spoon of curd for sufficient fermentation.
There are various ingredients that go well with curd rice. Add chana dhal, urad dhal in the seasoning. Add fresh coconut pieces or black pepper along with rice, prior to seasoning.
Nutritional and health benefits provided by curd or yogurt
- Helps improve the digestion.- Helps strengthen the immune system.- Consuming curd increases the capacity to absorb the nutrients and mineralsfrom other food stuffs.- Helps get strong bones and teeth as its calcium content is high. It helps fight against osteoporosis.- Helps minimize the risk of high blood pressure.- If you have high cholesterol, consuming curd will help you.- Curd helps to increase the quality and quantity of semen.