Instant recipe for Khatta Meetha Chutney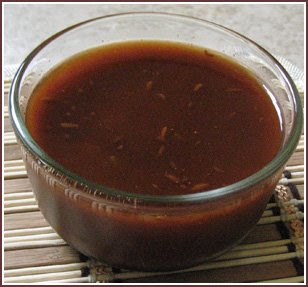 Khatta meetha chutney is a mandatory ingredient that adds flavor to the snack items. Khatta meetha chutney is used in popular recipes like Dahi Vada, Pani Puri, Bhel puri, Ragada chaat, Samosa, Chilli bajji, etc. We do not get this chutney ready to use in shops, therefore this recipe is critical to make tasty snacks.
Children love to eat snacks from the stalls placed by vendors and considering the risk to health, I prefer to prepare snacks at home and serve to my kids. I'm free of stress with the thought of them getting sick.
Ingredients for Khatta Meetha Chutney
Tamarind: 2 balls ( lemon sized)
Jaggery / Gur / Sharkkara: 3 tbspn (grated)
Jeera: ¼ tspn
Chilli powder: ½ tsp
Cooking oil: 2 tbspn
Salt:1/4 tsp
Water :1/3 cup (to soak tamarind and make pulp)
Procedure for preparing Khatta Meetha Chutney
Method:
Soak tamarind in water for an hour. Extract thick pulp and filter the same to remove shreds.
Grate jaggery and keep aside.
In a shallow pan heat oil and add jeera. When it splutters, lower flame and add  chilli powder.
To this base add tamarind pulp, grated jaggery, salt and mix well.
Close the pan with a lid and allow this mixture to boil on a low flame for 10 to 15 mins until it thickens.
The khatta meetha chutney is ready and can be used for your snack preparations.
The chutney can be refrigerated for about 3 months for further use. Store in an air tight container.
Similarly you can try the dates chutney that can used for dosa, chapathis, enjoyed by children for its sweet and sour taste.
Making snacks like pani puri, dahi vada call for preparation of several items that are mainly basic ingredients for the snacks You can save time by preparing the chutney in advance and go ahead planning the others just in time.
Hope you enjoyed the instant recipe for Khatta Meetha Chutney. Try this recipe and enjoy healthy cooking. For more healthy and tasty recipes visit our Facebook page and Google+ page.